The Taste Makers
These days, well-dressed can describe both what you make out of a closet and inside a kitchen. As foodie-ism has come into fashion, the fashionable set has flocked to the world of food. Meet eight women making their way at the intersection of sustenance and style. Fashion Editor: Ashley Furnival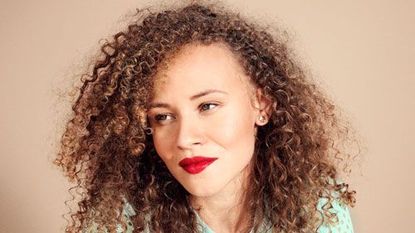 (Image credit: Courtesy of David Schulze)
ROBYN WILSON

32, LAKELAND, FL
The Sweet Tooth
WHAT SHE DOES: Beignet-maker and cofounder of coffee stand The Poor Porker.
DAILY UNIFORM: Overalls, a white V-neck tee, and vintage leather work boots from the '50s.
FASHION CRED: Wilson grew up in Hawaii, where she worked as a fit and runway model for a local department store in high school. Today she designs denim and leather aprons to sell at her popular Florida coffee stand, The Poor Porker. She's inspired by indigo-dyed Japanese boro fabrics. "They took so much pride in their work," she says of the craftsmen who made them.
FOOD FORAY: Wilson and her boyfriend, Jarrid Masse, who met as cooks on the set of the short-lived TV show Marcel's Quantum Kitchen, found themselves living in Los Angeles with $300 in the bank. "We wanted to combine our love of food, fashion, and design, but didn't know how with no money. Then it struck us: What could be cheaper than fried dough?" Armed with a cast-iron pot, a thermometer, and a vegan dough recipe, the couple moved to Masse's hometown in Florida, where they built The Poor Porker out of salvaged materials. Today, customers line up for hours on Saturdays for the couple's artisanal beignets and hand-smoked chicory coffee (also a New Orleans thing). "We call it 'Operation: Make It Work,'" says Wilson.
TOOLS OF THE TRADE: Vintage is as good an investment in the kitchen as in the closet. Wilson's favorite rolling pin is from Goodwill. "It's a beautiful wooden one from the '40s with hand-painted handles. Obviously someone's grandma made loads of things with it. Nothing rolls dough better."
NINA CLEMENTE

32, LOS ANGELES
The High-Heeled Chef
WHAT SHE DOES: Chef and reality star of Eat Drink Love, a show that follows the lives of five women on the L.A. food scene.
DAILY UNIFORM: Indigo chef jacket with red piping, Joe's Jeans, and red patent leather Manolo pumps. "I'm 5'3" and most kitchens aren't designed for women that small." She carries her chef's knife in a neon-pink leather sheath that doubles as an apron. "When I wear it, I look like a gangster butcher."
FASHION CRED: Clemente worked for the Brazilian swimwear designer Lenny Niemeyer and as a stylist in New York before decamping for L.A., where she became a private chef for A-list clients and eventually landed her reality-TV gig. It explains why she talks about "sourcing" her wardrobe from the closet of her fashionable mother, Alba, like a chef does his veggies, or "pulling" ingredients from the farmers' market like she's prepping for a fashion shoot. "Being a chef is the best artistic expression because it indulges every sense," says Clemente, the daughter of the Italian artist Francesco Clemente. "You can actually eat my art."
FOOD FORAY: Clemente honed her craft under Nancy Silverton at L.A.'s Osteria Mozza and, for the show, under Eric Greenspan at the now-shuttered The Foundry. Her next gig is as co–executive chef at a top-secret spot on the Sunset Strip, opening next year. The details are still hush-hush, but Clemente promises that the food will be fresh, seasonal, and visually beautiful.
REALITY CHECK: She had to abandon her signature heels this past April when she was hired for her new job five months pregnant. "I wore Nikes," she says. "I worked up until two days before my daughter was born."
ANNIE NOVAK

30, BROOKLYN, NY
The Argo-Chick
WHAT SHE DOES: Cofounder and head farmer of Eagle Street Rooftop Farm in Brooklyn, which grows produce for the borough's restaurants and residents; director of Growing Chefs, a nonprofit that educates New York City kids about farming and gardening; manager of the Edible Academy at the New York Botanical Garden.
DAILY UNIFORM: "Keds for Madewell. I used to farm in dresses, but given the number of insects that get up your skirt, now I wear jeans."
FASHION CRED: Novak grew up thumbing through the pages of fashion magazines, and her own quirky style has made national news. In 2010, The Huffington Post dubbed her "Cutest Organic Farmer," and in 2012, Madewell tapped her to model for an advertising campaign, in which she wore a pair of chevron trousers and proclaimed, "Pants really are a farm tool too."
FOOD FORAY: Her passion for sustainable agriculture was ignited while she was studying chocolate farming in Ghana at the University of Cape Coast, and her interest in ethical agriculture has since taken her to five continents. "It's much sexier to talk about the environment when you're eating good chocolate instead of asking people to hug trees," she says.
OCCUPATIONAL HAZARD: "We grow several thousand chili pepper plants on the rooftop farm, and every year I manage to get chili pepper oils in my eyes, nose, and unmentionables for weeks as we make hundreds of bottles of hot sauce."
BARRETT PRENDERGAST

31, LOS ANGELES
Caterer to the Stars
WHAT SHE DOES: Owner and executive chef at Valleybrink Road, her catering company.
DAILY UNIFORM: Vintage dresses, Yasmine Floral Design flower crowns, and flats. "No cooking clogs for me. Fashion first!"
FASHION CRED: The Los Angeles native worked for Karen Zambos Vintage Couture, then launched a luxury handbag line called Sud de Sur with her then-fiancé, André Vippolis. They shuttered the company earlier this year. "I would come home and cook at night as a stress release," Prendergast says. "What I really loved about fashion was the creative side, and I find I have so much more of that now with food."
FOOD FORAY: Prendergast started keeping a food blog to chronicle her creations, which inspired her to launch a catering company. "My friends would ask for recipes and if I would cater their dinner parties. From there it took off." Her fashionable followers include jewelry designer Irene Neuwirth and actress Kate Mara, for whom she creates dishes like her burrata and nectarine salad with prosciutto and edible flowers.
OCCUPATIONAL HAZARD: "My husband knows every pasta shape under the sun, but I recently learned that his knowledge of vegetables does not run as deep." When she sent him out to buy last-minute turnips for a wedding she was catering, he came back with bags and bags of rhubarb. "Lesson learned."
LIZZIE TISCH, 41

NEW YORK
The Do-Gooder
WHAT SHE DOES: Philanthropist and board member of Citymeals-on-Wheels; cofounder of Suite 1521.
DAILY UNIFORM: A dress by Prabal Gurung or Wes Gordon, a pair of heels, and usually something glittery. "I love a sparkle!"
FASHION CRED: Tisch is the chair of the Friends of the Costume Institute at the Metropolitan Museum of Art. With her business partner, Kim Kassel, she recently launched Suite 1521, a members-only shopping club that introduces subscribers to edgy designers—like Rodarte, Mary Katrantzou, and Libertine—through private events. "The biggest challenge has been to remember that we're not purchasing for ourselves," she says about marketing the work of designers for whom she was once purely a client. "We have to put our opinions aside."
FOOD FORAY: As a board member of Citymeals-on-Wheels, a charity that brings meals and companionship to elderly New Yorkers who can no longer shop or cook for themselves, Tisch has helped to make the three-decade-old organization more relevant to a younger generation—in part by utilizing social-media tools like Twitter to promote events and to spread the word about the need for donations during emergencies like Hurricane Sandy. She's also involved in the charity's Women's Power Luncheon, which assembles female leaders in business, politics, the arts, and philanthropy, and which has raised more than $13 million since 2000.
TOOLS OF THE TRADE: Though Tisch knows her social media, her techie transformation is a work in progress. She carries two phones at all times. "I'm the last person still using a BlackBerry, but I can't give it up," she says. "I need the iPhone for my Instagram obsession."
LAURI KRANZ

45, LOS ANGELES
The Green Thumb
WHAT SHE DOES: Gardening consultant and founder of Edible Gardens LA.
DAILY UNIFORM: Hervê Guyel Paris biker boots. "I get so dirty I end up looking like the Leaf Man! I like to feel like a woman and to feel good in what I'm wearing. I bring my own style to the garden."
FASHION CRED: Kranz commissions haute gardening gear from her fashionable clients, like Japanese denim aprons by Ambre Dahan of Joe's Jeans (modeled on Kranz's website by her close friend Thandie Newton). The designer Jenni Kayne created a cotton gardening tarp for hauling leaves to the composter. The idea is to "make gardening more pleasurable," both in terms of function and design, says Kranz. "Beautiful things enhance any experience."
FOOD FORAY: Kranz moved to L.A. from New York in 1994 to pursue a music career. (Her dream-pop band, Snow & Voices, is recording its fourth album.) She became interested in gardening eight years ago, after volunteering at her son's kindergarten, and began to teach the subject at schools around Los Angeles. Word of her green thumb spread, and high-profile clients like Kayne and chef and restaurateur Suzanne Goin hired Kranz to plant kitchen gardens on their properties. She launched her business four years later, and these days she finds a balance between her passions. "My days are consumed with gardens and the nights with music."
OCCUPATIONAL HAZARD: Kranz builds garden houses (think greenhouses but with screens instead of glass) to keep critters from eating her veggies. She was once nearly forced to sleep in one of her structures when she realized its door had gone missing and an "army of deer" was standing by to sample her newly planted seedbeds. "As I finished planting, my builder appeared with the door in hand. I am still grateful."
KERRY DIAMOND, 44 and CLAUDIA WU, 37

NEW YORK
The Editors
WHAT THEY DO: Diamond is editorial director of Cherry Bombe, a biannual food and style glossy, and co-owner of Brooklyn restaurants Seersucker and Nightingale 9 and coffee shop Smith Canteen. Wu, a graphic designer, is creative director of Cherry Bombe.
DAILY UNIFORM: Diamond favors Chance striped T-shirts, Zero + Maria Cornejo dresses, and Me&Ro jewelry. Wu prefers dresses by Thakoon Addition and 3.1 Phillip Lim and cashmere from J.Crew.
FASHION CRED: Diamond was a public relations executive at Lancôme and Coach, and Wu launched the cult indie magazine Me and freelance art-directed for Prada Beauty. This past April, they raised more than $40,000 through Kickstarter to launch Cherry Bombe. "There's this desire to reconnect, and it's easy to reconnect over food," says Diamond. "You might not run out to buy a new handbag every week, but you do need food every day."
FOOD FORAY: "A great fashion brand is all about the details, and the same is true for a restaurant," says Diamond, who opened Seersucker, the first of three Brooklyn eateries, with her chef boyfriend three years ago. Somehow she also finds time to put out the much-buzzed-about Cherry Bombe with Wu. "Baked"—in all senses of the word—is the tongue-in-cheek theme for their second issue, which covers everything from gluten-free baking to a vegan stoner blog. "We did talk to a few fashion folk about sharing their pot brownie recipes, but no one wanted to go public with them!" says Diamond.
PERFORMANCE REVIEW: "Launching two magazines revealed a sadistic streak in me," Wu jokes. Her partner can relate. "I definitely miss all the comforts that come from working for a corporation," says Diamond. "But sweat equity makes you a stronger person!"
Marie Claire email subscribers get intel on fashion and beauty trends, hot-off-the-press celebrity news, and more. Sign up here.