Editors handpick every product that we feature. We may earn commission from the links on this page.
Heart-Shaped Candy and Snacks for Valentine's Day You Still Have Time to Buy
Because the way to anyone's heart is via their stomach.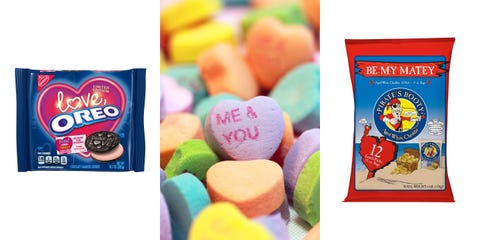 Last summer, the New England Confectionary Company, a.k.a. NECCO, went bust. What does that have to do with you, you ask? Well, NECCO was the manufacturer of SweetHearts candy, the iconic heart-shaped treats you left on your crush's desk in junior high. Now, we live in a world where, on the one day you're really pushed to express your love, you don't have the candy means to do so. Fortunately, other snack brands have stepped up the the heart-shaped plate to provide. We rounded up the best heart-shaped and loving-message foods that will do the work for you this Valentine's Day, whether you're offering them up to a lov-ah or eating them yourself.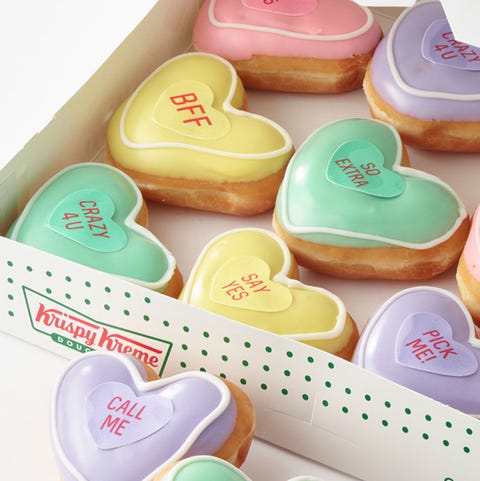 Krispy Kreme, $9 for a dozen
In response to the tragic SweetHeart shortage, Krispy Kreme announced that they're selling limited-edition filled-doughnuts with phrases like "All The Feels" and "BFF." Game, set, match.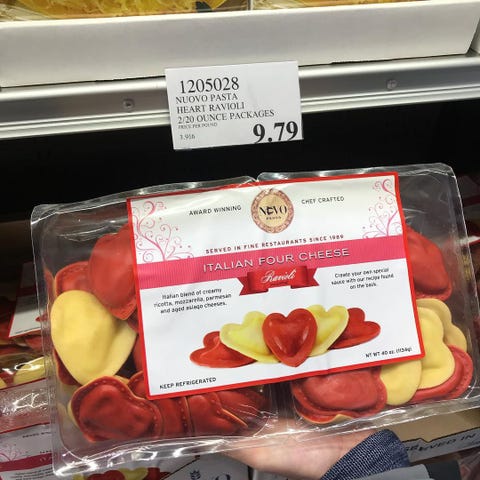 Cosco, $10

In what may be Costco's most genius move yet, they're selling four-cheese heart shaped Ravioli from the brand Nuovo . The pasta requires no printed words, because it already speaks my love language: Ricotta, mozzarella, parmesan, and aged asiago.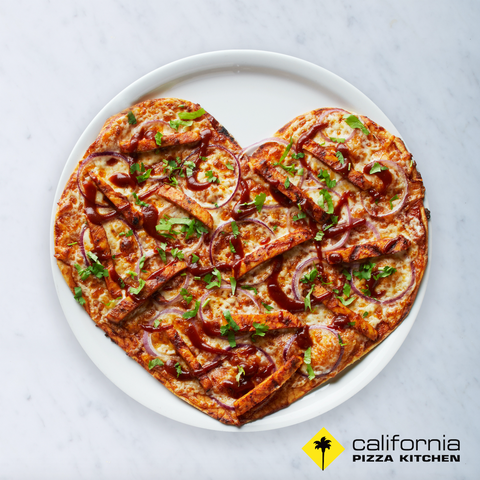 California Pizza Kitchen is making their pies a little bit sweeter this V-day. From Feb. 13-17, guests can order any CPK pizza on the special heart-shaped crust for no additional charge at participating locations. Heart-shaped pizzas are available upon request and on crispy thin crust only. Don't worry you can also order them for take out.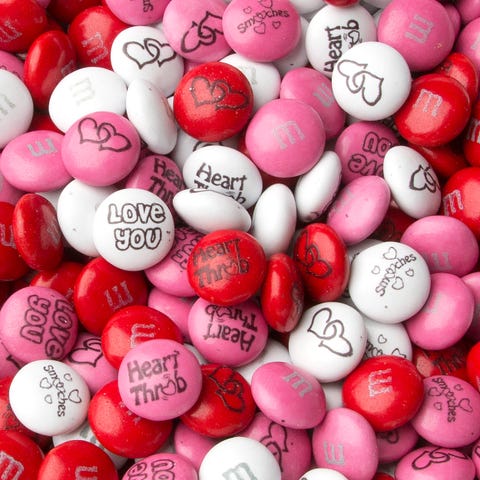 M&M's 16oz pack, $30

With phrases like "Heart Throb" and "Love You," why even bother speaking to your beau at all? You can communicate solely though these sugar-coated, pink, white, and red chocolate candies (until pesky things like "what should we do for dinner?" or "I have to go to work" come up).
5
Limited Edition "Love, Oreo"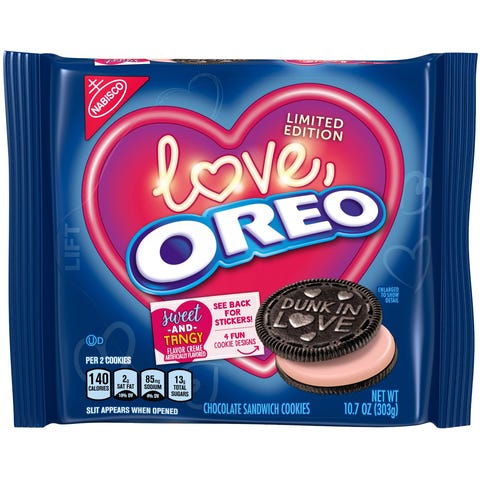 Oreo, $3

Oreo outdid itself with this Valentine's Day-themed limited edition cookie, which features a tangy and sweet pink cr1me and cheeky phrases like "Dear Cupid Send Oreos" and "Dunk in Love." Nailed it.
6
Brach's Conversation Hearts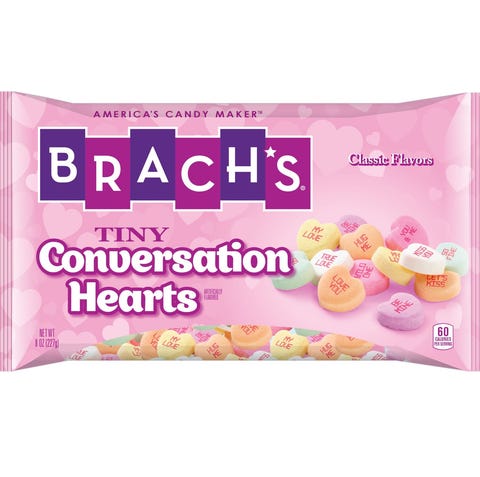 Brach's, $3
Since the '60s, Brach's Confections has been offering their own version of SweetHearts. Now that the original SweetHearts are sitting out this Valentine's Day, it's time for Brach's to swoop in, Jacob Black, New Moon style.
7
Reese's Valentine's Day Love-Mojis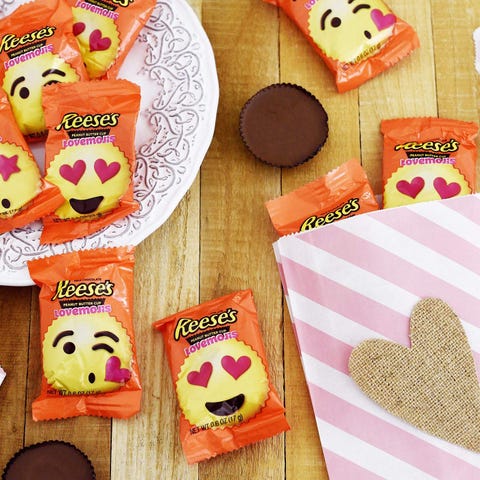 Reese's, $6
For when you really can't think of the right words, and want to opt for the smooth yet noncommittal heart-eyes-emojis instead.
8
Be My Matey Pirate's Booty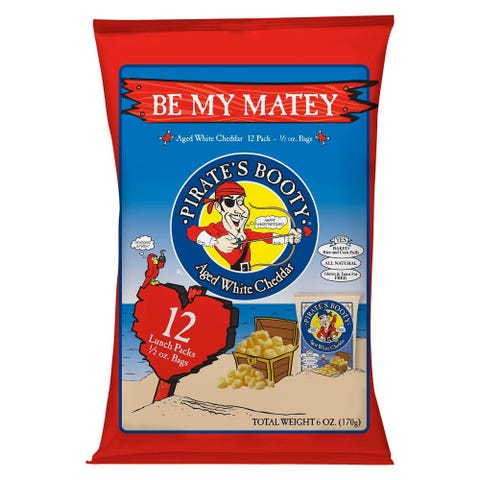 Target, $5
As if Pirates Booty isn't innuendo-esc enough, now you can give someone a bag that asks "be my matey." That's hilarious, people.
9
Valentine's-Themed Welch's Snacks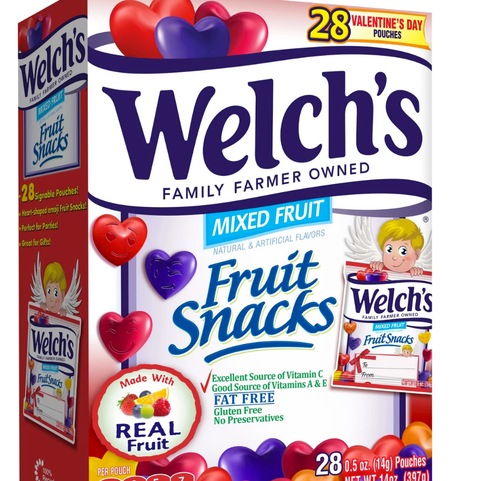 Welch's, $6
I mean, have you ever seen anything more adorable than these? If you're a parent, these are the perfect snacks for V-Day. And also if you're not a parent.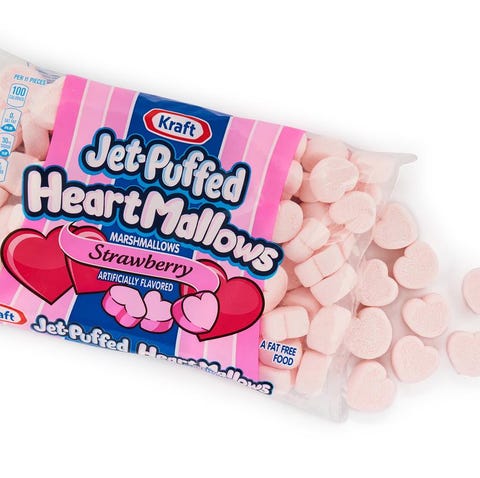 Kraft, $1
Save a couple of these for the winter months, when you'll want to hand one to the person you love over a roaring fire.
This content is created and maintained by a third party, and imported onto this page to help users provide their email addresses. You may be able to find more information about this and similar content at piano.io