Editors handpick every product that we feature. We may earn commission from the links on this page.
Heart-Shaped Candy and Snacks for Valentine's Day You Still Have Time to Buy
Because the way to anyone's heart is via their stomach.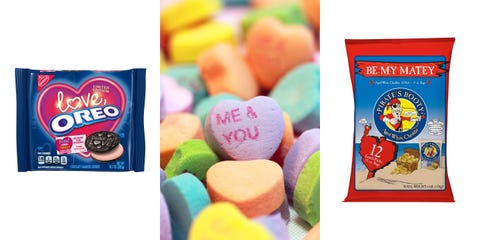 Last summer, the New England Confectionary Company, a.k.a. NECCO, went bust. What does that have to do with you, you ask? Well, NECCO was the manufacturer of SweetHearts candy, the iconic heart-shaped treats you left on your crush's desk in junior high. Now, we live in a world where, on the one day you're really pushed to express your love, you don't have the candy means to do so. Fortunately, other snack brands have stepped up the the heart-shaped plate to provide. We rounded up the best heart-shaped and loving-message foods that will do the work for you this Valentine's Day, whether you're offering them up to a lov-ah or eating them yourself.
This content is created and maintained by a third party, and imported onto this page to help users provide their email addresses. You may be able to find more information about this and similar content at piano.io