What Every Young Woman Should Know About Breast Cancer
As another pink October draws near, breast cancer survivor and Rep. Debbie Wasserman Schultz explains how breast cancer awareness campaigns have failed women under 40—and how she's working to change that.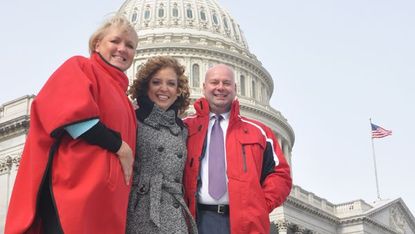 (Image credit: Courtesy of Deb Wasserman Schultz)
In 1992, a tenacious 26-year-old named Debbie Wasserman Schultz became a champion for young women when she was elected as Florida's youngest-ever female state legislator. That alone would have sufficed as her contribution to the female 40-and-under set, but the Democratic congresswoman and current chair of the Democratic National Committee has continued to advocate on behalf of young women throughout her career. Her accomplishments will be acknowledged Sept. 18, when she receives the prestigious Betty Ford Lifetime Achievement Award for her breast cancer awareness initiatives.
To address the pink elephant in the room, Rep. Wasserman Schultz knows there is, in fact, a calendar month dedicated to this disease, which strikes one in eight American women. Regardless, she also believes awareness initiatives are sorely lacking for women under 45—a gap which she experienced firsthand when she was diagnosed with breast cancer at the age of 41. Marie Claire sat down with the influential swing-state politico to discuss her experience with cancer, her legislative triumphs, and her concerns about breast cancer awareness among younger women.
Marie Claire: Would you say you had a high level of breast cancer awareness prior to your own diagnosis in 2007?

Debbie Wasserman Schultz: Oh, yeah, I was very involved. When I was a state legislator in 2000, I passed breast cancer legislation in Florida that increased insurance coverage for hospital stays and reconstructive surgery following a mastectomy—ironically not realizing I would eventually need the benefits of that law. It's because I was so focused on my breast health that I was able to detect when something felt different during a self-exam in the shower.
But it wasn't until after my breast cancer diagnosis that I was diagnosed with the BRCA2 gene, and that was when I learned Ashkenazi Jews like myself are five times more likely to have the breast cancer gene than the average woman. As engaged as I was in the fight against breast cancer, I hadn't known this. And I remember realizing, if I didn't know, oh, my gosh—how many other women don't know of their risk? That's why sharing my personal story was so important to me. I knew I would be able to use my experiences and profile to help.
MC: Although you kept your illness a secret until you were in remission.

DWS: Yes, I went through the experience with a very small circle of friends and family for two reasons: First, because my three children were young when I was diagnosed. I wanted to wait until I could confidently tell them, yes, Mommy had breast cancer, but she was going to be OK.
MC: And the second reason?

DWS: I knew I would encounter a lot of really well-meaning people who would decide not to ask me to do something, because, you know, Debbie's going through breast cancer. Going through cancer, you feel completely out of control, and you want to hold onto control of anything you can. I wanted to control when I was comfortable and prepared to participate—I didn't want people making that decision for me.
MC: You introduced what's known as the EARLY Act, to educate young women about breast cancer. Why was that so important?

DWS: I'm very proud of the work the act has achieved so far—it fills a void in attention, research, and programming focused on young women and breast cancer. First and foremost, we created an advisory committee focusing on breast cancer in young women at the Center for Disease Control. It includes oncologists, advocacy organizations, survivors, and other stakeholders, and helps the CDC determine the best way to establish a public health campaign to make sure young women are aware of their risk.
MC: What are some of the most successful ways it's targeted messaging to that under-45 demographic?

DWS: There's the Hollywood Health & Society Cooperative Agreement, which has placed storylines in two network television shows [90210 and Parenthood] that focus on disseminating health messages to this targeted group; that's ongoing. There's also the Social Media Wizard, which uses keywords, tags, hashtags, and demographic-specific media buys to target high-risk populations; and Know:BRCA, a web tool that helps patients and medical providers learn more about the BRCA gene mutation.
MC: What are some other ways you're reaching out to healthcare providers?

DWS: So often, healthcare providers are dismissive of young women when they come in with a problem, because they aren't as likely to get breast cancer and their problems aren't always as obvious. Grant funding has gone to outreach and awareness programs for healthcare providers, in order to ensure they have the knowledge and information they need to be more effective at diagnosing and early detection. It's an area the EARLY Act will continue to expand.
MC: What else is on the horizon for EARLY?

DWS: I'm working on survivorship legislation focused on young women—there's this whole population that's spending many more years as survivors than our older, sister survivors have, and we're dealing with unique challenges. There are women who are diagnosed before getting married and having kids. There are women who are dating and dealing with those challenges. On what date do you share with your partner that you've had a double mastectomy?
MC: Last week, Mary-Claire King [the geneticist who identified breast cancer genes, and a Lasker Award recipient as of this week] began vocally advocating that all women get tested for BRCA mutations. Where do you stand on that?

DWS: It's definitely worth looking into. The whole message behind the EARLY Act is knowledge is power, and targeting that population with information about their potential risk is key. I do concur with King that we need to educate these higher-risk populations. Now, not everyone needs the genetic test—but for a woman at higher risk, knowing what to ask her doctor about her specific situation will help her determine whether she needs a test.
That's exactly what I did when I was diagnosed with breast cancer, and it changed my life—it saved my life. When my nurse educator saw there was cancer in my family history and that I was an Ashkenazi Jew, she decided to run a BRCA test just in case. The positive result completely changed the recommended course of treatment for me. Instead of a lumpectomy and radiation, I ended up having a double mastectomy, seven surgeries, and an oophorectomy.
MC: What do you make of the fact that so many health care organizations no longer advise young women to do breast self-exams?

DWS: To say that I don't agree with recommendations that say women shouldn't get mammograms at 40 or that self-exams aren't necessary would be an understatement. It is entirely appropriate and recommended to have a mammogram between 40 and 50. If I didn't do self-exams, I never would have found out about my BRCA2 mutation, which gave me a 40 to 85 percent chance of developing ovarian cancer by the time I was 50. I mean, I was a ticking time bomb and I didn't know it! To me, those recommendations send a very strong message to younger women that they're being written off—that they don't matter.
There's a lot of conflicting advice, and that's part of the problem. While the U.S. Preventative Services Task Force recommends that women under 40 don't need a mammogram, leading cancer organizations like the American Cancer Society and Komen continue to encourage women to perform self-exams and to consult their doctors about the necessity, frequency, and best time to start mammograms.
MC: You talk a lot about the importance of a woman taking matters of preventative care into her own hands. Is this also how you feel about women's health issues more broadly?

DWS: Yes. I already believed that, but having gone through this personal experience and having spent a tremendous amount of time on this issue, I believe that even more strongly. Women should have the knowledge and awareness to empower them and help make their own healthcare choices. Discouraging women from knowing more about their own health and the choices they have is utterly baffling to me and actually deathly, potentially, for women.
MC: How can young women get involved in your mission?

DWS: The EARLY Act has been law for five years, and it's up for reauthorization and review by Congress. Women can get involved by contacting their member of Congress to support its reauthorization legislation, so we can continue to make sure the law helps focus on the needs of younger women and their potential for being diagnosed with breast cancer.
This interview has been condensed and edited.
Image courtesy of Debbie Wasserman Schultz

Celebrity news, beauty, fashion advice, and fascinating features, delivered straight to your inbox!
As a lifestyle editor at Dr. Oz The Good Life, I cover, like, living. (Food, shelter, all that good stuff.) I'm also trying to bring the scrunchie back.