How Hard Should We Lean into This Whole CBD Coffee Trend?
We consulted some experts to find out.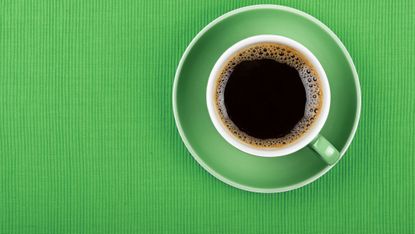 (Image credit: Getty Images)
Like many of my fellow New York City residents, I've recently grown aware of the presence of CBD in my surroundings. In particular, CBD at coffee shops. It started when some friends of mine were discussing a pilgrimage out to Flower Power Coffee Co., known for its "artisanal CBD-infused coffee." Then, at a fancy matcha cart I went to for Instagram-related purposes, I noticed that alongside health food add-ins like oat milk was the option to include a one-dollar shot of CBD. I didn't do it, because weed in most forms tends to make me sleepy and it was 1 p.m. on a Saturday in the middle of Brooklyn's trendiest neighborhood.
CBD's slow creep onto respectable restaurant menus has been noted elsewhere, too. Out of pure interest, I looked up CBD coffee in New York City and found there are a growing number of joints (no pun intended) serving it. I feel torn by this.
Don't get me wrong, there are plenty of reasons to recommend CBD (short for cannabidiol) in general, and I can't even imagine my life without coffee. But is this combination a realistic go-to for caffeine consumption, or, as High Times says, a weird wellness trend that should be nipped in the bud? I decided to find out, but quickly realized that—like many things involving cannabis and science—the answer depends on who you ask.
Before we go any further: Is CBD legal?
First the good news: Though it comes from the cannabis plant, CBD is not psychoactive, so it doesn't get you high in the way that its fellow weed compound THC does. Now for the bad news: Regardless of what some websites say, that doesn't mean it's always legal.
While there are producers who will tell you the difference between legal and illegal CBD comes down to whether your batch is derived from marijuana or hemp—both are plants in the cannabis family, but hemp contains very little THC compared to marijuana—the truth is that even hemp isn't legal everywhere. In Massachusetts, for example, you're allowed to grow marijuana at home, but it's still a crime to grow hemp.
In fact, the law is pretty unclear when it comes to CBD's state-by-state legality and people (mostly people of color, because a hard-to-interpret law is ripe for racist mishandling) are occasionally charged with possession for carrying CBD. There is a bill in the works (spearheaded by Senator Mitch McConnell, no less) that seeks to get rid of hemp restrictions federally, which would make at least one facet of the law easier to interpret. But TBD on what that means for CBD. So unless you live in a state where marijuana is cleared for recreational use and you're over the age of 21, the answer to whether or not CBD is legal where you live will vary. And avoid transferring even the most harmless of CBD over state lines. Per Quartz:
Effective in January 2017, the DEA (which typically refers to marijuana by the plant's scientific species name, Cannabis sativa, or the Reefer Madness-era spelling "marihuana") made a rule stating its marijuana scheduling includes "marihuana extract." In the rule, the agency defined "marihuana extract" as an "extract containing one or more cannabinoids that has been derived from any plant of the genus Cannabis"—which would include CBD.
Assuming it's legal to consume, what does CBD even do?
Most people who ingest CBD report feeling relaxed and a little sleepy, which seems pretty harmless since that's how most people report feeling after ingesting Ken Burns' Jazz.
In addition to its general chillness, CBD has been used to supplement medication in treatment for chronic illness. The compound has been shown in some studies to relieve pain, help aid sleep, mitigate anxiety, and may even help people quit addictive drugs.
For the sake of this article I should mention that coffee also has some serious benefits, like improving cognitive function and potentially preventing depression.
But one of the big differences between CBD and THC is, according to Jane West, cannabis activist, entrepreneur, and founder of the marijuana networking group Women Grow, that CBD is non-intoxicating. "Its potential benefits come with few or no adverse effects," West tells MarieClaire.com. "So really, this is something that everyone, even those who are reluctant to consume cannabis, can try to incorporate beneficial cannabinoids into their lives without any sort of high or residual THC in their bloodstream."
So what's the thinking behind putting CBD in coffee?
West maintains that there are plenty of reasons someone would explore this combo. And she should know: She manufactures her own brand of CBD coffee. "I'd bet that at this point, many adults have heard about CBD in the news or have come across ads for CBD products, but they might not know exactly what it is or how to try it," she says. "Coffee, on the other hand, is a part of so many people's everyday lives. So coffee is actually a perfect, natural way for people to explore the potential benefits of CBD."
Theoretically, shouldn't caffeine (usually an upper) and CBD (usually a downer) work against each other?
It depends on the dose and the person. Dr. Bonni Goldstein, M.D., the medical director of Canna-Centers, notes that it's hard to figure out how exactly CBD will affect individuals. "It's unclear at this point in time the exact interaction between CBD and caffeine," she says. "At low doses, CBD is a stimulant and in higher doses it can cause sedation....Someone's reaction to a combination of these compounds would not be easily predictable because various doses of each would affect the response," Goldstein explains.
West agrees: "It's just not as simple as one effect negating the other. The effects of cannabinoids are concentration-specific."
So it could potentially counteract itself and it may take some trial and error to figure out how it affects you personally.
How does CBD-infused coffee make you feel?
Though we've already established it's hard to predict what it will do to you, specifically, the general logline for CBD coffee is that it takes away the anxiety that caffeine consumption can sometimes cause, making your coffee "up" a little bit smoother.
According to West, who says her team is "drawing on a wealth of anecdotal evidence," CBD in your java can really take the edge off. "My colleagues, friends, and I have found that CBD-infused coffee largely does away with the anxiety and acid belly typically associated with coffee," she says. "That makes sense, because research suggests CBD has anti-anxiety and [anti-nausea] effects. We've also found that compared to the coffee we reach for regularly, testers experience a less jittery, elevated burst of energy after drinking CBD-infused coffee."
If I like my coffee really hot, will that affect the CBD?
Questionable. Here's Dr. Goldstein:
"Research shows that CBD content decreases when it is exposed to heat. It's likely that the reduction in efficacy is due to the lower content. For instance, studies show that 71 degrees F can accelerate the degradation of CBD in a solution, resulting in less CBD. Potentially adding CBD to hot coffee may degrade it and reduce the amount of CBD available for absorption."
That means if you're drinking your coffee above a balmy 71 degrees, the information you have about dosing may be less reliable. The good news is your coffee will just act like coffee.
Ultimately, if it's legal where you are and you want to see whether it would work for you, there's likely little harm in checking it out. Who knows? Maybe it'll be your miracle beverage of choice.
RELATED STORY
Cady Drell is a writer, editor, researcher and pet enthusiast from Brooklyn.