Editors handpick every product that we feature. We may earn commission from the links on this page.
The 19 Best Bath Products That Will Make You Forget What Stress Feels Like
The luxurious soak is worth the prune-y fingers.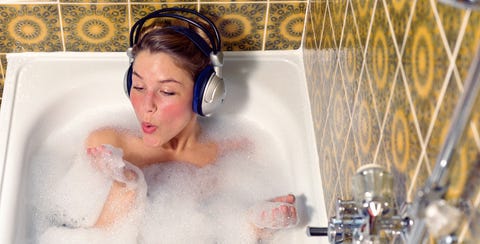 Why is it that drawing ourselves a bath and whiling away the hours with a good soak seems like a pipe dream? It can totally be your reality—you just need the right products to transform your bath from basic to a full-blown spa session. And we're not talking about the bubbles you remember as a kid (although those served their purpose). We're talking baths reimagined, with elevated products like oils, elixirs, and fragrance foams that will make you forget you're simply sitting in your apartment. A good bath provides an element of escapism—a moment of self-care to take your mind off things.

All we'll need you to do is light your favorite candles and get your background music going. Any of these products will do the rest of the work for you. And yes, you absolutely deserve to splurge on your at-home spa sesh. We guarantee that adding these bath-time products to your repertoire will make you a full-blown bather—and one with better peace of mind, a heavenly scent, and the softest skin of your life, at that.
This content is created and maintained by a third party, and imported onto this page to help users provide their email addresses. You may be able to find more information about this and similar content at piano.io