The 24 Best Luxury Bath Products to Make You Forget What Stress Feels Like
This soak will be worth the prune-y fingers.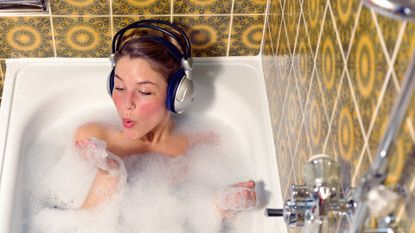 (Image credit: Getty Images)
Why is it that drawing ourselves a bath and whiling away the hours with a good soak seems like a pipe dream? The best bath products can make it a reality while transforming your bathroom into a luxurious at-home spa. And we're not talking about the bubbles you remember as a kid (although those serve their purpose). We're talking baths reimagined with elevated and luxury bath products like oils, elixirs, bombs, and fragrance foams that will make you forget you're sitting in your apartment. A good bath with good bath products provides an element of escapism—a moment of self-care to take your mind off things.
All you'll need to do is light your favorite candles and get your background music going, perhaps with a book and a beverage in the mix. Then, let the best bath products do the rest of the work for you. By adding a few from the edit ahead to your repertoire, you'll undoubtedly enjoy better peace of mind, a heavenly scent, and the softest skin of your life. You'll not only revel in your tranquil handiwork but possibly become a full-blown bather seven days a week.
1/24
Maude Soak No. 1
Essentially a fancier way to soak, these de-stressing crystals are infused with amber, cedar leaf, clove, lemongrass, and Medjool date aromatics to relax your muscles (because even sitting all day takes its toll). Fun fact: Dakota Johnson joined the Maude team as an investor and co-creative director.
2/24
Dr Teal's Epsom Salt Soaking Solution
Dr. Teal's pure mineral compound of magnesium and sulfate is a winner for soothing sore muscles. Epsom salts are notoriously detoxifying as they absorb in the skin with ease, reduce inflammation, and flush toxins. So if lavender is your go-to aroma, let these little crystallines ease away your stress before bedtime.
3/24
Ouai Chill Pills
We could all use more chill pills throughout the day. Pop a few of these bath bombs into running water to honestly calm the F down. They're made with soothing oils like jojoba, safflower, and hemp seed, so you'll not only feel serene on the inside but feel oh-so softened and moisturized skin on the outside, too.
4/24
Lush Ceridwen's Cauldron Luxury Bath Melt
Attention bathing enthusiasts: This gorgeously softening bath oil melts right in your water to soothe and smooth dry, irritated skin. Bonus: It's package-free—so eco-chic.
5/24
Pursoma Digital Detox Cleansing Bath Soak
This "digital detox" bath soak is the ultimate way to unplug. It combines raw, vegan ingredients with montmorillonite clay to remove the positively-charged radiation that builds in our bodies after hours spent in front of the computer and phone screen. Fifteen minutes is all you need for a total reboot.
6/24
Fur Bath Drops
These shiny drops contain the brand's signature fur oil along with nourishing botanicals like clary sage, grape seed oil, and more to envelop the skin in a veil of hydration. Fact: If you're dealing with inflammation, clary sage is an astringent essential oil that works to soothe rough patches and clogged pores.
7/24
Lord Jones Mini High CBD Formula Bath Salts
If you can't seem to shake soreness, you need Lord Jones's buzzy CBD-infused bath soak, erm, right now. It'll ease tight muscles (tech-neck included!) to feel akin to a full-body massage.
8/24
Rituals The Ritual Of Sakura Bath Foam
Experience cherry blossom season in a bottle with this fragrant bath foam. The scent will mentally transport you to a garden, and if you like bubbles—like, a lot of them—this bath product over-delivers on suds.
9/24
Milk + Honey Bath Soak Nº 08
Sometimes, even when you're soaking in a bath, it feels impossible to settle your mental to-do list. This calming combination of lavender and eucalyptus will get you to that fully relaxed state to wash the day away.
10/24
NatureOfThings Restorative Floral Bath
The price of this bath elixir veers on steep, but it carries actual gems and rich stones inside of it. We're not kidding—you'll find rose quartz and malachite extract in this formula, both of which have energy-balancing and spirit renewal powers. There's also mineral water and hydrating oils to hydrate your pores and soften the skin. Oh, and how can we not mention the beautiful packaging?
11/24
Bathing Culture Big Dipper Mineral Bath
Mind and muscle stress will melt away while soaking in this blend of mineral-rich salts, green clay, and jojoba oil for 20-plus minutes. The wavy glass design gets aesthetic points, too.
12/24
Kneipp Refreshing Eucalyptus Aromatherapy Bubble Bath
Besides the fact that this bubble bath turns your water into a dreamy blue hue akin to a rainforest bathing sanctuary, it's full of good-for-you essential oils. Eucalyptus, its star ingredient, is known to clear out congestion and resolve respiratory problems. And with spring—aka allergy season—upon us, this therapeutic formula might be your sneeze and watery eye antidote.
13/24
EllaOla All-Natural Baby Bath Soak
This made-for-babies bath soak is equally great for adults with sensitive skin, especially those with eczema. Legit, no shame in using your kid's bath soak for your relaxation moments—parents more than deserve it.
14/24
Honest The Wind Down Bubble Bath
Unwind with a glass of bubbly and a bubble bath, courtesy of Honest's calming myrrh scent formula. If it's good enough for Jessica Alba, consider us sold.
15/24
Dr. Singha's Mustard Bath
This traditional English therapeutic remedy of spicy mustard—used for many ailments from pulled ligaments to colds—contains compounds that stimulate sweat glands, boost circulation, and relieve tension in the muscles.
16/24
Royal Botanicals Rose Geranium Bath Soak
If you're looking for an all-in-one bathing product, look no further than Royal Botanical's revitalizing mix of Dead Sea salts and organic essential oils of the "flower of constancy." Extra points for the lovely Victorian-inspired amber glass bottle that will look so chic perched next to your tub.
17/24
Fresh Sake Bath
Pour a few drops of this elixir into your bath, close your eyes, then imagine you're indulging in a traditional Japanese bathing ritual. With 38-percent sake in the formula to detoxify, you'll feel your body temperature start to rise, ridding your body of toxins and increasing your blood circulation.
18/24
Bastide Huile d'Aix Orange Blossom Bath Oil
Dealing with dryness? This Vitamin E-rich bath oil is full of antioxidants that will smooth over rough patches and leave your skin feeling oh-so silky. You won't even feel inclined to apply lotion (although you should) because you'll step out of the tub thoroughly moisturized from this luxurious oil. Pour two cups into your bath when your water runs to get the full effect.
19/24
Mustela Baby Multi-Sensory Bubble Bath
You may be a grown woman, but who can deny the appeal of baby-soft skin? Though intended for bébé's, this non-irritating bubble bath blend of marine, cornflower, and avocado extracts won't upset sensitive skin types but instead soften and deeply hydrate.
20/24
Earth Therapeutics Organic Cotton Exfoliating Gloves
The secret to giving your skin an all-over glow (you know, the kind Beyoncé has virtually trademarked) is exfoliating your body two to three times a week. Slip these babies on to make scrubbing off dead cells and boosting circulation a cinch.
21/24
Thisworks Deep Sleep Bath Oil
It's one thing to find a deeply-hydrating bath oil, but it's another to find one with a bouquet of intoxicating notes that leave you in a dreamy state. This pre-sleep formula combines patchouli, lavender, camomile, coconut, Ho Wood oils, and more.
22/24
Coqui Coqui Perfumes Coco Coco Bath Oil
Use this 100-percent all-natural oil for more than massages but baths, too. The succulent coconut scent will transport you to Mexico's Yucatán Peninsula.
23/24
Linné Spa Night
Treat yourself to or give the gift of a full-fledged spa night with Linné's luxe bathing set. Within, you'll find full-size floral bath salts, a body wash, and a soothing balm for your body. Plus, treats for the face, including a scrub mask, serum, and repair oil.
24/24
Amass Forest Bath Salts
If you're less than enthused by lavender, peppermint, or citrus scents, look to Amass's earthy bath salts, featuring nourishing sweet almond and apricot kernel oils. The refreshing formula is so popular it's currently sold out—we suggest adding yourself to the waitlist so you can get your hand on it (and muscles into it) the moment it restocks.
Freelance Fashion and Beauty Writer
Laura Lajiness Kaupke is a freelance writer and editor covering fashion, accessories, fine jewelry, and lifestyle topics, including beauty, home, fitness, and travel. You can see her work across various outlets, including VOGUE, Harper's BAZAAR, ELLE, Glamour, Town&Country, InStyle, Esquire, Women's Health, Brides, Refinery 29, Coveteur, The Zoe Report, Popsugar, Byrdie, WWD, Footwear News, Well+Good, The Editorialist, among other titles and brands. Laura has worked in the fashion industry for over 11 years and held senior fashion editor positions at Popsugar and The Zoe Report, with additional experience as a copywriter and fashion publicist.