My Long, Messy, Beautifully Complicated Path to Adopting My Son
Claire Gibson expected to have a big family, but infertility had other plans. Here, she shares her adoption story.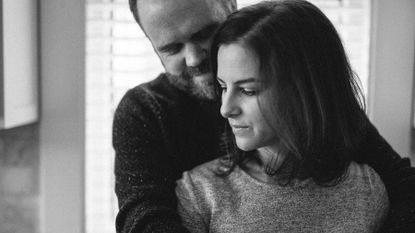 (Image credit: Brad and Jen Butcher)
My son's story starts with a phone call, not a pregnancy test.
On a September morning in 2017, I sat on our front porch, editing the final pages of my manuscript. While I worked, a parade of parents and children walked by, waving as they headed to the school up the street. I tried to focus on the paragraphs in front of me, but I couldn't seem to make any progress. The novel, like my life, felt like it was going nowhere.
And then the phone rang.
For more than 18,000 families that adopt an infant in the United States every year, this is how it begins. I could tell from the area code that it was our adoption agency calling. As the phone vibrated in my hand, I felt queasy, like I'd been transported to the top of a rollercoaster, just before the plunge. I wondered how—or if—our life was about to change. That's how adoption works. Nothing's different. And then, all of the sudden, everything is.
My husband, Patrick, and I got married in 2010, in a medium-sized ceremony in St. Simons Island, Georgia. Back then, we had dreams of a big family and often joked about who wanted more children. (I tapped out at four, Patrick always one-upped me with five.) We hoped to have biological children, but also hoped to adopt. It was simple: If there were children in the world who needed a family, why not be that family? But like most people, we assumed biological children would come first.
In the fall of 2013, we booked a trip to Europe—a "last hurrah," we thought, before children halted our travels. But we didn't get pregnant in Europe. Nor did we get pregnant when we got home to Nashville. Soon, our plans for a big family seemed more like a pipe dream.
Looking back now, our four years of infertility blur together like a bad montage. There were pregnancy tests, tears, and doctor's visits. Pill bottles assembled on my bathroom counter like soldiers ready for battle. IUIs failed. There were shouting matches—with my husband, who wanted to keep pursuing medical interventions—and with God—who seemed entirely silent. More intense treatments were still available to us, but the cost of IVF began to look like a gamble we weren't willing to take.
Infertility was a crucible, a narrow, exacting path that we never would have chosen for ourselves but which ultimately led us in a new direction. We knew we had love to give, but also knew we needed more information.
To prepare ourselves for the future, we met with friends and acquaintances who'd adopted, both domestically and internationally. Those friends patiently answered all of our lingering questions. Was it difficult to bond with the child? In most cases, no. Was it expensive? In most cases, yes. Adopting a child out of foster care is free because the costs are subsidized by the government. But if you choose to work with an agency, adopting an infant in the U.S. can cost more than $40,000. (The costs to adopt are sometimes staggering, but they are not arbitrary. That huge figure is based on a myriad of variables including legal fees, medical bills, and counseling services for birth mothers both before and after labor.)
Patrick and I took eight weeks of foster parenting classes before ultimately deciding that we wanted to work with an agency. (It was our hope that by partnering with a birth mother, we might help a child avoid the foster system.)
It took about two months to fill out all the necessary paperwork. We got medical clearances from our doctor, completed FBI background checks, and opened our home for inspections. We also created a profile full of pictures and essays about our life in Nashville. By February of 2017, we were "live" with an adoption agency, which meant that birth mothers were looking at our profile. Our representative at the agency, a social worker named Katie, promised to call as soon as she had any news to share.
So we waited...
We received our first phone call in March, matching us with a birth mother in Detroit. But three months later, we experienced what all adoptive families fear. She changed her mind ten days before the child's due date. We were devastated. And yet, who were we to know what was best for her child's future? We grieved and went back to waiting.
Months passed with no news. Every day, I went to the front porch to work on my novel, and every night, I got in bed next to Patrick, feeling his hand intertwine with mine. I swung on a pendulum between hope and despair: It would happen; it would never happen.

And then, that morning in September, the phone rang again.
"She's in Florida and she's due in November," Katie told me. "She would love to talk to you on the phone, if you're up for it."
Patrick and I knew better than to get excited. But when we heard this birth mother's voice for the first time, we felt a flutter of hope.
"It's not that I think you guys are better than me," she said, her voice calm and assured. "I just know that I can't provide what he needs right now. And I want him to have what he needs."
Her love was evident in every word she said. Tentatively, we purchased a few baby items and stowed them away, out of sight. A car seat hid in the closet. An unassembled crib slid under the bed. As the due date neared, my emotions went haywire. I remember standing in front of the bathroom mirror, pulling up my shirt and touching my flat belly.
The birth mother's doctor decided to induce. So on a Monday morning in November, Patrick and I packed our car and drove to Florida.
The next day, the hospital waiting room was full of natural light. Every few minutes, the elevator doors opened, and one couple after the next filed out, ambling toward the check-in desk. We waited, watching the doors, wondering when she would arrive. And then she emerged from the elevator alone, holding a black blanket in her arms.
She was shorter than I'd expected, with her hair pulled in a pony tail on top of her head. She smiled, wiped a few tears from her eyes, then let me embrace her in my arms.
"I'm scared," she said. I told her I was too. We promised to be with her every step of the way—that we were there to support her, no matter what. She let us sit with her as she received her epidural, and invited us to stay in the room during the labor. As she pushed, she held my hand.
The delivery was fast. She bent forward in the hospital bed, pushing with all her might. I stood next to her, giving her my hand to squeeze. Patrick stood behind me, watching the scene unfold with a mixed sense of terror, awe, and wonder: Was this going to be our child? Or would we go home with empty arms?
Adoption is like forming a mosaic out of a million broken pieces. When those pieces adhere together, their rough edges suddenly transform into art. No matter how beautiful, though, it should never be dismissed that the beauty started in pain.
The whole time, I kept thinking that this woman and I would have done anything to switch places. I wanted to be in that bed, giving birth to a baby. She wished she wasn't. And yet, out of our places of opposite pain, we met in that room and loved a child to life. She loved him into the world. I will love him through it.
He cried.
As the nurses placed him into our arms, I sobbed—for his future, for his heroic birth mother, for all the ways that the world was broken, and for all the ways we were trying, together, to make it whole again. Someday, the child born in that room will have to grapple with what happened there. But here is the truth. His birth mother held him, fed him, and put him back in our arms, then said:
"The three of you." She looked at Patrick and me and the baby boy. "You're perfect together."
Claire Gibson is the author of Beyond the Point (William Morrow), her forthcoming debut novel available in April 2019.
Celebrity news, beauty, fashion advice, and fascinating features, delivered straight to your inbox!