10 Health Issues CBD Could Solve
Is CBD truly the wonder drug it's being touted as?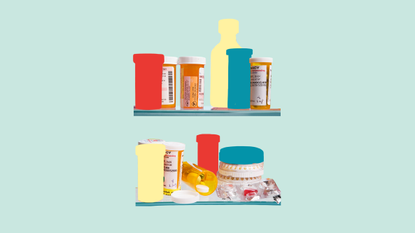 (Image credit: Morgan McMullen / Getty Images)
CBD is being touted as a cure-all for, well, all. Pain, anxiety, acne—anecdotal evidence suggests the cannabinoid works wonders for each of those issues and more, and marketers are certainly spreading the hype. But is CBD too good to be true? We decided to put the celebrated compound to the test. Marie Claire editors readily volunteered to try out CBD tinctures, patches, masks, and bath bombs and report back on their results. And then, we got the science. Personal testimonials are nice, but we wanted to be sure rave reviews weren't just the placebo effect. So, we asked Alex Capano, D.N.P., chief science officer of Ananda Hemp, to weigh in with her expertise. Here, 10 possible uses for CBD—and the real deal on whether it works or not.
The Ailment: Anxiety
The Editor Says:
I've always thought of CBD as something to be used in the moment—when I couldn't sleep, when I felt a panic attack coming on— but the directions on Rosebud's full spectrum CBD oil say to ingest 1–2 servings (1 serving = ¼ dropper, or about 17 mg) once or twice a day, like a daily prescription to keep my anxiety continually at bay. Over the last two weeks, I've dosed myself once in the morning and once before bed. The oil is unsweetened/unflavored with an earthy, hint-of-cannabis taste, but I found it more pleasant than similar products I've tried. This might be in my head, but the oil tastes like it will work—and it did. I felt calmer and more focused at work, but the biggest perk was the effect it had on my sleep: I often wake up hours before my alarm and my anxiety kicks in right away: You'll never be able to go back to sleep, here's a long list of all the things you have to do today, oh and did you know your mom's birthday is coming up? But since I've been taking Rosebud, I've been able to go back to sleep, often for hours at a time, my anxiety nowhere to be found. I slept until 10 a.m. on a weekend day for the first time in YEARS! The only thing that makes me reluctant to continue using it regularly is the cost: At $125 for a 0.5 oz bottle of the 1,000 mg CBD oil, the habit could get expensive. But I've learned that when it comes to CBD, you get what you pay for, and my research tells me that Rosebud's hemp is sun grown in Oregon without herbicides, pesticides, solvents, fillers, additives, or preservatives, it's third-party lab tested, and, as I now know, effective—all of which makes it deserving of its price tag. After all, is anything worth splurging on more than a good night's sleep? —Kayla Webley Adler, Senior Editor
The Expert Says:
There's limited scientific evidence on CBD's effects on anxiety in humans, but that doesn't mean it's just placebo. One small placebo-controlled trial from 2011 demonstrated CBD's efficacy on social phobia in participants diagnosed with Generalized Social Anxiety Disorder, but that study used a very high dose: 600 mg of isolate CBD. Another study evaluated subjective anxiety and brain activity using 400 mg of isolate CBD, and found anxiolytic (a.k.a. anti-anxiety) potential in both subjective (patient reported) and objective (brain imaging) measures. A larger case series from this year demonstrated CBD's anxiolytic effects at lower doses, 25 mg–175 mg per day.
Still, preclinical and animal models support CBD as a viable therapy for anxiety, and multiple human case studies add to the evidence. Rosebud's product is full-spectrum, so 17 mg likely packs a more potent punch than isolate CBD due to the entourage effect (the theory that the whole plant extract is more effective than CBD alone). Anxiety is one of the most common reasons people use CBD, and it is certainly safer than many prescription anxiety medications.
The Ailment: Back Pain
The Editor Says:
I was skeptical at first. My usual go-to CBD treatment for my aches is a thick pungent balm—which meant that if I woke up with upper back and shoulder pain from sleeping with a sick child on my arm all night, I had to suffer through the day rather than offend the noses of my office mates and risk getting goo all over my work clothes. But Curaleaf Hemp Transdermal patches are paper thin with a subtle scent. Also, their matte, barely-there look means that one would hardly notice a patch peeking out from the top of my dress. And, most importantly, they work. They wouldn't be effective at relieving soreness or pain along a wide swathe of body, but that's what a partner massage and my trusty (smelly) CBD balm is for! —Joyce Bautista Ferrari, Managing Editor
The Expert Says:
Most of the human studies on CBD and pain focus on chronic pain instead of acute muscle aches, but many of these studies reported improvements in muscle stiffness as a secondary measure. There is evidence in animal studies that CBD alleviates muscle pain, though, and we know that CBD is an anti-inflammatory agent. These patches also have camphor, menthol, and methyl salicylate in them (think: Icy Hot), which likely adds to the relief.
The Ailment: Knee Pain
The Editor Says:
By the end of almost every day, I have knee pain that's quite severe, so I was skeptical about a topical CBD salve. But, a few weeks ago, I was limping at the end of a long work day, so I decided to try Dr. Hartridge's PhytoDiol Max CBD infused salve before leaving the office. I was pleasantly surprised at how quickly it dulled the top layer of ache and tightness in my leg.
A little bit went a long way—once the salve warmed on my skin (the texture is gritty until it warms), I rubbed a scoop on my finger about the size of a blueberry in from my knee down to my ankle and foot. Within a minute or two I could feel the difference and was in a little less pain. The smell isn't unpleasant and is weak enough that I'm not worried about it being smelled by others. I've used it every day since, and it has provided quick relief for sudden tightness and aches. The jar is small and light enough to carry with me, which I love. —Megan A. Victoria, Senior Photo Researcher
The Expert Says:
The same thing goes for knee pain and back pain. But if this person has severe knee pain at the end of every day, then a chronic issue, such as arthritis, is likely the culprit. There is scientific evidence in both humans and animals to support CBD's pain-relieving effects in arthritis. This product also has methyl salicylate in it, which would contribute to the effect.
The Ailment: Skin Issues
The Editor Says:
The Kana Skincare lavender sleep mask is an absolute dream. The product itself has a nice fragrance and a delicate feel—it wasn't too heavy like some masks I've used. The instructions say to wear all night, so I substituted it for my regular moisturizer. I have extremely sensitive, acne prone skin, and I was a bit nervous that I might have a reaction. Luckily for me, the mask didn't cause any inflammation and appeared to be beneficial for my skin. In the morning when I washed it off my face felt softer, and my skin looked brighter. I absolutely loved it, and would highly recommend! —Lauren Brown, Senior Photo Editor
The Expert Says:
Human studies on CBD and skin issues do not exist yet, but biochemistry suggests it could play a beneficial role. In addition to its anti-inflammatory effects, CBD appears to decrease production of oil that clogs pores and help boost cell turnover, which encourages youthful skin and prevents fine lines and acne. Also, this is a full-spectrum product, so other cannabinoids, such as CBC, THCV, and CBDV (CBD is one of many active compounds, known as cannabinoids, in the cannabis plant) may be present and would contribute to effect. Lastly, CBD kills bacteria, which can help to clear up skin.
The other ingredients in this product, such as hyaluronic acid, should not be ignored, as they have well-established skin benefits.
The Ailment: Joint Pain
The Editor Says:
My knees and hips are wrecked from years of competitive sports, so I need a good 600 milligrams of ibuprofen to feel close to normal after a long run or a plane flight. Recently, I took one Weed Sport CBD Capsule instead of my usual three Advil; the analgesic effects kicked in a bit quicker, and they came with a nice side of full-body relaxation. It was like the formula eased aches I was aware of (knee joints, hip sockets) and then kept going to soften subconscious tensions (shrugged shoulders, tightness in my jaw) that I didn't even realize I had until I experienced the feeling of their absence. —Jenn Goldstein, Beauty & Health Director
The Expert Says:
Again, CBD's therapeutic potential on chronic pain is supported by scientific literature, although the 10 mg in these full-spectrum capsules is a lower dose than has been evaluated in any study. This product also includes beta-caryophyllene, a natural terpene (a plant compound that gives them specific aromas) that adds to anti-inflammatory effects. In fact, one study demonstrated that beta-caryophyllene is almost as effective as CBD is in reducing dental pain. Sativex, a prescription-only CBD & THC product approved for Multiple Sclerosis pain, also includes beta-caryophyllene.
The Ailment: Trouble Sleeping
The Editor Says:
A good night's sleep is one of my very top priorities, and unlike those people who can lead productive lifestyles on six hours and under—I need to clock as many Zzzs as a newborn baby. While I get into bed early, my brain usually doesn't want to call it lights out. I've tried every trick in the book, resorting to rain soundtracks and weighted blankets, plus I've tested my fair share of melatonin and all-natural sleep aids; they usually leave me groggy in the morning. So why not give some sleep inducing CBD a try? Enter Mineral Health's hemp oil tincture.
First Impressions: The brand's sleek packaging was impressive and their informative website spells out exactly what's in their products, in addition to where and when each batch was bottled. Most importantly, MH says their blend of cannabinoids and sedating terpenes will help me achieve a deep night's rest. I decided to try this out at a particularly stressful (i.e. sleepless) time before some long-distance travel.
The easy-to-use dropper is great, and the taste, although strong, is nice, with hints of citrus and woodsy notes. And hallelujah, this stuff MADE ME SLEEP. I took a full dropper (16 mg) as suggested, 30 minutes before bedtime. I immediately felt more relaxed and drifted into dreamland without tirelessly recounting the day's events and my laundry list of to-dos. The following night, I fell into an even heavier sleep and woke up feeling refreshed and ready to take on the day.
While I can't say for sure if CBD is going to be a sleep savior in the long haul, for now it appears to be a pretty great alternative to other sleep medications I've tried. I'll continue to keep this chic little bottle on my bed stand in hopes it continues to give me the sleep of my dreams. —Sara Holzman, Fashion Features Associate
The Expert Says:
Sleep is one of the most common reasons people use CBD, which makes sense, as drowsiness is the most common side-effect of CBD use. A 2018 study evaluated 409 participants and demonstrated that CBD can help alleviate insomnia. This product contains another compound, CBN, which is thought to be the most sedative cannabinoid, but true scientific evidence is limited.
The Ailment: Menstrual Cramps
The Editor Says:
I'm generally pro-cannabis usage, but I hadn't yet tried using CBD for the curled-up-on-the-floor, woken-up-from-a-dead-sleep cramps I tend to get each month. But because I usually have to get dressed and live my life regardless of the blinding pain, getting stoned as a solution has never been an option. The claims of Foria's CBD suppositories were promising enough that I overlooked the fact that you use them by way of sticking them up…yourself. Fine! Anything that works!
Foria actually makes two kinds of period pain suppositories: One from their Basics line, with 110 mg of hemp extract that they advertise as "full-spectrum CBD," and one with 60 mg of THC and 10 mg of CBD. (Note that you can only get the latter in states where cannabis is legal—there's a Store Locator on Foria's site—while the CBD ones you can order online here.) For the sake of thoroughness, I tried them both.
On the first day of my period, when my cramps were really, really bad (I'd compare them to "someone twisting a blunted screwdriver into your lower abdomen but being sloppy about it"), I popped one of the THC/CBD suppositories in (not really an uncomfortable experience) and waited for the soothing effects. The directions recommended lying down for 10–20 minutes afterwards, but I didn't have time. An hour later, I took stock of my feelings and…I couldn't really tell if it worked. I guess my cramps got a little less intense. But also, that's just what happens with cramps, they get less intense as the day goes on? At their best that day, they were still "being headbutted by a small goat" painful.
A couple days later, I tried the CBD-only suppositories. My cramps were a bit gentler by this point—I'd say "a miniature person using your abdomen as a trampoline" level—and the suppository really did vanquish the last relics of the cramps fairly quickly. My results were inconclusive, but I liked that the suppositories felt like a natural way of addressing cramps (I hate having to take ibuprofen for something that happens every month). I'll definitely be trying them again, especially the CBD ones. —Cady Drell, Senior News & Culture Editor
The Expert Says:
There are no clinical trials on CBD & menstrual pain. We do know, however, that the endocannabinoid system plays a significant role in menstrual pain, and female reproductive tissues host an abundance of endocannabinoid receptors. There is evidence that cannabinoids can help stop endometriosis proliferation, but this evidence points to other cannabinoids, like THC and not to CBD. Because CBD is an anti-inflammatory agent (so is ibuprofen), it should help alleviate menstrual cramps. Of course, response is individualized. Following the directive to lie down after insertion certainly would make a difference in terms of delivering the active ingredients.
The Ailment: Muscle Soreness
The Editor Says:
I'm not a huge bath girl. Partially because I just don't know what to do in a "relaxing" bath… soak? Read? Drink wine?... and partially because I associate the tub with ice baths (I ran track in college and we often had to recover in tubs of freezing water after long meets). The ice baths did help ease soreness, but they were not at all fun. That's why I was curious to try Y7 x Nice Paper's After Flow CBD Bath Soak. If I could recover in the tub after a hard workout sans ice cubes, then maybe I could actually get behind this whole "taking a bath" thing. So, after a particularly tough weight lifting workout (and subsequent long day running around my office in heels) I decided to test it out. The process was easy: While the water is running, you pour in the soak, mix it around, and suddenly you have CDB Epson salt soup. As I steeped my legs, I imagined my muscles loosening up and my soreness melting away. I'm not sure if it was the CBD or a placebo effect, but the next morning at the gym, my legs felt way fresher than usual, and I got through my workout (mostly) pain free. I'd call that a success—and I'd take a CBD soak over an ice bath any day. —Megan Ditrolio,
Associate Editor
We've covered the science behind muscle soreness above, but this is an interesting one due to delivery method. There's no science to support CBD's effects in a bath soak, but we do know that transdermal application of CBD is effective. Some of the CBD "bath bombs" I've seen on the market cause skepticism, as CBD is not naturally water soluble, meaning it would not readily absorb into the skin this way; it feels gimmicky. This product, however, is refreshingly oil-based, which would promote true absorption of CBD into the body. The Epsom Salt & essential oils (lavender, bergamot, and eucalyptus) would also aid in muscle relief.
The Ailment: Trouble Focusing
The Editor Says:
I've had ADD since I was a kid and prescription medications like Adderall and Ritalin were really not for me. Through the years, I've learned how to tame it on my own—whether that's working out or taking breaks throughout my work day to help me stay focused. Recently, while I was out in L.A., I was given the Beboe calming CBD pen and I have to say it has TOTALLY changed my life. I take a few puffs at the start of my day if I'm feeling overwhelmed—but not every day because I don't want to become reliant on it—and then maybe 2 or 3 more in the afternoon when I can feel my attention fading. It makes me feel extremely focused and zen at my desk and levels me out through the day. I cannot believe a product can make you feel so balanced without insane side effects. It's really rewarding. —Adrienne Faurote, Fashion Market Assistant
The Expert Says:
ADHD is getting a lot of anecdotal attention in the CBD world, but the scientific evidence is limited. There is one small pilot study out of the U.K. that demonstrated symptom relief in adults with ADHD from a combination of THC and CBD in a 1:1 ratio. The results trended toward improved cognition and emotional lability (basically, mood swings), but they were not statistically significant. While studies suggest that the endocannabinoid system influences ADHD symptoms, the evidence for CBD as an ADHD therapy is mixed. CBD indirectly increases levels of a neurotransmitter called anandamide, which may actually worsen ADHD symptoms. But multiple case reports (including this one) say it helps. The jury is still out.
The Ailment: TMJ Pain
The Editor Says:
I have very mild TMJ, and my dentist recommended CBD oil as a way to potentially alleviate pain. I'd never tried CBD before, and I'm not a pot smoker, so I was curious. Soul Addict's Hemp CBD Elixir was easy to use—a few drops under the tongue before bed—but I didn't really spot much of a difference in my jaw. What it did do, however, was make me feel very zen-like before sleep. I do frequently have a tough time falling asleep, so that was a lovely change. Plus, I didn't have any harsh after-effects the morning after, like I sometimes get when I take melatonin or other sleep aids. I'll continue to experiment with the dosage to see how this product affects my body, and I'm also planning to see if using CBD as a topical gel tackles the jaw pain more effectively. —Katherine J. Igoe, Morning News Editor
The Expert Says:
Outside of anecdotal patient reports, there is no scientific evidence to support CBD for TMJ specifically. But CBD's anti-inflammatory effects suggest it could help relieve pain, and its anti-anxiety potential may help someone reduce jaw clenching, which can exacerbate TMJ .
It looks like this product has only 4.2 mg in 15 drops, which is not enough to cause a significant effect for most people. I suggest increasing the dose in this case.
For more stories like this, including celebrity news, beauty and fashion advice, savvy political commentary, and fascinating features, sign up for the Marie Claire newsletter.
RELATED STORIES
Celebrity news, beauty, fashion advice, and fascinating features, delivered straight to your inbox!