15 Women to Watch in the CBD Industry
From doctors and scientists to venture capitalists and marketing pros, these are the women shaping the world of CBD.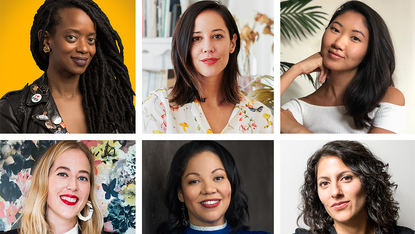 (Image credit: Courtesy)
Marie Claire Newsletter
Celebrity news, beauty, fashion advice, and fascinating features, delivered straight to your inbox!
Thank you for signing up to Marie Claire. You will receive a verification email shortly.
There was a problem. Please refresh the page and try again.
When I started Nice Paper with my co-founder Marta Freedman, I entered the cannabis industry like I do most spaces: excited, but with a dose of trepidation. Coming from the established worlds of magazines and technology, it was a little daunting to be newcomers in a burgeoning space. We wanted to create a platform that would help people see weed the way we did: as something that makes our lives nice. Working with experts, doctors, and activists, we created a beautifully-designed site that covers the science behind weed, profiles successful people we love that openly use cannabis, and breaks down hemp and cannabis laws that need to be reformed.
We really couldn't anticipate the reception we'd get from people already established in the industry. But shortly after we launched, other brands started to notice us and female founders reached out. Before we knew it, introductions to potential clients were made and collaborations were hatched. We received the same welcome you'd get when you start a job at a new company, where we weren't treated like the competition—we were joining a team.
At the time, I assumed that women ran the CBD and cannabis space. Most products seemed targeted to women, and I saw the headlines and magazine covers touting its potential as an equal playing field. Why would I think any differently?
But the reality is that every year, female representation in cannabis and hemp declines to reflect the "traditional economy" (a.k.a. white males). The latest report from 2018 calculated that only 27 percent of cannabis companies have women in executive positions. As for women of color? That number isn't even accounted for in the report, but considering that communities of color are the most impacted by cannabis prohibition, this is a stat that demands examination.
Even with dwindling leadership positions and a lack of representation for communities of color, there are women in the space educating, writing, advocating, trailblazing, and making products that are setting the standard for what the industry should look like. Here, 15 women in CBD who are creating a tide that raises all ships.
Dr. Alex Capano
When Alex Capano, DNP, first decided to pursue a doctorate in medicinal cannabis and cannabinoid science after years as a family nurse practitioner, she says she was afraid she'd get "laughed out of the room." Instead, Capano became the first person in the United States to receive a doctorate in cannabis from the Lambert Center at Jefferson University.
Yes, she's our first official "weed doctor." Well, sort of. "I always feel a little funny when people call me the first cannabis doctor—which started with one of my advisors—because obviously there are other experts out there," she says. "I qualify as the first doctoral candidate who was given the opportunity to focus on cannabinoid science." In a few short years, what Capano then saw as "a risk" has resulted in an executive position at an international, publicly traded cannabis company.
Capano currently serves as the Chief Science Officer of EcoFibre Limited, which also owns Ananda Hemp—companies that create hemp-derived products, including food, textiles, and nutraceuticals (e.g. vitamins) in the U.S. and Australia. As the brains behind Ananda Hemp's formulations, Capano creates the tinctures, balms, and capsules you see in stores. She oversees hemp research—including studies on opioid reduction, which Capano believes will showcase how cannabis, particularly CBD will "safely and effectively combat a major health crisis"—and fields patients' clinical questions. She's also become a leading voice in the scientific community, and travels the globe to educate patients and politicians on the science of hemp.
Leading by example, Capano finds that the best way to uplift women is "to demonstrate that we can and should be leaders" in the industry, she says. "It's not always easy to be the squeaky wheel, but it's incredibly important to practice what you preach."
Kimberly Dillon
Though it might seem like CBD became normalized overnight, it really didn't. In fact, it took the efforts of pioneers like Kimberly Dillon, the CMO of cannabis and hemp CBD company Papa & Barkley and founder of consulting firm Plant and Prosper. She's spent years working to show people how CBD might be right for them—no matter what they've heard. "A few years ago, I was on a mission to position cannabis and hemp in a wellness way," says Dillon. "Papa & Barkley, we were one of the first to really own wellness," she adds, explaining that the company aligned themselves with healthy living by sponsoring CBD yoga, massages, and sound baths.
Though she says she's "always believed in the magic of plants," it was Dillon's mom who inspired her to get into the cannabis industry. "My mother grew up poor in the Deep South, and plant medicine was all she knew," she says. "We had a deep connection to our bodies and how to self-heal because we couldn't afford to go to the doctor."
Dillon left her job marketing for mobile apps and packaged goods after trying CBD and feeling "transformed." As a mentor at The Initiative, the first female-focused accelerator program for cannabis professionals, Dillon says she's excited to help see the creation of more products for women. "We need to develop the products we want to buy and make sure that the companies that we support, support women," she says. "Do they work with female farmers? Have female executives? Have female board members? Consumers have so much power and we need to vote with our dollars."

And though it might seem like CBD is everywhere, Dillon thinks the industry is just getting started. "We are in round one of a very long game, and I especially want women and people of color to claim their stake," she says. "Because of the harm that the War on Drugs has had on certain communities, it's so important that those same communities see their fair share of economic benefit."
Christine Yi
Christine Yi is the co-founder (alongside business partner Felicity Chen) of Potli, a company that "creates ingredients for the elevated life"—that is, CBD-infused food and cooking essentials. In addition to honey and olive oil, the company launched a chili oil, which speaks to its founders' Asian-American backgrounds. Yi recently moved back to the West Coast from New York to be closer to their factories and dispensaries (Potli is one of the few companies operating in both the recreationally legal cannabis market and the legal hemp market).
Yi is thrilled about the the uptick in demand for Potli products and the increasing general understanding of CBD. "As a business owner in the industry, I'm of course excited by the growing interest and demand," she says. "I'm pleased to see new, high-quality products come to market, because it means consumers have more reliable options to aid their wellness journeys. In the end, that's really the most important thing."
Bianca Monica
As the CEO and founder of Limone Creative, a women-led, full-service creative agency, Bianca Monica is paving the way for people and the products they create to succeed in an ever changing market. Focusing her agency on digital marketing, design, and events, Monica is expanding her Women in Cannabis series, traveling across the country and into Canada to meet with female leaders to figure out what various groups need when it comes to cannabis "[just] to understand their communities and social issues."
Monica hosted a successful Women in Cannabis event with Coveteur in New York in March, and in the process was able to donate more than $1,000 to the National Bail Out Fund, which works to end the mass incarceration of people of color.
Bec Donlan
"We both shared the same frustrations with the snack world and knew we had to change the quality for people like us who want to eat clean," says Bec Donlan, fitness expert and creator of the workour series Babes & Bands, of why she and Jill Larson of Magic Mix juicery co-founded Go Basic, a line of vegan, low sugar, gluten-free, dairy-free, snacks with CBD.

Though that's a lot to ask of a snack, the two refused to compromise taste, and went through hundreds of iterations of the recipes that Donlan often made for clients. Donlan focused on what was to become Go Basic's signature product, raw cacao CBD chocolates in millennial pink, Instagram-friendly wrappers. Expanding their product line this April to include SPREADABLES, toast-ready CBD cookie dough and chocolate with less than 1 gram of sugar per serving, Donlan hopes to take over the world of "in between" meals.
She's most excited to see what CBD's growing acceptance means for the industry. "It's becoming more normalized, people are less afraid and instead want to be educated on what it does," she says. "We're finally getting asked less, 'Does this get me high?'"

Mary Pryor
Mary Pryor doesn't play just one role in the cannabis industry: She's everywhere. A bicoastal media expert hailing from Detroit, Pryor took her extensive experience in media—working with brands like Sony Music Group, Viacom, Ebony Magazine, and CBS News—to fill the hole she saw in the cannabis and hemp markets. She realized there was a pressing need for agencies that catered to inclusive audiences, and founded her own firms to do that, including WeFancy consulting and digital marketing group UrbanSocialista.
But that's not all. Recognized as SXSW's Innovator of the Year, Pryor is also the CEO and co-founder of Cannaclusive, a collective focused on including diverse voices in the cannabis industry. And she works on the legislative side, championing for better, more just laws as the New York Chapter President of Minorities for Medical Marijuana. Finally, Pryor manages marketing, outreach, and partners at Come Back Daily, New York's premier brick-and-mortar retailer for vetted CBD products. "Women in cannabis need more support and entry points within the executive level of this industry," Pryor says. She knows the issues facing women in the cannabis industry, and says in 2019 she'd like to see the needle move in a very specific way. "We should mentor each other," she says. "I'd like to see more of that."
Janice Buu
Janice Buu, founder of Kana Skincare, wasn't always a skin whisperer with rave reviews for her CBD lavender sleeping masks. Originally a child behavioral therapist, she pivoted to cannabis after witnessing the incredible results a single mother experienced when she gave her autistic daughter cannabis drops before sessions. That's why, when her father fell ill in China in 2014, Buu smuggled cannabis to him in her cosmetics bag, thinking it could help relieve some his pain. When nurses noted that her father didn't use his morphine drip as frequently as other patients, and Buu had an epiphany. "I wondered, If this plant can do so much for people's well being, what can it do for your skin?"
And that's how she ended up creating one of the most popular CBD sleep masks on the market.
Korean and Chinese skincare was a part of Buu's upbringing. Though she'd always assumed that her mother used avocado and egg in face masks simply because the family couldn't afford fancier products, Buu was surprised to learn that her mom was consciously eschewing stuff from the cosmetics counter: "She wanted to use fresh ingredients."
Finding a lab that would make her CBD products a few years ago wasn't easy, but after months of conversations, Buu finally found one that could make fresh batch, vegan products that incorporated CBD. Since launching in 2017, Buu has expanded her line of products to include serums, masks, and a face oil—available in U.S. Bloomingdale's stores by late spring.

Anja Charbonneau
Anja Charbonneau had just come off a successful stint as art director of Kinfolk, the beloved lifestyle magazine. Living in Portland, she saw firsthand how booming the recreational cannabis market was and so created "A Magazine for Cannabis Lovers" called Broccoli. Amassing tens of thousands of Instagram followers in just a year, mainstreaming Ikebana flower arrangements, and selling out multiple issues, Charbonneau is now taking the Broccoli experience from in-print to IRL.
"I'm very excited about In Bloom, Broccoli's first festival, happening May 31 to June 2 in Portland," she says. "We'll be celebrating cannabis culture [through] workshops, art installations, musical performances, a dinner, discussions, and lots of fun surprises." Ultimately, she hopes the event brings industry professionals together. "Community is such a big part of Broccoli," she adds. "We're thrilled to be making an event that will help people network and connect without having to go to a run-of-the-mill industry conference."
Catharine Dockery
Catharine Dockery specializes in making vice acceptable. As the founding partner of Vice Ventures—a self-described "early stage venture fund investing in the nuances of vice, specializing in growing good companies operating in 'bad' industries"—Dockery is focused on building value in ideas that have been stigmatized, which she does by focusing on ethical founders with responsible products and marketing.
Among those "vices" is CBD. In 2018, as the first investor in Recess, the Instagram-ready CBD drink that makes you want to toss all your LaCroix into the garbage, Dockery saw potential in what has become one of the most buzzed-about drinks in the CBD space. This year, she's raising more than $25 million to back roughly 30 startups across the country, half of which are cannabis related.

Verena Von Pfetten
As the founder of Gossamer magazine, Verena Von Pfetten wanted to create a publication for people who also smoke weed. With years of editorial experience (having worked at publications like Lucky) and brand content consulting (at companies like Glossier and ASOS) under her belt, Von Pfetten decided to use her expertise to fill a gap that she noticed.
"As a woman who cares about what I surround myself with and is hyper-aware of new products, after 20 years of consuming cannabis I didn't see anything that was trying to reach me," she says. Initially entering the space with some hesitation, wondering whether a move into weed would be career suicide, Von Pfetten realized that stigma was all the more reason to get into the industry. "I'm successful, I have a great network," she says. "If I'm scared, what does that mean for people who don't have what I have?"
Since publishing the first volume of Gossamer in April 2018, the magazine has gathered a loyal audience and moved into product creation beyond CBD. For example, Von Pfetten recently launched a sleep tincture called "Dusk," a blend of CBD that includes a lesser-known cannabinoid called CBN, which is gaining popularity for its potential as a sedative. "We get most excited about the entire spectrum of cannabinoids that are now legal because of the Farm Bill," she says.
Solonje Burnett
With a background in event planning and activism, Solonje Burnett co-founded marketing firm Humble Bloom with Danniel Swatosh, setting a mission "to humanize interactions with cannabis, building bridges between brands, consumers, and those who've not yet experienced the healing benefits of the plant, while advocating for an equitable and regenerative industry."
How does Humble Bloom do so? On a grown-up field trip Humble Bloom hosted last fall to Tonic CBD's hemp farm (a women-owned CBD company) attendees were able to harvest, sample, and learn about farming and community in upstate New York. After a successful first run, the program is expanding to California. They also host multimedia experiences and even town halls.
For Burnett, one of the most important things a business owner in this space can do is get involved in advocacy. "If you're not a part of the legalization conversation, you won't have any control of where the industry goes," she says. "We have an opportunity to be truly innovative in CBD, or cannabis in general, as it grows. We can't let a group of men dictate how we use it, who has ownership, or what the conversation should focus on."
Alexis Rosenbaum
Founder and CEO of Rosebud CBD, a line of tinctures sold nationally online, Alexis Rosenbaum used the combined powers of Instagram and word-of-mouth to grow her revenue to six figures a month in less than a year. Her secret? Leveraging direct-to-consumer models and radical honesty—she shares everything from her fertility struggles to her encounters with anxiety on her personal and business Instagrams.
Rosenbaum first tried cannabis to deal with stress. And, like many founders drawn to cannabis, Rosenbaum saw the profound impact compounds like CBD could play on both physical and mental health. She also saw, she says, that "CBD is not a quick fix," and wanted to create a line of products that could be used daily to "heal without any high or extremely negative side effects." And that's how Rosenbaum first created her sun-grown, vigorously-tested, pesticide-free tinctures.
Tahira Rehmatullah
In a world where only 2 percent of women receive funding for their ideas, having women in the venture capital space is critical to ensuring equal participation. It's there that Tahira Rehmatullah is a champion: As the CFO of MTech Acquisition Corp. and Managing Director of Hypur Ventures, where she oversees investment sourcing and portfolio management in the cannabis and hemp space, Rehmatullah is in charge of one of the most influential investment groups in the industry.
A senior advisor to Treehouse Global Ventures, a fund "founded by women, with a mission to invest in women and minority-founded cannabis-related businesses," and an advisory board member to The Initiative, "an accelerator program with a focus on female-founded cannabis businesses," Rehmatullah finds that the best way she can help women is by mentoring entrepreneurs.
While Rehmatullah is hopeful about the hemp space—particularly, she says, "the impact that CBD may have on those suffering from anxiety and stress"—she warns CBD enthusiasts to keep their chill. "The excitement around CBD is warranted and it's an ingredient that will continue to evolve," she says, "but the hype is ahead of the science. Those of us in the industry are pushing for more research and information, so consumers can make more informed decisions."
Dr. Chanda Macias
Though Dr. Chanda Macias, CEO of National Holistic Healthcare, Washington, D.C.'s top dispensary, just recently launched a hemp CBD tincture line, she's actually been honing her knowledge of medical cannabis and its impact on patients for more than 15 years. (Macias has a Ph.D. in cell biology from Howard University.) But it's the impact on women's bottom lines that she's talking about today: Hemp CBD, she says, is "a great way for women to enter this market, as it generally offers a less stigmatizing and expensive way to be a part of the rapidly growing industry."
It makes sense, then, that Macias is also the CEO of Women Grow, the largest professional networking organization in the cannabis industry. "I'm excited about the many women entering the CBD market with products that really fill niches and address needs specific to women," she says. In the case of her line of tinctures, she saw a gap in quality CBD products at an accessible price point.
But while Dr. Macias is excited about the possibilities of CBD, she caveats that it isn't for everyone. "As a scientist who advises many patients on a daily basis, I am able to [do so] based upon what I know about their medical conditions," she says. "I want people to understand that it may not be the best fit for them and they might need to explore different products, formulations, and ingestion methods until they find one that is right for them."

Ildi Pekar
If you're a supermodel in need of glowing skin, chances are you've gone to Ildi Pekar's spa in Midtown Manhattan. With a client list that includes the likes of Miranda Kerr, Irina Shayk, and Lindsay Ellingson, Pekar started her spa to "bring a little Hungary" into the American beauty world. "I realized that the majority of people are not familiar with many of the beauty hacks and techniques my grandmother taught, so I decided to share my knowledge," she says.
But when a good friend developed cancer, Pekar started researching the best natural remedies to relieve pain. "I desperately wanted to help her," she says. "I found that marijuana is a good solution, then I figured that if it works within the body, why couldn't it be used as a topical ointment to heal the skin?" Interested in cannabis's healing properties, Pekar says she spent years learning about it before developing her products. "I started to work with labs what were able to create high quality CBD oil," she says. "Shortly after that, I created my very first CBD product, the PEKAR Tissue Repair Serum."

With a serum, a sleep mask, a roller, and a tincture currently in her product line and more items on the way, Pekar knows what it takes to get her clients glow-y in 2019.

Correction: A previous version of this story included typos in the names of Tahira Rehmatullah, Bianca Monica, and Bec Donlan. We regret the errors.
RELATED STORIES
Celebrity news, beauty, fashion advice, and fascinating features, delivered straight to your inbox!
Charlotte Palermino is the co-founder of Nice Paper and is a freelance beauty and food writer based in Brooklyn. Obsessed with carbs and a sharp cat-eye, she was formerly the editorial development lead at Snap Inc., and prior to that an associate director at Hearst Digital Media where she ate a lot pizza.