Transitioning in the Age of Zoom
Revealing changes in your gender presentation can be complicated when you haven't seen family or coworkers in person in months.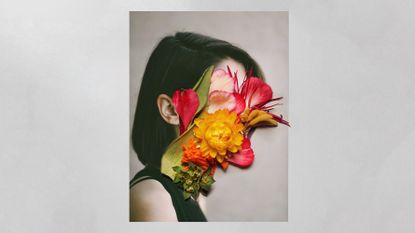 (Image credit: Susanna Hayward)
I nudge my wife, Brenan, awake as the alarm blares through our bedroom, tousling her hair as I announce that she'll be late for work. She stands up with a stretch before plopping down in front of a lighted mirror to apply foundation, mascara, and a bold red lip. For the past eight months, she's worked from home, liberated from the button-ups and neckties that would be expected at the office. She has been shaving her beard, growing out her hair, and choosing clothes that feel affirming and empowering as she explores her gender identity during quarantine.
Brenan started hormone-replacement therapy a few weeks before the Covid-19 lockdown began in our state this spring. She was still traveling or attending meetings at her company's headquarters in New York City throughout the work week. When her office closed, a week before her 30th birthday, she breathed a sigh of relief at the idea of spending more time alone. She got acquainted with her body's changes and experimented with new looks, thankful that the pressure to blend into society's gender norms weren't an issue at home. She doesn't have to fear rejection the way she might if she were still leading in-person meetings as a cybersecurity executive at a growing firm. For the first time in her life, my wife is living without the burden of other people's expectations. It's enabled her to develop a strong sense of who she is.
"For LGBT people who are quarantining with an affirming family or partner and who are supported by friends, quarantine is less of a challenge and can be an opportunity to better explore and understand themselves," says Jeffrey Cohen, a clinical psychologist at Columbia University Medical Center who sees transgender patients and has been leading a virtual therapy group for LGBTQ+ people during the pandemic. He says that the impact of the pandemic on queer people depends on who surrounds them—both physically and virtually.
The virtual world is easier to control. My wife started showing more of her authenticity on Twitter, where she's developed a support network and some sense of community among trans people and allies in cyberspace. When she's working, she leaves her camera off during video meetings or suggests phone calls instead. Physically, it's just the two of us and our children at home; we haven't seen many other people around our neighborhood. When Brenan goes outdoors, she keeps a distance or retreats into the house because she isn't ready to face neighbors' questions.
Although masks have been maligned by some as uncomfortable, itchy, and ill-fitting, my wife has clung to hers as a security blanket. It offers protection from threats beyond Covid-19. The dark patches of stubble that still grow in around her jaw make her feel scared of being outed in public, but her mask covers this area and eases her anxiety. It gives her "passing privilege"—the experience of being perceived as cisgender. Although trans folks shouldn't feel pressured to "pass," it creates a layer of safety she wouldn't have without these new social norms. According to the 2015 U.S. Transgender Survey, a study administered by the social-justice advocacy group National Center for Transgender Equality (NCTE) that examined the experiences of transgender people in the U.S. over the previous year, nearly one third of gender-nonconforming people have been mistreated in public spaces. And one in five avoided neighborhood amenities, including gyms, stores, entertainment venues, public transportation, and medical centers, because they feared mistreatment. Fifty-nine percent avoided restrooms for the same reason.
My wife is thriving at home, but the isolation from society has created a new challenge: Now she must navigate coming out to people who haven't seen her in eight months. Before the pandemic, Brenan hoped to gradually share her gender identity with friends, family members, and coworkers, slowly introducing the feminine aspects of her voice, gait, mannerisms, and style so that her circle could adjust to this shift over time. Now that her body has developed curves and she's been expressing herself openly, she'll be updating others in what she's worried will be an uncomfortable grand reveal.
My wife wants to share her news with her boss but is still uncertain about how to best address the topic. They haven't seen each other since March and mostly communicate via text. She had hoped to have a conversation in person, but that's not an option right now, and an email or text doesn't feel to her like the right way to announce such intimate information. She's afraid a video call will be awkward for her and a shock to others.

Approximately one in four gender-nonconforming people have experienced workplace discrimination, according to the U.S. Transgender Survey. Of employed respondents, 77 percent took steps to avoid problematic workplace encounters, including hiding or delaying a gender transition or quitting their jobs. "Until the very recent Supreme Court ruling," says Cohen, "it was legal to fire a person on the basis of sexual and/or gender minority status in the United States, and this remains legal in many countries worldwide." Despite achieving legal protections, he says, trans and gender-nonconforming people—most especially those who are Black, Indigenous, and people of color—still experience invalidation and oppression at both the systemic and interpersonal level, creating stress and increasing the risk for a negative mental-health outcome.
Quarantine has been a break from society that my wife has treated as a respite for her own mental health. For her, finding the right words and platform to come out now is the hardest part—but this isn't everyone's truth. During the early months of lockdown, my wife had trouble accessing her medication, and others in the trans community had to cancel surgeries or delay important appointments. With courts and businesses closed, many weren't able to schedule gender-affirming services like health-care consultations, electrolysis, and ID changes. Those who lack the stability of family or community support are navigating the hardships of increased marginalization as they search for jobs, food, housing, and health care. The number of homicides against trans and gender-nonconforming people surpassed a record high in 2020, according to the Human Rights Campaign, demonstrating just how dangerous it is to come out and live an authentic life—quarantine or not.

Coming out is a vulnerable process, and Cohen explains that the support individuals receive impacts whether or not they share their queer identities or choose to keep them private. He says, "No one is entitled to information about our identities, and it's each person's choice to decide who they want to share with and what information they would like to share. There is no right or wrong way to come out or be out."

Brenan feels that it's much harder to come out to people who knew her pretransition than to share her authenticity with new friends she's found online. She says, "When someone has a concrete idea of who you are, showing them such a different version of yourself feels awkward and can be a difficult adjustment in the relationship." She adds, "Some of my closest friendships and relationships with family members have changed since coming out over the last few months. I'm so afraid of experiencing similar tension with my boss and colleagues. I need this job."
RELATED STORY
Lauren Rowello is interested in sharing stories of authenticity and resistance, often writing and reporting on topics related to gender, relationships, and identity. They are currently working on a memoir about sex work and parenting.