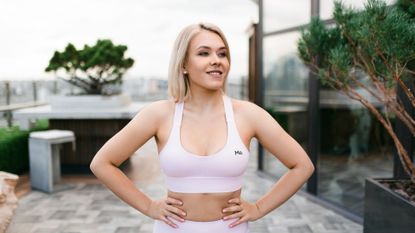 (Image credit: BetterMe)
Marie Claire Newsletter
Celebrity news, beauty, fashion advice, and fascinating features, delivered straight to your inbox!
Thank you for signing up to Marie Claire. You will receive a verification email shortly.
There was a problem. Please refresh the page and try again.
If the phrase "New Year's Resolution" fills you with anxiety, you're not alone: How many of us have made promises to ourselves at the end of one year that become burdens in the next one? When Victoria Repa, the founder of BetterMe, was growing up in Ukraine, she was told that getting healthy and staying that way would be a lifelong battle. But she was determined to change that, and make eating healthy, finding an exercise routine, and cultivating a positive self-image more exciting, instead of stressful. Even without formal training in programming or much access to technology growing up, she knew that an app was the solution to making these goals more accessible not just to her, but to everyone. That's what led her to create BetterMe, an app used by 100 million people worldwide who are united in their goal of loving themselves and prioritizing their health in a stress-free way, all year round. And now, BetterMe is making it even easier to cut the anxiety out of healthy resolution-setting with BetterMe: Health Coaching, a new approach to helping you change the way you think about well-being.
All of BetterMe's programs were designed by experts to shift the way you feel about your body, about food, and about what healthy looks like for you. It's never going to suggest restrictive diets or arbitrary weight-loss goals, because crash diets and exhausting workouts aren't merely unsustainable bummers—they just really don't work. Instead, BetterMe knows that taking those first steps toward living healthier is more of a mental challenge than a physical one. That's why BetterMe: Health Coaching is a program that's designed to work over 6 to 12 months, to make sure that you're creating lasting changes in your habits. BetterMe is an easy-to-use, totally personalized way to help you tap into the conscious decisions that you can make every day to live a healthier life.
Diet and exercise are the most obvious ways to start feeling healthier, but BetterMe recognizes that they're only part of the equation. BetterMe: Health Coaching uses psychology-based daily plans, which take about 10 minutes to complete and are full of interactive quizzes, diaries, and open-ended questions that help you reflect on your relationship with your body. Before you start working out or changing your eating habits, BetterMe recognizes that first you have to build up more self-compassion and love, challenge the negative voices inside your head, and overcome any resistance to your own goals. Foster mental well-being and you'll be well on your way to physical well-being.
BetterMe is not a weight-loss app. It's a behavior-changing app—and it's for everyone. Your personalized plan will include guided workouts and genuinely tasty, nutritious menus that are tailored to meet your exact needs and goals. No two people are alike, so BetterMe doesn't try to put you into a box when it comes to your health. The app has workouts for prenatal parents, for users with limited mobility, and for folks who have never worked out before. Who needs a fitness app? BetterMe is an inclusive, judgement-free, self-love app.
So whether you want to save it for January 1st or start your new BetterMe: Health Coaching plan today, this app is going to empower you to meet those goals by changing how you think about health. And Repa and her team are always coming up with ways to improve the app and your relationship to it, addressing more health concerns in newer, more inclusive ways. Self-improvement starts with self-love, and BetterMe can help. And isn't "more self-love" the best New Year's Resolution?
Get started with BetterMe: Health Coaching, and visit BetterMe on Instagram at @betterme.health.
Celebrity news, beauty, fashion advice, and fascinating features, delivered straight to your inbox!