Editors handpick every product that we feature. We may earn commission from the links on this page.
The 9 Best Pilates Machines To Buy Right Now
So you can bring your studio practice home.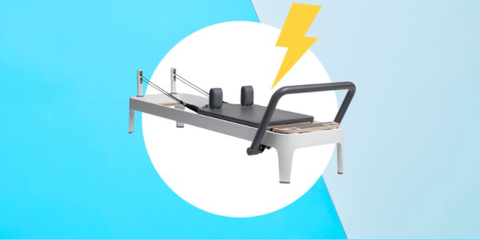 There are plenty of Pilates videos to stream for free online right now. But if you're missing the feel of pushing off the footbar of an actual Pilates machine (a.k.a. a reformer), it's worth considering investing in one the same way you would an exercise bike or treadmill to keep up your studio practice at home. While you can get the same Pilates benefits, ranging from improved core strength and flexibility to reduced back pain and improved posture, without using any equipment, there are certain features of reformer-based practices that are unique to them alone. With all that in mind, here are the best Pilates machines to shop right now.
1
Pilates Reformer with Tower Vintage
This sleek, wood-framed machine might blend into your mid-century modern aesthetic than other machines. An excellent reformer at its base, the tower allows for additional exercises while standing, sitting, and kneeling.

2
AeroPilates Home Studio Reformer 393
This compact reformer has everything you need to start your Pilates practice at home. You can customize resistance levels, and you can use use either the cardio rebounder or the padded foot bar. Plus, it comes with five workout DVDs from Marjolein Brugman, the founder of AeroPilates.
3
Merrithew Home SPX Reformer Bundle
This is a popular Pilates machine set from a trusted brand that offers all the benefits of a studio machine (including in reformer box, a major perk!). Overall, it's sleek, simple to use, and effective, which is all you need in a reformer.
4
AeroPilates Precision Series Reformer 608
This pilates machine offers four levels of spring resistance. It also comes with a rebounder for cardio and online access to AeroPilates workout videos.
5
Stott Pilates Merrithew Rehab V2 Max Plus Reformer
Ready to take your Pilates practice up a notch? Then this next-level Pilates machine is worth considering because it can be used as both a Cadillac and a reformer. Plus, it's stackable making it easier to store when it's not in use.
6
Pilates Power Gym Pro Mini Reformer
This popular, four-spring reformer adjusts to three inclines. It easily folds up and can be slid under beds or into closets, and has wheels for easy movement.
7
Life's a Beach Pilates PRO Chair Max
While not properly a reformer, this chair might be a good option for those who constantly have to carve out space for exercise wherever they can find it, as it's far easier to move than a traditional machine (and it folds up, too!). It's also a great option for those who do traditional studio reformer practice and want to keep their practice going between classes but don't have a lot of space at home.
This is a super solid Pilates machine for under $1000, which is a fraction of what you'll pay for many other reformers. Yet, it'll still stand up to every Pilates exercise like a pro, plus it comes with it's own rebounder for low-impact cardio.
9
Stamina AeroPilates Pro XP 557 Home Pilates Reformer
This reformer receives excellent reviews from seasoned pros and beginners, alike. We recommend it for newbies because it's a strong machine that can take you into advanced territory but isn't on the higher end in terms of price point.
10
Elina Pilates Elite Cadillac Reformer
If you want the full shebang, you can't beat this beauty, so you can practice Pilates at home the way celebs like Kate Hudson and Lady Gaga do.
This content is created and maintained by a third party, and imported onto this page to help users provide their email addresses. You may be able to find more information about this and similar content at piano.io