You Can Now See Your Doctor...on Your Phone
Bid adieu to that waiting room.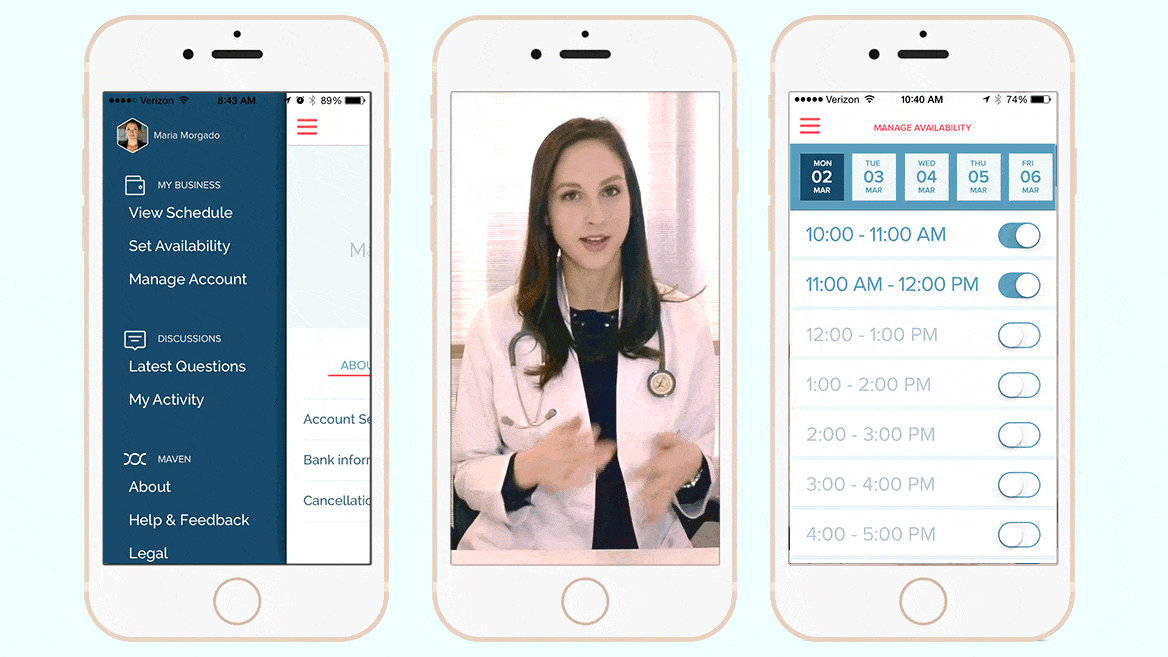 (Image credit: Design by Katja Cho)
We don't know about you, but when we're experiencing any kind of ailment, our first instinct is to Google our symptoms—which inevitably leads us down a WebMD black hole that convinces us we're probably about to die any second.
So, yeah, we know that self-diagnosing via the internet is probably not the healthiest thing. And sure, we know that seeing an actual, certified doctor is probably definitely the way to go, but with our crazy-as-hell work schedules and doctors' office hours often falling in 9-5 confines, slipping out of the office often feels like an impossibility. Which is why we're so excited about newly-launched Maven, an app designed for women that provides video appointments with doctors who *can* prescribe you medicine.
While that's exciting, the next part might be even better—appointments start as low as $18 for a 10 minute consultation, which, let's be real, is often less than the co-pay for an in-person appointment. Need an appointment with a specialist? No worries—the app includes specialized physicians (including OB/GYNs), nurse practitioners, nutritionists, physical therapists, pregnancy specialists, psychologists, and more. (*Praise emoji*)
And that whole made-for-women thing? That was a personal and tactical choice on the part of Kate Ryder, CEO and Founder.
"Some people find this a shocking statistic, but women make over 80% of healthcare decisions in the United States," explains Ryder. "Women also go to the doctor much more often than men—which is great, but it also places a big burden in terms of time. Maven affords busy women the convenience of quality care in a matter of minutes."
For those who fear that the digital experience could feel impersonal, that's where Maven hopes to set itself apart from other apps like it.
"We are working with every single type of provider because women are getting care from all different types of providers already, but little of it is coordinated," she explains. "Part of our philosophy is to give patients the opportunity to develop relationships with their providers. We've made it an important point to make sure the 'human' element in healthcare is part of the experience."
To download Maven or get more information, visit their official site.
You should also check out:
5 Health Tests Every 20-Something Needs to Take
A Simple Blood Test Could Predict Your Risk of Breast Cancer Years in Advance
Cobie Smulders Opens Up About Having Ovarian Cancer While Filming 'How I Met Your Mother'
Lauren is the former beauty editor at Marie Claire. She love to while away the hours at coffee shops, hunt for vintage clothes, and bask in the rough-and-tumble beauty of NYC. She firmly believes that solitude can be a luxury if you've got the right soundtrack—that being the Rolling Stones, of course.