Cobie Smulders Opens Up About Having Ovarian Cancer While Filming 'How I Met Your Mother'
She was just 25 when she was diagnosed.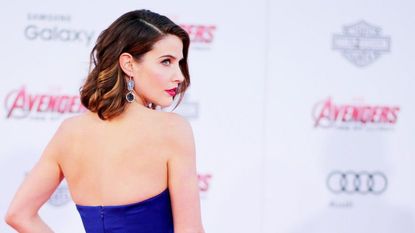 (Image credit: Archive)
Ovarian cancer is the deadliest cancer a woman can get. And for Cobie Smulders, that scary diagnosis came when she was just 25.
She told Women's Health (opens in new tab) that she was got the news while filming the third season of How I Met Your Mother, and it took two years of surgeries before she was cancer-free. "I had tumors on both ovaries," she said, "and the cancer had spread into my lymph nodes and surrounding tissues."
She was told she'd never be able to conceive a child naturally, since she only had one third of an ovary left after surgeries. But she beat the odds (opens in new tab), having two children with her husband, SNL's Taran Killam.
Smulders, who's now 33, told the magazine that she's gained a lot of wisdom from fighting cancer, and wants to share her story with young women everywhere. "Now that I'm five years out, I'm trying to think of it as a positive thing and what can I learn from it," she said. "And if I can create more awareness, I'll do it."
According to government data (opens in new tab), nine out of 10 women who get ovarian cancer are over age 40. But women with a family history of cancer, and women who have the BRCA1 or BRCA2 gene mutation, are more likely to develop it. If that's you, talk to your doctor about finding ways to reduce your risk.
You should also check out:
A Simple Blood Test Could Predict Your Risk of Breast Cancer (opens in new tab)
I Had a Heart Attack at 25 (opens in new tab)
The New Vaccine All Young Women Need to Know About (opens in new tab)
Megan Friedman is the former managing editor of the Newsroom at Hearst. She's worked at NBC and Time, and is a graduate of Northwestern's Medill School of Journalism.