Meet the Four Badass Women Rowing 24 Hours a Day to Australia Right Now
There's a record-breaking row happening across the Pacific Ocean. Just four women, a 29-foot boat, the open sea—and thousands of miles to go.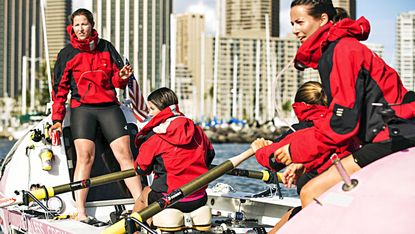 (Image credit: Rennie Solis)
In April, Laura Penhaul and three other female rowers set off from San Francisco in a bubble-gum-pink, 29-foot carbon-fiber boat named Doris, bound for Australia. On the second day, the women got their first glimpse that this journey would be nothing like the practice rows in their native U.K.: Two humpback whales breached within yards of the boat, so close their barnacles were visible. The team's goal—besides up-close-and-personal encounters with marine life—is to row 8,446 miles to Cairns in about eight months and set three world records: the first all-female team to row across the Pacific, the first-ever four-person boat to do it, and the fastest-ever row across that ocean.
Though she's a marathoner and triathlete, Penhaul had never rowed until four years ago, when a friend told her about an opportunity to cross the Indian Ocean with an all-female team. She liked the prospect of pushing herself to the limit. As lead physiotherapist for the British Paralympic athletes, she wanted to better understand what her clients experience. "I'm fit and healthy—I'd never faced that adversity, something that's really asking you to challenge yourself," Penhaul explained from the crew's first stop in Honolulu. When that original Indian Ocean team didn't materialize, Penhaul wondered if it was possible to row the entire Pacific.
The 32-year-old team leader chose her teammates, all lifelong adventurers like her: Natalia Cohen, 40; Emma Mitchell, 30; and Isabel Burnham, 30. The preparation was grueling, with route planning, practice emergency rescues, hard-core training regimens, and a 48-hour sleep-deprivation row to test their physical and psychological health and their ability to work together as a team. Now that they're off, they row 24 hours a day in two-person, two-hour shifts, in up to 104-degree heat and 90 percent humidity. They eat freeze-dried spaghetti meals and sleep in the boat's two tiny cabins, each the size of a two-person tent. "When it's hot, it's like a two-person sauna," Cohen says. The cabins also hold all their supplies, among them hundreds of hand-packed food bags (dried mango is a favorite), emergency reserve water, and 20 liters of sunscreen. They have no other boat support, just two resupply stops, in Honolulu and Samoa. While they're docked, Lizanne Van Vuuren, 27, and Meg Dyos, 25, will rotate in to row the second and third legs for Burnham (all six women have taken leaves of absence from their jobs).
The team's first leg to Hawaii took 68 days, and included bouts of seasickness, sodden sleeping bags, 30-mile-an-hour winds, and storm waves the size of houses. The women sang songs, listened to music, blogged via satellite transmission, and watched for wildlife. They're also keeping video diaries for Emmy-winning filmmaker Sarah Moshman, who is making a documentary about the journey called Losing Sight of Shore.
If they make it as planned, they'll reach Australia in November or December. Even with their strict routine, they say there's plenty of time to take in the 360-degree views of sunrise and sunset. "It's easy to be completely, utterly in the moment," Cohen says. "In everyday life, it's hard. Here, we have all the time in the world."
[youtube ]https://www.youtube.com/watch?v=imqTdT556eE&feature=youtu.be[/youtube]
Track the team's journey and donate to their fundraising for charity at coxlesscrew.com.
This article appears in the October issue of Marie Claire, on newsstands now.
Celebrity news, beauty, fashion advice, and fascinating features, delivered straight to your inbox!