Would You Bare Your Body To Fight Skin Cancer?
That's us-the staff of Marie Claire-in Times Square, wearing next to nothing to raise awareness for a cause that concerns...you!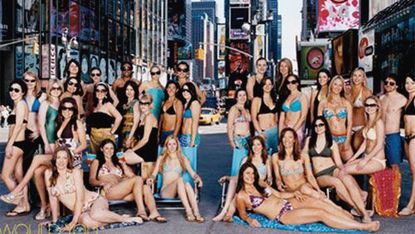 (Image credit: Andrew Hetherington)
Skin cancer is the second-most common cancer in women ages 20 to 29. One in five Americans will develop it in their lifetime. That means you're more likely to get this deadly disease than to get hit by a car, marry a millionaire, write a best seller-or have sex this week. That's why we paired up with the Skin Cancer Foundation for our "Wipe Out Skin Cancer" campaign. The deal? We'd donate $100 in the name of every Marie Claire staffer who arrived at the photo shoot in a swimsuit-and $200 for those who braved it in a bikini! We passed out 1000 packs of Shady Day wipe-on sunscreen to passersby, then we asked three women whose lives were touched by skin cancer to share their stories. Here, what you should know
"MY FRIEND'S DEATH SAVED MY LIFE!"
Michelle, 36, dancer in the Broad way musical Chicago, New York City
TO THIS DAY, I ALWAYS TELL PEOPLE that Cathy is my angel. I really believe she is. If it weren't for her, I wouldn't be alive. We were both musical-theater performers and met when we toured Europe together doing Crazy for You. Two years after we came back, she was living in L.A. with her husband, and she got pregnant for the very first time. Cathy had a spot on her face that she'd had for as long as I'd known her, but it had started to get a little itchy, so she went to get it checked out. What started as a routine checkup went terribly awry: That day, Cathy found out she had skin cancer so advanced, her doctor recommended she begin chemo and radiation treatment immediately. But she faced a harrowing choice: Begin treatment to save her life-which would mean terminating her pregnancy- or forgo chemo long enough to give birth to her son. Cathy chose to have her child. A few months later, she gave birth to a beautiful baby boy. She started chemo and radiation almost immediately after, but it was too late. In December 2004, I got a call from a mutual friend: "Cathy passed away," he told me. Right there, at that moment, I thought: I know I need to get screened. My mother has told me my entire life to stay out of the sun. Of course we hear that we should all be getting checkups once a year, but I always let the year slip by without one. Then my dermatologist did a scan, and she saw two moles she didn't like- one on my ankle the size of a pencil eraser, which was two different colors. She took that off, as well as one on my thigh. "I'm going to send these out for biopsies. Don't worry," she said. I didn't. A week later, I got a message asking me to call her back. When I heard it, my heart sunk; I just knew something was wrong-so I didn't call her back. But then she called back again the next morning. That's when I found out I had melanoma. I kind of went numb. "What do I do?" I asked. "Call your family," she said kindly. My mom took it three times worse than I did. When I told my family I had to have surgery, they all wanted to get on a plane immediately. Meanwhile, I was terrified. I'd never been under anesthetic in my life! The surgery-well, I don't think I heal well. Afterward, my foot looked like Fred Flintstone's. They had to pull the skin so tightly it compromised my Achilles tendon. It took me 20 minutes to walk one city block. After that, I had to go to physical therapy for four weeks. I couldn't go up on my toes to dance for another month. And, of course, being able to dance again was my biggest concern. I was so lucky. I recovered. I returned to dancing. The biopsy on my ankle came back as stage-II melanoma, but the disease hadn't spread to my lymph nodes. Now, I am the poster child on Broadway for skin cancer screening-and I still think about Cathy every day.
A CHECKUP THAT COULD SAVE YOUR LIFE
The American Academy of Dermatology recommends that you have your skin checked by a professional once a year-but what you might not know is what a regular doctor could miss! According to a recent study of graduating students at seven U.S. medical schools, 23 percent of students had never observed a skin-cancer screening, 27 percent had never been trained to do a skin check, and nearly half had never examined a patient for skin cancer. To safeguard your skin, make your appointment with a dermatologist, not your general practitioner. Need a referral? Visit the American Academy of Dermatology (aad.org) to locate a dermatologist near you- as well as free skin screenings by volunteer dermatologists in your area.
"A MOLE KILLED MY DAD"
Carrie, 31, Marie Claire senior editor, New York City
GROWING UP, I WAS A TOTAL DADDY'S girl. We had the same blonde hair and blue eyes, and he called me and my sister his "darling daughters." He was involved in ways a lot of fathers aren't; he took me on my first trip to Europe- just the two of us-when I was only 13. We toured a castle in Liechtenstein, danced at a disco in Austria, and visited a lot of German churches. That's about all I remember-that and flirting with the boys in our tour group. But my dad was proud to have shown me Europe. When we got home, I ran for student-council president of my middle school. On the morning of the election, my dad was driving me to school. Imagine my surprise when the morning DJs at the most popular radio station said, "And hey, all of you at West Hills Middle School, don't forget to vote for Carrie Sloan!" My dad had called them. I was outwardly mortified- and secretly thrilled. We lived in Michigan, and one day that winter, my dad slipped on some ice and fell. The pain in his side didn't go away, so a few months later, he went to the doctor. I remember the night in May we all sat down at the kitchen table, and my parents told me and my sister the news: Dad had cancer. It all stemmed from one mole on his side-a big, funny-looking one we'd made fun of him for. A doctor once told him he could remove it for cosmetic reasons, if he wanted- but he never did. Now, it had led to bad things: The cancer had eaten clear through his rib-the X-ray from the fall he'd taken had revealed that. He also had a tumor in his brain. The doctors told him he had stage-IV melanoma-the most advanced stage of skin cancer. He was scheduled for brain surgery almost immediately. I remember standing in the white, sterile room at the hospital early that morning, as a young doctor read the list of potential risks from surgery robotically: brain damage, paralysis-death. When I looked up at my dad, our blue eyes were filled with tears. After the surgery, he looked horrific, like a benevolent Frankenstein. His head had been shaved, and the scar ran nearly the length of his skull. Because of the trauma from the surgery, he had bruises every color of the rainbow-and two black eyes. It was hard to look at him. Then the seizures started. One day I was in his hospital room, talking to him, when suddenly his eyes rolled back in his head, and he knocked his food tray clear across the room. My mom ran out screaming. I stood rooted to the floor. After that, he never really recovered. When he tried to talk, he stuttered unintelligibly, and my sister and I- then 10 and 15-tried to re-teach our dad how to speak. He underwent radiation and was put on the list for an aggressive experimental drug. In the meantime, I'd bring my homework to the hospital each night to sit with him. Just five months after he was diagnosed, I was home asleep one night while my mom stayed over at the hospital. When the phone rang at 7 a.m., I knew instantly what it meant: My dad was gone. Now I monitor my own moles vigilantly- and friends make fun of the way I "waste" sunscreen applying multiple coats, but it's for my own peace of mind. I also spar with doctors about mole removal. "It's not necessary," one will say every so often, when a particular mole is only slightly suspicious. "Take it off," I say. If my dad had just removed that one funny mole, he would probably still be here today.
SKIN CANCER: A NEW EPIDEMIC
Over half of all new cancers in the U.S. are skin cancers. In fact, the number of cases in America is increasing so rapidly, the American Academy of Dermatology recently declared skin cancer an unrecognized epidemic. A recent study by the Mayo Clinic found that the incidence of basal-cell skin cancers in women under 40 tripled between 1976 and 2003. "What's even more worrisome," says Alysa Herman, M.D., a member of the American Society for Dermatologic Surgery, "is that people being treated for skin cancer are dramatically younger and younger."
"I GOT SKIN CANCER AT 20"
Meghan, 22, journalist, Bristol, RI
I STARTED GOING TO TANNING BEDS in high school, trying to mask my Irish heritage. My friends could always get a nice, even tan in the sun, but I would burn in sporadic splotches. By senior year, I was so fed up I would sneak off behind my mother's back. She had repeatedly told me not to, but I was desperate, so I did it anyway. People had told me tanning beds were better for you than the sun, so I assumed it was OK. Of course, by college, my friends said I was going too often and that I was going to get wrinkles-or worse-but it was just one of those "it's not going to happen to me" situations. One day, I noticed a mole I'd had forever had gotten darker. I'd had a mole removed before and I was in and out in 20 minutes, so I didn't think anything of it. I did the same with this one. A week later, I went to have my stitches taken out. A doctor I'd never seen before came in to remove them. He looked concerned. "Meghan, is anyone here with you?" he asked. "No," I said. "I'm alone." That's when he broke the news: I had melanoma. The minute the words came out of his mouth, I felt like an idiot. Everyone had told me to stop tanning. Now my thoughts had begun to race: What did it mean? Would I have chemo? Would I live? I left and burst into tears. When I called my parents, I was sobbing so uncontrollably I could hardly speak, and they had no idea what my diagnosis meant. When a doctor tells a patient she has breast cancer, you know it's serious-you could lose a breast. But I couldn't comprehend how something on the outside of my body could spread to the inside! My surgery took three hours: They removed a large area of skin on my stomach and eight lymph nodes from my underarms to determine if the cancer had spread. I ended up with over 70 stitches-and two tubes sewn into me to help with drainage. "Your scar is going to be bigger than they expected," my sister said when I finally woke up. It was C-shaped and about seven or eight inches long. I had worried for weeks about that scar, but afterward, I didn't care. I just wanted to be healthy again. A week later, walking across campus, I got a call from a number I didn't recognize. It turned out to be the best news of my life: "Meghan, your lymph nodes came back clean," my surgeon said. I had gotten really lucky. Two years have passed since then. Sometimes I still hate my scar-I've had it injected to make it flat and lasered to fade it. But now I see it as something that defines who I am. I like talking about it-and telling my story.
IS TANNING ADDICTIVE?
Recent studies show sunning may produce the same effects as a runner's high: Over half of the beachgoers who took a recent two-part survey to determine the likelihood of developing an actual addiction to tanning tested positive on one set of questions- meaning they met the psychological criteria for a substance-related disorder! Richard Wagner, senior author of the 2005 report and deputy chairman of dermatology at the University of Texas Medical Branch at Galveston, says more research is necessary. Other studies suggest that tanning may also cause your brain to produce endorphins, or feel-good hormones.
HOW TO PROTECT YOURSELF USE SPF YOU CAN TRUST
Slather yourself with a broadspectrum sunscreen (with UVA and UVB protection) of at least SPF 15, and reapply regularly. Unsure which sunscreen will work best? The Skin Cancer Foundation awards their annual Seal of Recommendation to the safest and most effective products on the market: Go to skincancer.org to get a print-and-shop list.
MONITOR YOUR MOLES
Recognizing changes in your skin is the best way to catch skin cancer early-and melanoma, the most dangerous form of skin cancer, usually develops in a mole you already have. Any mole that scabs over, bleeds, or has changed size or shape requires a trip to the dermatologist.
WHAT WE RAISED!
Crunching the numbers for a good cause:
13 bikinis @ $200 = $2600
20 one-pieces (or two-pieces with sarongs!) @ $100 = $2000
"Wipe Out Skin Cancer" Campaign Proceeds = $4600