The Breast Cancer Club
When a woman receives that dreaded diagnosis, what happens if she doesn't fit with the pink-ribbon gang? Cris Beam tells it like it is.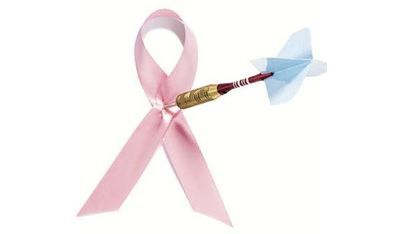 (Image credit: Ben Goldstein)
"Welcome to the club you never wanted to join!" I hadn't heard this line until Robin got breast cancer in April 2006, and then people said it to her all the time. Doctors, survivors, hospital volunteers — they all delivered the club motto with a mix of conspiratorial whisper and sorority-sister singsong, along with a brisk hug around the shoulders. Robin, my then-partner of 14 years, accepted their pink ribbons, their makeup, and their abundant tips graciously, as I watched her abduction from the sidelines.
Because breast cancer, aside from being a disease, is a kind of gathering rite. Out of necessity, and terror, women who normally would have nothing to do with one another suddenly bond. Over life and death, over sickness and health — and mostly over their breasts. This is not always pretty. As in any club with a diverse membership, assumptions are made, bylaws are both expressly and covertly laid out, and dissenters are silenced. Most of all, there are rules. Here are a few: When you lose your breasts, you'll reconstruct them; when you lose your hair, you'll wear a wig; when you are sallow and sick from chemo, you'll wear makeup; and when you lose your sex drive because you've gone into full menopause from the treatment — well, we won't talk about that. Let's go back to the breasts. They're the clubhouse priority.
The club, marked by its ubiquitous pink-ribbon pin, is everywhere. Whenever Robin and I waited for an appointment, it seemed, a woman in coral lipstick would sidle up to me, make knowing, misty eyes, and ask, "What are you in for?" Like it was prison.
"Oh, it's not me. It's her," I'd say, gesturing at Robin. At which point the woman would turn her full attention to Robin's chest, notice she'd had a bilateral mastectomy, and ask when — not if — she was getting reconstruction.
Robin, at first, wasn't sure how to answer. She'd been an athlete all her life and felt burdened by her former triple-D's; she was relieved by the prospect of braless basketball.
"I hate my implant!" one blonde woman whispered to us in another waiting room. "I feel like I can hear it sloshing around, and it's getting lumpy and pushing its way up to my chin." Within moments, the woman shyly ducked behind a plant but eagerly lifted her shirt to show us.
"My implants are awful too!" another survivor interrupted from across the room. "I exercise" — again, whipping up her shirt — "and see how my pec muscles are squishing them? You should definitely get the TRAM flap."
The TRAM flap involves pulling muscles and fat from your abdomen through your body and shaping them into breasts. The surgery is serious, and the recovery is long and painful, but that day, both women recommended it. And they were shocked that Robin had decided to do nothing.
Robin's attitude might have come from not being validated by the male gaze, but I know plenty of lesbians who are profoundly attached to their breasts. Robin's sense of womanhood just wasn't threatened when she lost them.
Not that losing breasts isn't awful. It just isn't, for some women, the biggest issue. The day after Robin's mastectomy, when she was still in the hospital, we were talking quietly about what our lives would look like now, how we would face the chemo, how I would be the caretaker. Suddenly, an older woman in a print dress whispered her way up to Robin's hospital bed, armed with pamphlets and a bra fitted with two mango-shaped blobs of cotton stuffed into panty hose. She handed it to Robin.
"I know you're all bandaged up now," she said, "but as soon as you're walking around, you might want this."
For many women, the bra might have been a comfort, a way back to their old selves. But Robin wasn't going to be her old self, would never be; we used the panty-hose inserts as puppets.
The other thing the woman gave us was directions to a place called My Secret, the store to go to in New York City for breast prosthetics. The rack of bathing suits held one-pieces with skirts and gold-leaf palm fronds splashed across the girdled torso. There's something matronly about the breast-cancer club, even though more and more women, like Robin, are diagnosed in their 30s.
A telling name, My Secret. The idea of secrecy is pervasive, and I think it's about two things: protecting loved ones from your pain and maintaining your femininity in the face of what's understood to be a harsh defeminization. After Robin was diagnosed, she called a woman in Ohio, recommended to her by a breast-cancer hotline, because she too had chosen not to get reconstruction. This woman had twin 10-year-old sons, and they never knew she had cancer. She wore her removable breast forms day and night and relished the two weeks each year when the kids were at camp and she could walk around the house flat-chested. For her, cancer was a secret, and she didn't want her sons worried that their mother was sick or less than "normal." From that moment of supposed solidarity, Robin came away feeling oddly alone.
We didn't have young children to protect, and Robin's choice to go bald set some club members on edge. Even at the oncology ward where we went for treatment every Tuesday, people stared. I thought she looked cute without hair, and she said she felt sort of glamorous. But being bald is frowned upon in the breast-cancer club. Hospital volunteers pressed phone numbers of wig shops into our palms; they said it was best to visit before treatment started so stylists could match your current hairstyle. Instead, Robin used the weeks before chemotherapy to try something she'd always wanted to do: dye her hair blue. Since it was going to fall out anyway, she cut it short, colored it, and gave herself a pink streak near her right ear. She loved it. Also, if it looked synthetic and damaged by her own hand, I think it made her feel that she had some control over an utterly out-of-control situation.
With cancer culture at large focusing on the medical and the cosmetic, the psychological traumas get sublimated, so the person with cancer feels even more isolated and alone. Early in her treatment, Robin went to a support group.
"How'd it go?" I asked.
"Fine," she said, explaining that the women went around — circuit-party style — receiving free massages and yoga instruction. They also got a goodie bag full of beauty products.
"Except my new friend said that one of the worst things about having short hair after chemo is that lesbians hit on you." She paused. "I didn't tell them about you."
At only two months post-diagnosis and still emotionally vulnerable from the mastectomy and a second surgery on her lymph nodes, Robin wanted the other women to like her. They were her living proof that she would make it through. This is probably the most vital aspect of support groups: They remind you that you are more than your disease; you're still who you were before your diagnosis. The trouble is, you are and you're not. This is the schizoid trick that cancer plays. Because the club tends to focus on women regaining their precancer appearance (same breasts, same hair), the implication is that they should regain the same emotional lives as well.
Except cancer changes everything. It's a tsunami that blows the lids off any internal, emotional boxes (and if a woman was living with those boxes packed safely away, cancer will wash them to the fore). She'll be facing more than cancer: She'll be facing every unsaid sentiment, every buried resentment, every tucked-away wound, now raw and ready for reckoning.
For Robin and me, our 14 years had merged us to the point of feeling like we shared one central nervous system. This is safety and this is suffocation, and cancer, sadly, magnified the latter. Yet how do you "fight it out" when one of you is sick? There's a profound imbalance in every interaction — "but I'm sick" being murmured at the edges of every conversation, debate, attempt at reconciliation, short-circuiting them all. So you stuff, you suffer. The club doesn't know what to do about this, nor did we. Ultimately, our relationship didn't make it.
We've got to talk about more than cancer with cancer. As long as it is held up primarily as a medical and cosmetic condition to overcome — and the psychological scars are discussed only in terms of the physical — survivors and their loved ones will suffer.
I hope in the future we can make room for the real complexity of cancer — and for the bald women, the angry women, the flat-chested women, the anti-sisterhood women, as well as the women who need to mourn their breasts. I hope the club (and really, we're all in the club) opens up to the women whose sexuality was forever changed or lost — who can, and want to, live with that. Most of all, I hope it will welcome any woman who doesn't want her journey, her reality, to be "my secret" any longer.
Celebrity news, beauty, fashion advice, and fascinating features, delivered straight to your inbox!