Gifts Under $20 That Are Meaningful and Affordable
From artwork to books to donations on their behalf.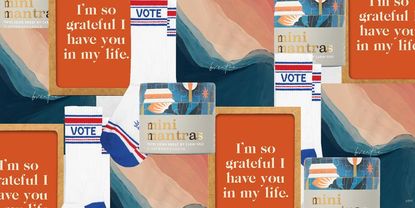 (Image credit: Design by Morgan McMullen)
While this year has certainly been a drag, the good news is that gift-giving is still very much alive and well—especially since we haven't been able to show our love and appreciation for each other in person. If you're looking for holiday gifts on a budget, allow us to present to you 20 gifts under $20, ahead, that are cute, affordable, and meaningful. (Yes, it's possible.) Thanks us later.
1/22
Garden24 "Breathe" 8" x 10" Print
Breathe. A simple mantra we can all use these days placed on a gorgeous 8" x 10" print from writer, artist, and musician Morgan Harper Nichols.
2/22
Papier 2022 Multi Photo Calendar
Better days are coming! Give them something to look forward to with Papier's customizable 2022 calendar featuring photos of your favorite memories together.
3/22
Social Goods "Vote" Gym Socks
With voting rights under attack across the country, now more than ever we need to continue to fight for free and fair elections. These "vote" gym socks benefit Fair Fight Action, a national voting rights organization founded by Stacey Abrams doing just that.
4/22
FEED FEED Heritage Coffee Bag
If they're a coffee lover, help fuel their days with this bag of La Colombe FEED Heritage Blend coffee beans. The purchase will provide five meals to kids in schools around the world.
5/22
Aya Paper Co. Gratitude Card Set
Sometimes the best gifts come in the form of a heartfelt note on a beautiful card from eco-friendly stationary brand, Aya Paper Co.
6/22
'Home Body' By Rupi Kaur
Tell them to dive into Rupi Kaur's Home Body—the poet, author, and illustrator's latest collection of poetry—as a reminder of just how beautiful and powerful they truly are.
7/22
Kacey Musgraves Rainbow Beanie
Alexa, play "Rainbow" by Kacey Musgraves. The singer's cute beanies come in three different colors and happen to be a great way to show your support for the LGBTQ+ community. That is, after donating to LGBTQ+ groups like GLAAD and the National Center for Transgender Equality.
8/22
Journey of Something "You're Doing Great" Mini Mantras Puzzle
Not me romanticizing the early days of quarantine! This "you're doing great" puzzle is a much-needed reminder these days.
9/22
USPS Voices of the Harlem Renaissance Stamps
The USPS is still under attack. Purchase a package of stamps for your stationary-loving BFF, or your politically active friend who is sending out letters to residents reminding them about the November 2 elections across the country.
10/22
HidrateSpark Smart Water Bottle
Show them you care about their health with this HidrateSpark smart water bottle that tracks how much water they consume in a day, thanks to its bluetooth-equipped technology. If you think they'd prefer the latest water bottle, you can give them a gift card to put towards the newest one instead.
11/22
Madewell DIY Convertible Face Mask Lanyard Kit
Summer camp 🤝 pandemic. Now that masks are a part of our daily lives, they'll appreciate this DIY face mask lanyard kit that can also be used for sunglasses.
12/22
Voluspa Voluspa Limited Edition Japonica Mini Candle
Those who have the privilege of working from home will enjoy burning this limited-edition mini candle from Voluspa as a source of comfort during the fourth Zoom meeting of the day. It looks perfect on any coffee table and, you know, actually smells good.
13/22
NAACP Donation
Consider making a donation on their behalf to the NAACP to help fight against racial injustice. No amount is too small, and it may encourage them to make monthly donations of their own.
14/22
ARTOPSHK Custom Music Album Cover Plaque
If they can't stop posting about their Spotify Wrapped playlist, gift them a custom music album cover plaque of their top-played song as proof that they made it through 2021. Or, you know, you can just stick to a custom plaque of their favorite song of all time.
15/22
'How to Be an Antiracist' By Ibram X. Kendi
If you've read Ibram X. Kendi's How to Be an Antiracist, you'll probably want to share his brilliance with someone special in your life. For those who haven't read it yet, think about purchasing two copies—one for yourself and one for a family member or friend.
16/22
Books Are Magic Books Are Magic Tote
Independent bookstores are struggling right now. Purchasing a Books Are Magic tote for the book lover in your life is a great way to help keep bookstores alive without the pressure of picking out the perfect book for them.
17/22
Always Fits The New York Housewives Coloring Book
"I'll tell you how I'm doing. Not well, bitch!" Be the good friend you are and get The Real Housewives of New York-obsessed person in your life this 16-page, hand-illustrated coloring book. It'll help pass the time on the weekends for those of us who are still quarantining.
18/22
Garden24 Playing Cards By Morgan Harper Nichols
Poker game or therapy session? Speaking of passing the time, level up your playing card game with this pretty 52-card deck from Morgan Harper Nichols that includes words of affirmation.
19/22
Bala Resistance Bands
Considering she probably hasn't been to the gym since March, she'll appreciate this cute set of resistance bands for her Zoom workouts.
20/22
Crate and Barrel Stainless Steel Straws, Set of 4
The Earth needs our help right now. A great first step to living a more sustainable lifestyle is by using reusable straws, like these stainless steel ones. They're chic enough for that post-pandemic cocktail party they'll have too.
21/22
Frank Body Original Coffee Scrub