The Biggest Takeaway from Last Night's Debate? The Candidates Still Expect a Man to Be President
Helloooo, I'm standing right here? —Carly Fiorina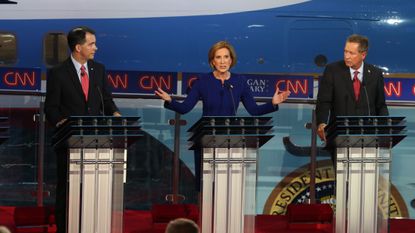 (Image credit: Archives)
Carly Fiorina's impressive performance at the first Republican undercard debate, in August, was what earned her a slot at last night's big kids' table. And she did not disappoint—poll results will eventually determine the official winner, but social media (opens in new tab) has easily handed it to the sole woman on stage.
But even though Fiorina was not just in the debate but crushing it, subtle moments throughout the night showed that the event (and the GOP party itself) is still very much a boys' club. From John Kasich awkwardly touching Fiorina's back at the beginning of the broadcast to Trump and Bush's high-five over secret service names at the end, small but significant body language and word choices give the impression that while there may be room at the debate table for a Republican woman, the majority of the candidates don't think there is at the White House.
Basically—disappointingly—the majority of the candidates expect our next president to be a man.
Case in point: Huckabee and Christie both used "the guys" to refer to the presidential candidate pool...despite the fact that Fiorina was standing *right there*.
And later:
Huckabee further clarified who he expects to be president: "We better elect someone who had some executive experience, because we cannot afford another eight years having a person in the office who doesn't know what he does not know."
It's odd that Huckabee assumes that the next president will be a "he," since not only is his most formidable opponent last night a woman, but also the lead candidate for the other party. Old habits die hard?
Fiorina's defensive tactics to this everyday sexism were as simple as they were effective: rise above. When the candidates were asked what woman they'd like to see on the $10 bill (opens in new tab), three of the men named family members and two named foreign women. Fiorina refused to play the game, and instead used the moment to remind her rivals of the stakes at the table when women are trivialized:
"I wouldn't change the $10 bill, or the $20 bill. I think, honestly, it's a gesture. I don't think it helps to change our history. What I would think is that we ought to recognize that women are not a special interest group. Women are the majority of this nation."
And in the most viral moment of the night, Fiorina classily shut down (opens in new tab) any confusion about whether Trump's prior remarks about her face were an insult to her appearance: "I think women all over this country heard very clearly what Mr. Trump said."
That we did, Carly.
Scarlet Neath is a freelance writer covering politics. Like Beyoncé, she is originally from Houston and now lives in New York.