Dear Michelle Obama: We Have 5 Suggestions for What to Do Next
#1: Give us your thoughts on Lemonade.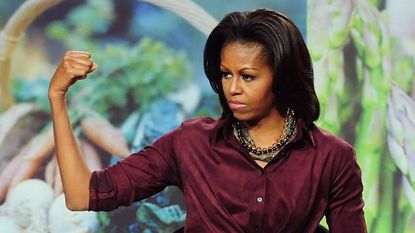 (Image credit: Getty Images)
There are 247 days left of First Lady Michelle Obama, but we're already feeling nostalgic. (Maybe it was seeing the last set of pictures from the Obamas' annual dramatic reading of Where the Wild Things Are at the White House Easter Roll? ) Either way, WE'RE NOT READY.
These past seven years have spoiled us with possibly the hippest and most relatable first lady of all time. But what makes Michelle so awesome in the White House—she's super successful, smart, and somehow seems to just be having fun with it—means that she'll probably be even more of an icon after she leaves.
M.O. hasn't dropped many hints as to what she wants to do starting in 2017 (besides stay in D.C. and go on a Target run like the rest of us), but we've got a few suggestions. Here, five glorious, post-White House scenarios we think would be pretty sweet:
1. Michelle Founds an All-Female Firm, Basically Does 'The Good Wife' in Real Life
Hear us out: Michelle is a lawyer by training, and practiced for four years at the prestigious firm Sidley Austin (where she was assigned to mentor a young Barack). And she is a big supporter of professional women—as of 2014, her staff was primarily female. But establishing the firm would just be the start. There's been talk about the possibility of appointing Barack to the Supreme Court, but why not fellow Harvard Law alum Michelle?
2. Michelle Hosts 'The Michelle Show' à la Melissa Harris-Perry
Let's be honest, the woman is made to be on TV—just look at what she's done with six seconds in her "Turnip for What" vine. The Michelle Show of our dreams would have the political/cultural commentary of Melissa Harris-Perry, the searing in-depth interviews of Barbara Walters, and a healthy dash of Michelle's own talk show prowess (see: her legendary Jimmy Fallon appearances). Preferably airing on the weeknights when Samantha Bee and Broad City aren't on.
3. Michelle Becomes the First Black Female President of a University with a White, Male Legacy
Given her track record, becoming the first woman and/or first black president at one of many universities where that's yet to happen would be a natural move. Today, only 26 percent of college presidents are women, and racial diversity of college presidents was in declineas of 2012. But 20 years ago, Michelle was the associate dean of Student Services at the University of Chicago, before joining the school's hospital—the longest time she's spent at one place. Today, one of her four areas of work is promoting higher education through the Reach Higher initiative—so Michelle would be both a veteran and a breath of fresh air, which may just be the right combination to fix the many problems facing college institutions today (skyrocketing tuition costs and a sexual assault epidemic, for starters).
4. Michelle Writes the Brutally Honest Memoir You Actually Want to Read
Michelle's already working on a memoir, according to biographer Peter Slevin, but we have no idea what parts of her life it will focus on. If her recent graduation speeches—which have become more personal and bold—are a preview of what's to come, the memoir will be worth the wait. In a speech at Tuskegee University last year, she described the questions she faces as the first African-American first lady: "Was I too loud, or too angry, or too emasculating? Or was I too soft, too much of a mom, not enough of a career woman?" We'll be pre-ordering with express shipping, please.
5. Michelle Starts a Nonprofit, Promptly Changes World
This may be the most realistic option given the few hints she's dropped. Nonprofit work is also a typical move for former presidents and their wives—and she's done this before. Michelle was the founding executive director for the Chicago office of Public Allies, which operates an AmeriCorps program. She's since reflected that she was never happier in her life than when she was building the nonprofit from the ground up. And after eight years in the spotlight, wouldn't it be great for Michelle to just be happy in her next phase? (While simultaneously ending inequality and continuing to be a fashion icon, of course.)
Follow Marie Claire on Facebook for the latest celeb news, beauty tips, fascinating reads, livestream video, and more.
Celebrity news, beauty, fashion advice, and fascinating features, delivered straight to your inbox!
Scarlet Neath is a freelance writer covering politics. Like Beyoncé, she is originally from Houston and now lives in New York.