The Supreme Court Strikes Down Texas' Restrictive Abortion Law
This is a HUGE deal for women.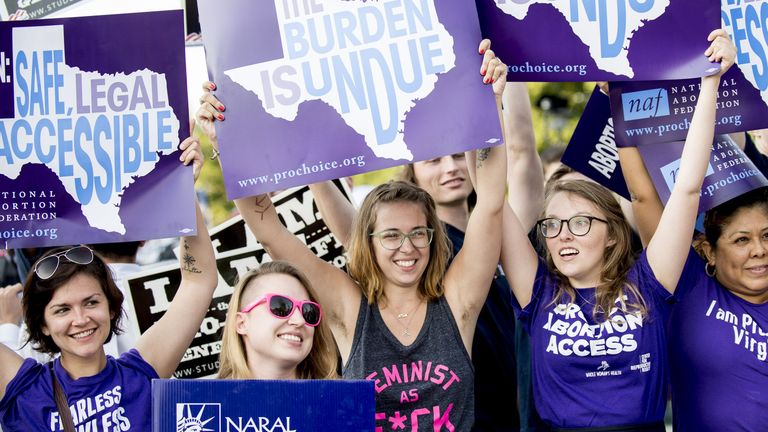 (Image credit: Getty Images)
After three months of deliberation, the Supreme Court has ruled that the Texas law restricting abortion providers is unconstitutional because it places an undue burden on women.
SCOTUS invalidates Texas abortion restrictions.June 27, 2016
See more
BREAKING: #SCOTUS rules that the Texas law on abortion violates the Constitution, places an undue burden on a right to abortion.June 27, 2016
See more
#BREAKING: The burden is undue! #SCOTUS #HB2June 27, 2016
See more
Texas's HB2, passed in 2013, required all abortion providers have admitting privileges at a local hospital, mandated that all abortion clinics meet requirements of ambulatory surgical centers, placed restrictions around medically-induced abortions, and prohibited abortion 20-weeks after post-fertilization. The Supreme Court heard challenges to the components of the law that restricted admitting privileges and imposed the ambulatory surgical center requirements.
The law has resulted (opens in new tab) in the closure of numerous abortion clinics across the state; as of October 2015 only 22 of 41 clinics remained open. Had the law been upheld, only nine or ten clinics (opens in new tab) would remain in the state. Women seeking abortions in Texas face (opens in new tab) increasing wait times for appointments, have to travel an average of 70 miles each way per visit, and thanks to state-mandated ultrasounds and 24-wait periods between counseling and the procedure, face significantly increased costs to obtain an abortion.
"Today, the Supreme Court affirmed what we at Whole Woman's Health have known all along—that every woman, no matter where she lives, deserves access to compassionate, respectful, and comprehensive care from a clinic she trusts. Today justice was served,"said Amy Hagstrom Miller, founder and CEO of Whole Woman's Health and lead plaintiff in the case.
Proponents of the law argued that it makes women safer; however, the American Medical Association, the American Congress of Obstetricians and Gynecologists, and Texas abortion providers (opens in new tab) argue that the requirements are medically unnecessary and endanger women's lives by making it harder for them to access abortions. During oral arguments in March, Justices Ginsburg, Sotomayor and Kagan—the three women the bench—and Justices Breyer grilled (opens in new tab) lawyers about the validity of the law.
Follow Marie Claire on Facebook (opens in new tab) for the latest celeb news, beauty tips, fascinating reads, livestream video, and more.
Prachi Gupta is an award-winning journalist based in New York. Her first book, about Rep. Alexandria Ocasio-Cortez, is available via Workman Publishing.