How a Walgreens Pharmacist (Legally) Refused to Give This Woman a Doctor-Prescribed Abortion Pill
Nicole Arteaga tells MarieClaire.com she shared her story to "make women feel less alone"—because it could happen to you, too.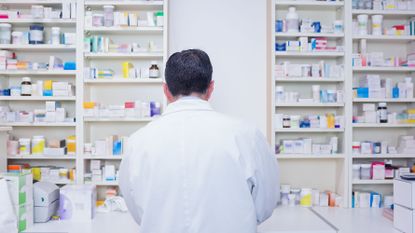 (Image credit: Getty Images)
This weekend, a social media post about a Walgreens pharmacist who refused to fill the prescription of a woman seeking a medical abortion went viral. Nicole Arteaga, 35, a schoolteacher in Peoria, Arizona (a suburb of Phoenix), posted a long status with a picture of a business card, belonging to a pharmacist in her town. In the post, published to Instagram and Facebook (and later screenshot by others and disseminated on Twitter), she explained that a little over two months into her pregnancy, her doctor discovered that the fetus' development had stopped and determined that her pregnancy would result in a miscarriage. She could either undergo a D&C—a surgical abortion—or take an abortion pill. Opting for the latter, she went to Walgreens, where the pharmacist on duty refused to give her the pill, citing "ethics." Her full post reads:
This post isn't something I generally do, but last night I experienced something no women should ever have to go thru especially under these circumstances or any other circumstances.
I hadn't planned on telling anyone outside our immediate family but two months [ago] we were surprised to find out I was pregnant. After a previous miscarriage the doctor had been monitoring me weekly. Unfortunately on Tuesday we found out the baby's development had stopped and I ultimately will have a miscarriage. Dr gave me two options D&C or prescription medication. I opted for prescription. Last night I went to pick up my medication at my local Walgreens only to be denied the prescription I need. I stood at the mercy of this pharmacist explaining my situation in front of my 7 year old, and five customers standing behind only to be denied because of his ethical beliefs. I get it we all have our beliefs. But what he failed to understand is this isn't the situation I had hoped for, this isn't something I wanted. This is something I have zero control over. He has no idea what its like to want nothing more than to carry a child to full term and be unable to do so. If you have gone thru a miscarriage you know the pain and emotional roller[coaster] it can be. I left Walgreens in tears, ashamed and feeling humiliated by a man who knows nothing of my struggles but feels it is his right to deny medication prescribed to me by my doctor. I am unsure where Walgreens draws the lines with their pharmacist but does this mean he denies women the right to birth control and morning after pill, and what's the stance with fertility drugs[?] I share this story because I wish no other women have to go thru something like this at time when you are vulnerable and already suffering. I am in left in disbelief on how this can happen? How is this okay? I can't be the only one who has gone thru this.
Within a day, the post was swirling around the internet. "I was really surprised," Arteaga tells MarieClaire.com. She says she's never been particularly political, and though she went to the Capitol in the spring as part of the Arizona teachers' protests, "I wasn't one of the people who would go up and speak in front of everyone or anything."
In fact, she didn't intentionally post her experience to Facebook at first. "I initially left it as a Yelp review, and it accidentally posted to my Facebook," she says. "My husband and I didn't feel like we wanted to share that information with all our family and friends right then, so I deleted it." But then, one of her friends sent Arteaga a message about how brave she was, and how the friend had been through a similar experience yet never spoken up about it. "I said, 'Well I deleted it,'" Arteaga explains.
But as she thought about it more, she realized she had an opportunity to make other women feel less alone. She decided to publish it again.
What she didn't expect was just how many people it would resonate with. It went so viral that Arteaga has been unable to keep count of how many comments she's received. (As of publication, the post had 60,000 likes and more than 32,000 shares.) Though Arteaga is concerned about how people are going to treat the pharmacist whose card she posted—"People can be mean," she admits—she's also grateful for the encouragement she's received, especially from women who have expressed similar experiences. "There have been a lot of messages of support," she says. "So whenever I start to get emotional or start to question this, I screenshot those messages and look at them."
What Arteaga went through seems unfathomable—after suffering the loss of a wanted child, being unable to decide how your body recovers is unnecessary additional pain. But it's a very real issue for people who live in one of the six states (Arizona, Arkansas, Georgia, Idaho, Mississippi, and South Dakota) that currently allow pharmacists to abide by what are called "conscience clauses." According to the National Women's Law Center, those states "have laws or regulations that specifically allow pharmacies or pharmacists to refuse for religious or moral reasons without critical protections for patients, such as requirements to refer or transfer prescriptions." (Seven other states allow pharmacists to not fill Rxs, but require them to provide alternative ways for the patients to access their medication, like referring them to another pharmacist or transferring their prescription.)
That's what happened to Arteaga: She says that the pharmacist told her that she could try coming back the following day to get her prescription filled by another pharmacist but he doubted they would fill it, and he said she could try one of the other pharmacies around town, though he didn't send her a specific referral. "I felt helpless," she says, through tears. "I felt like I had no choice about what I could do for my body. I was already mourning the loss of my baby who died—which is something my body had no control over—and now I couldn't even make a choice about how I was going to take care of that." Eventually, she was referred to another pharmacy that got her the medication she needed, but not before she went through a lot of unnecessary emotional stress on top of what was already a heartbreaking situation.
The number of cases of pharmacists refusing to dispense doctor-prescribed medication is on the rise in the U.S., with the National Women's Law Center pointing to 26 states in which reports have been made.
MarieClaire.com reached out to Walgreens for comment on Arteaga's situation and a media relations manager reiterated the company's previously-released public statement:
After learning what happened, we reached out to the patient and apologized for how the situation was handled. To respect the sincerely held beliefs of our pharmacists while at the same time meeting the needs of our patients, our policy allows pharmacists to step away from filling a prescription for which they have a moral objection. At the same time, they are also required to refer the prescription to another pharmacist or manager on duty to meet the patient's needs in a timely manner. We are looking into the matter to ensure that our patients' needs are handled properly.
But Arteaga's experience doesn't match that version of events. "They actually didn't reach out," she says. "They haven't contacted me." She tells me that a local reporter she spoke to contacted Walgreens to get clarity, and they explained that the conversation Nicole had when she reached out to her local store manager was the official apology. "[The manger] told me she didn't agree with what happened and was sorry that it happened, but that's the only contact I've had with them."
While Arteaga is devastated over the loss of her pregnancy, she takes some solace in the fact that she could share her story. "I do hope something changes as a result of this," she says, and suggests making the alternatives to pharmacists who choose to use the conscience clause more straightforward, so patients aren't left feeling like they're out of options. Because Arteaga's post was right: No woman should ever have to go through this.
If you would like to donate to the National Women's Law Center, you can do so by following this link.
Cady Drell is a writer, editor, researcher and pet enthusiast from Brooklyn.