Trump Can't Even *Begin* to Understand Why His Rape Comments Are So Dumb—but I Can
I wish I couldn't.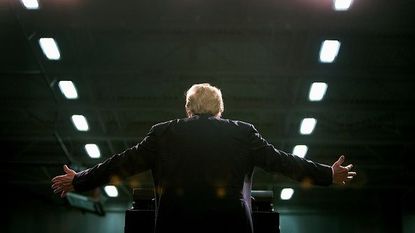 (Image credit: Getty Images)
Nobody doubles down like Trump. As you've probably heard by now, he appeared at a candidate's forum this week where he had the gall to defend one of his more infamous tweets:
When asked what he thought now, three years later, did Trump take the chance to make amends? Nope. In fact, he characterized his original comment as "absolutely correct."
I was sexually assaulted by a family friend when I was 13. Here's what I remember: I had braces. I had long braids. It was a date. It's hard to think this happened—or could even be expected to happen—just because I was in the presence of a male.
Yes, Trump's comments blame victims in that tired way I can barely even muster any energy to shoot down anymore. And his "reasoning" that rape is the natural end to putting men and women together isn't just isolated to his own apparent and profound ignorance—it's what all women and survivors are repeatedly told, time and again. People like me.
It was only the year before my assault, in the sixth grade, that our school principal came into our classroom and asked all of the boys to leave. She told us, smiling, gently, that we couldn't wear our spaghetti strap shirts to school anymore, especially as we started to develop and wear bras. It could be very distracting to the boys. We all laughed and nodded. We understood.
But here we are expounding this theory on a national level: The boys cannot control themselves around you. Boys cannot—nor are they expected to—keep it in their pants. Cover your bra straps. Stay out of the room. Stick men and women together, and you're asking for trouble. Laugh it off.
Even if this unbelievably sexist thinking worked, it wouldn't address the reality of rape. Trump's argument rests on the faulty assumption that rape is only an opposite-sex crime, which is factually untrue: In the military, men are raping other men, likely in numbers far higher than reported.
How is a presidential candidate prepared to tackle the epidemic of rape in the military with such raging ignorance? How will he account for all the victims of this ongoing crime? I guess the bottom line is he won't.
But as we've learned throughout his campaign, the problem with Trump isn't Trump. He's not yelling into the void. He's not alone in these outrageously dumb opinions. He's everywhere: in our schools, workplaces, military, homes. Trump is a huge, terrifying crisis. But none of this will go away after November. Even after he's gone, we'll still have so, so much work left to do.
Follow Marie Claire on Facebook for the latest celeb news, beauty tips, fascinating reads, livestream video, and more.
Celebrity news, beauty, fashion advice, and fascinating features, delivered straight to your inbox!
Julia Sonenshein is a California-born writer and editor living in New York City. She is currently working on a book about the sociology of female friendship.