Priyanka Chopra on Being a Working Immigrant
"America is really the land of opportunity and a melting pot of the world."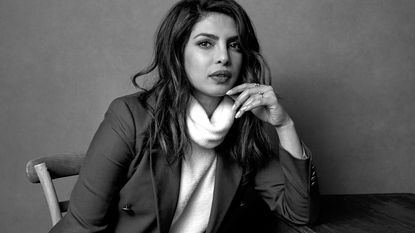 (Image credit: TAYLOR JEWELL/INVISION/AP/Shutterstock)
For Marie Claire's special immigration report, we're celebrating the talents and contributions of women with roots in foreign lands.

OCCUPATION: Actress, producer, and singer.
BEST KNOWN FOR: Quantico (ABC) and the film Baywatch (2017). Her memoir, Unfinished, will be published in 2019.
BIRTHPLACE: Jamshedpur, India.
CURRENT RESIDENCES: Mumbai and New York City.
HER ROOTS: The international star may be jet-setting around the globe with her fiancé, Nick Jonas, (opens in new tab) but Chopra describes herself as "a small-town girl from a small city in India." She moved every couple of years because her father was in the military; at 12, she visited family in Cedar Rapids, Iowa, and ended up staying to attend junior high. "TLC and Destiny's Child were influential to me, so I used to wear the flared jeans, the bomber jackets, crop tops," she says. "I turned into that girl." After going to high school in Queens, New York, and Newton, Massachusetts, she returned home at 17, harboring dreams of becoming an engineer, but her mother sent in her photos to the Miss India pageant, which she won before going on to win the Miss World title in 2000.
GLOBAL CITIZEN: "I'm an Indian citizen. I'm here on a visa," says Chopra, 36. "[America] has engulfed me in the best, warmest, biggest hug. I have tremendous love for America, being my host country for so many years."
TO ME, AMERICA MEANS: "Freedom. It's really the land of opportunity and a melting pot of the world."

ON THE U.S. BORDER CRISIS: "I am a working immigrant myself," she says. "I've worked with UNICEF with refugee children; I've seen what it feels like when you're displaced. I try and use my platform to talk about kindness and compassion. We as people need to stand up for what we think is right and what we feel is right."
BEING AN IMMIGRANT TODAY IS: "A little scary. Uncertain."

SOMETHING MOST PEOPLE DON'T KNOW ABOUT INDIA: "That a lot of us speak English. The second thing is, people mistake India only for poverty and spirituality. Those are both real parts of it, but India as a whole is an experience. Every state has a different written and spoken language—not a dialect. It's like many, many different countries in one."
FAVORITE PHRASE IN HINDI: "Ho jayega. It means 'It'll get done, don't worry about it.' That is sort of my approach in life."
A version of this article originally appeared in the September 2018 issue of Marie Claire.