The 22 Funniest Tweets About the First Presidential Debate
Here's all the internet gold you missed.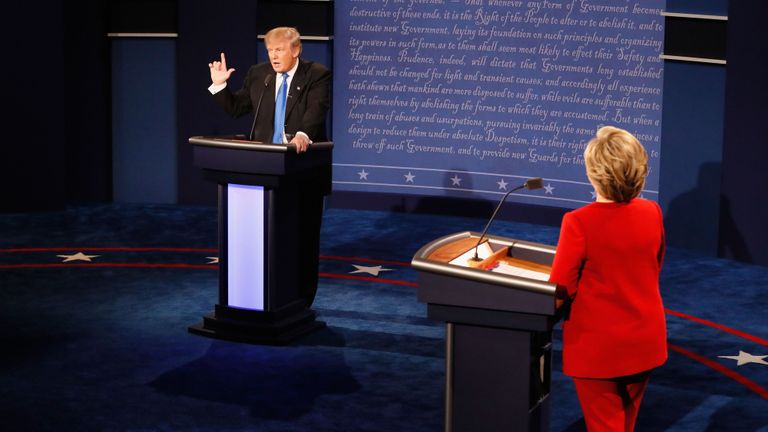 (Image credit: Getty Images)
By Megan Friedman published
The first presidential debate of the 2016 election is over, and all we have left are pundits talking about "who won" and what happens next. Donald Trump went head to head with Hillary Clinton, the world somehow didn't end, and we still have months left to go.
In case you missed it, or if you just need a dose of good humor after an hour and a half of political swiping, check out some of the funniest tweets from Monday night. It'll do you good.
These three are gonna get me through this. Saving the Caduceus for last. #debatenight pic.twitter.com/6tqO8AAY6kSeptember 27, 2016
See more
Donald Trump's hair looks like logo on a sweatshirt that was blurred out in post for legal reasons. #debatenightSeptember 27, 2016
See more
Trump is that guy in your graduate class that didn't do the reading and talks out of his ass in loops to try to cover up his ignorance.September 27, 2016
See more
Many people are saying that @realDonaldTrump's #sniffles are the result of a cocaine problem. Many, many people. Credible sources. #DebatesSeptember 27, 2016
See more
Surreal, like watching a reasonable person who got into a fender bender with a rage-a-holic and is suddenly being shrieked at on La Cienaga.September 27, 2016
See more
Looking at Twitter, it seems the only unifying opinion in America is that LaGuardia is a dumpster fire of an airport. From this, we build.September 27, 2016
See more
Lester Holt in about five minutes and for the rest of the week. #debatenight #debates pic.twitter.com/MuUFB2VPAOSeptember 27, 2016
See more
"I'm sorry but your 2 minutes is expired," Lester Holt mutters softly to himself #debatesSeptember 27, 2016
See more
The message from this debate: Never bring a Cheeto to a knife fight. #debatesSeptember 27, 2016
See more
Follow Marie Claire on Facebook for the latest celeb news, beauty tips, fascinating reads, livestream video, and more.