13 Election Reactions That Will Disgust You to Your Core
Some of these are hard to read.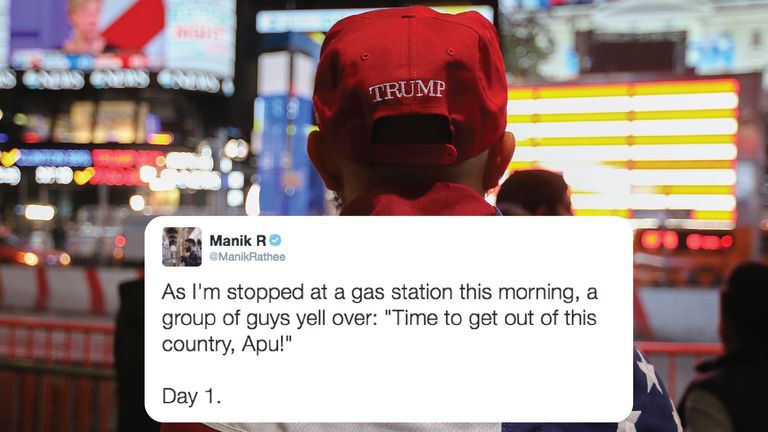 (Image credit: Archives)
It's been a difficult past 24 hours for anyone who was hoping for Hillary Clinton to win the 2016 presidency. For some, it's more than just naming Donald Trump as America's leader—it's the divisive actions and words of the people around them. Just a warning: The reactions below will not lift your spirits or make today better, but they're an important reminder of the road ahead.
Street vendor here just yelled, "hey guys, at least now it will be legal to grab pussy!" And high-fived a group of men who laughed. pic.twitter.com/voTGBdKEUaNovember 9, 2016
See more
Yelling "America just elected a rapist for president!" More laughter. https://t.co/8Jfl5Y1bTZNovember 9, 2016
See more
Text from friend who works at diverse HS in Brooklyn: "Some of my students were attacked today on the way to school: 'Trump won you n____' "November 9, 2016
See more
@zlikeinzorro my niece asked us "If Trump wins will all girls be slaves? A girl in my class told me that."November 9, 2016
See more
@zlikeinzorro latina friend of mine arrived at work to deportation jokes.November 9, 2016
See more
I'm 35 & had never been called a racist slur. Recently my 5yr old experienced just that by a group of teens. Feeling scared in OH.November 9, 2016
See more
@sweetjaur @ManikRathee In Iowa, there were people standing on corners with confederate flags and shouting racial slurs @ POCNovember 9, 2016
See more
@docrocktex26 @T_FisherKing @eclecticbrotha This is an email my Latinx spouse got from one of his COWORKERS this AM. #Election2016 pic.twitter.com/k31EeyN9vwNovember 9, 2016
See more
This is like a punch to the gut pic.twitter.com/khBVWpwG9dNovember 9, 2016
See more
Follow Marie Claire on Facebook (opens in new tab) for the latest celeb news, beauty tips, fascinating reads, livestream video, and more.
Madison is a staff writer at ELLE.com, covering news, politics, and culture. When she's not on the internet, you can most likely find her taking a nap or eating banana bread.