A Rockette Speaks Out
Amidst the media storm about the pressure to perform at President-elect Donald Trump's inauguration, one dancer breaks rank for an exclusive MarieClaire.com interview about the turmoil behind the scenes.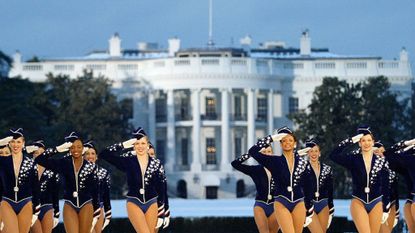 (Image credit: Getty Images)
Marie Claire Newsletter
Celebrity news, beauty, fashion advice, and fascinating features, delivered straight to your inbox!
Thank you for signing up to Marie Claire. You will receive a verification email shortly.
There was a problem. Please refresh the page and try again.
The dancer next to Mary was crying. Tears streamed down her face through all 90 minutes of their world-famous Christmas Spectacular as they kicked and pirouetted and hit mark after mark on the glittering Radio City Music Hall stage. This was Thursday, three days before Christmas, the day the Rockettes discovered they'd been booked to perform at the inauguration of President-elect Donald Trump.
"She felt she was being forced to perform for this monster," Mary told MarieClaire.com in an exclusive interview. "I wouldn't feel comfortable standing near a man like that in our costumes," said another dancer in an email to her colleagues.
Mary is, for obvious reasons, a pseudonym. Over the last few days, the dancers have proven their loyalty to the organization by refusing interview request after interview request—some have even had journalists show up unannounced at their homes trying to get them to talk. "But they're afraid of losing their jobs if they do," she says.
For Mary? "If I had to lose my job over this, I would. It's too important. And I think the rest of the performing arts community would happily stand behind me."
Controversy hit within hours of the announcement last week that the Rockettes will perform at the presidential inauguration on January 20, an event that's been contentious already, between the very public refusals of so many celebrities to participate and the Twitter drama Trump himself has stirred up about it. Perhaps it should come as no surprise that the swearing-in of one of the most polemical presidential candidates in American history is proving to be just as divisive as he is.
"We actually found out through text messages from friends," Mary says of being blindsided by the news. "They sent me screenshots of CNN, where the screen said: 'Rockettes to Perform at Trump's Inauguration.'" Some dancers lashed out immediately on social media. Then an email leaked from the dancers' union, the American Guild of Variety Artists, reminding the women that they were contractually obligated to perform. Their jobs were at stake.
The messaging from Rockette management and the AGVA has conflicted, likely due to the fact that different Rockettes have different employment contracts. "This is where it gets tricky," Mary explains of the inconsistent reports from recent days about whether, in fact, the Rockettes have to perform after all. "Thirteen girls are full-time year-round Rockettes, and they sign a contract saying that aside from approved vacation time, they will be available to do any and all work," she says. "The rest of us are seasonally contracted: 80 dancers, two casts of 40 women each." The seasonal dancers received an email announcing the performance at the inauguration and asking for their availability. But the full-time dancers received a different email, only giving them the details of the appearance—not the choice of whether to participate.
"So it wasn't optional at first. The email from their union said they had to do this job," Mary says of the full-timers. By Friday, after backlash from the dancers and on social media, producers agreed to make participation elective. But dancers are worried that their choice to sit out now means they'll be sitting out for good; it's not as if dancing makes for a stable career, even without hurdles like this one to jump. Mary knows of three full-time dancers who have chosen to decline to perform, and at least one of them is fearful of losing her standing as a result. "It will be interesting to see who doesn't get their job back," Mary says. "But do you really want to work for a company that supports this? I just don't know. It's become a moral issue at this point."
(When approached for comment by MarieClaire.com, the Madison Square Garden Company, which manages the Rockettes, directed us to their previous statement from December 23. MarieClaire.com's request for comment from the AGVA has not been returned.)
While the performance is now theoretically voluntary, that hasn't dissolved the tension within the usually supportive group of women. "There is a divide in the company now, which saddens me most," Mary says. "The majority of us said no immediately. Then there's the percentage that said yes, for whatever reason—whether it's because they're young and uninformed, or because they want the money, or because they think it's an opportunity to move up in the company when other people turn it down."
The Rockettes have performed at presidential inaugurations before—for George W. Bush in 2001 and 2005—which Mary says she would have been happy to partake in. "We do a lot of events, but there have been no events that could cause trauma. And doing this would cause trauma for some people," she explains of the dancers who, like herself, can't stomach celebrating a man who has bragged about sexually assaulting women. Or the few African-American women in the troupe who fear for their rights and their safety under an administration with reported white supremacists in its ranks.
Mary says that to her knowledge, no women of color have signed up to perform that day. "It's almost worse to have 18 pretty white girls behind this man who supports so many hate groups," she says. The lack of diversity in the kick line is "embarrassing" on a normal day, she says, and will only be more pointed in January. "They're going to be branded in history as one of those women," Mary says. "How's it going to look?"
She and other dancers are concerned about tarnishing the Rockettes' brand forever. "This is making our show, our job, our name, branded as right-wing. An extreme right-wing," Mary says. "There's a reason why everyone else is turning this down. Why are we not?"
"This is not a Republican or Democrat issue—this is a women's rights issue," she continues. "This is an issue of racism and sexism, something that's much bigger than politics. We walk into work and everyone has different political views. The majority of the stage crew are Trump supporters; there's a 'Make America Great Again' bumper sticker on the crew doors at the side of the stage."
But the majority of the staff skews liberal, she says, especially considering the many LGBT employees at Radio City. "It's the ensemble. It's the people in our wardrobe and hair department, some of whom are transgender," she says. "These are our friends and our family, who we've worked with for years. It's a basic human-rights issue. We have immigrants in the show. I feel like dancing for Trump would be disrespecting the men and women who work with us, the people we care about."
The emotional turmoil is coming at the worst possible time—the most intense week of any Rockette's year, with multiple shows a day. "This was such a horrible bomb to drop on us at Christmas. We work so hard, we're so tired. We're sleep-deprived, our bodies are exhausted," she says. "We don't really have lives, even in our off-season…we really respect each other, and care about each other, and that's why this is so difficult."
In these final shows since the news broke, Mary says she's already noticed a change in the Radio City audiences. "There have been a lot of empty seats this week, the day before Christmas. There aren't usually empty seats the day before Christmas," she says. At the same time, she's not really surprised. "Why would they want to pay $100+ for a ticket to support someone who doesn't support all human rights? Women's rights?"
Performing on this newly politicized stage has been "unbearable," Mary reveals. "When I was a child, I remember seeing the Rockettes and thinking they were the most powerful women ever. You don't really think you can be one of them." Now that she is, she carries the full, fraught weight of that responsibility. "We're representing every little girl's dream."
Celebrity news, beauty, fashion advice, and fascinating features, delivered straight to your inbox!