9 Things to Know About Former Acting Attorney General Sally Yates
First of all, she's a badass.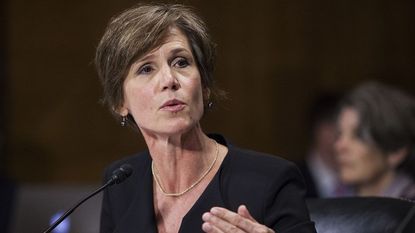 (Image credit: Getty Images)
Marie Claire newsletter
Celebrity news, beauty, fashion advice, and fascinating features, delivered straight to your inbox!
Thank you for signing up to . You will receive a verification email shortly.
There was a problem. Please refresh the page and try again.
After acting Attorney General Sally Yates told the Department of Justice not to defend President Donald Trump's immigration and refugee ban (opens in new tab) on Monday, she was promptly "relieved" of her duties and replaced (opens in new tab)—but not before everyone in the country immediately memorized her name.
Here are just a few things you should know about the former Deputy Attorney General.
1. She served in the Justice Department for over 27 years (opens in new tab).
In 1989, Yates was hired by Bob Barr as the Assistant U.S. Attorney for the U.S. Attorney's Office for the Northern District of Georgia. She quickly rose through the ranks over the years, before her career was abruptly cut short on Monday evening by the Trump administration.
2. She graduated magna cum laude (opens in new tab) from the University of Georgia School of Law.
After getting her law degree, Yates worked for the Atlanta law firm King & Spalding from 1985 to 1989. She also attended the University of Georgia for undergrad.
3. She was the lead prosecutor (opens in new tab) against the Olympic bomber Eric Rudolph.
Domestic terrorist Eric Rudolph (opens in new tab) is currently serving four consecutive life sentences for multiple fatal bombings between 1996 and 1998, including at Centennial Olympic Park in Atlanta during the 1996 Olympics, at a woman's clinic in January 1998, and an LGBT night club a month later.
4. She was the first woman to "lead the office (opens in new tab)" as United States Attorney.
In 2010, then-President Barack Obama appointed Yates to run the local U.S. Attorney's office, which CNN (opens in new tab) reports was " the first time a woman had reached the position there."
5. She became Deputy Attorney General in 2015.
Former President Obama nominated Yates for the position in January 2015, and she was formally sworn in that May. As Deputy Attorney General, Yates was in charge of the day-to-day for 113,000 Justice Department employees.
6. She oversaw former President Obama's clemency initiative.
During his final days in office, former President Obama granted hundreds of commutations for nonviolent drug offenders, which first required the Justice Department to review thousands of clemency petitions in order to determine who they should recommend to the president. Yates was in charge of all of it.
"Sally deserves a lot of credit," former Attorney General Eric H. Holder Jr. told The Washington Post (opens in new tab). "She set this goal of looking at every drug-clemency petition, and they accomplished that."
7. She is known for standing by the law regardless of the sitting president's political party.
Despite the Trump administration's insistence that Yates had "betrayed" them by refusing to protest the president's immigration ban, the former Deputy Attorney General has always had a reputation for standing her ground and sticking by the law, regardless of who's in office.
"For nearly three decades, acting Attorney General Sally Yates has served presidents of both parties, defending the Constitution and holding terrorists and other criminals accountable," former Labor Secretary Tom Perez told The Washington Post (opens in new tab). "Acting Attorney General Yates's record is simply beyond reproach."
"She advocated very strongly as a one-woman show for law enforcement and made the Obama administration pause on policies she thought would be harmful," former Justice Department spokesperson Emily Pierce added.
8. She's a mom.
Yates has two children with her husband, Comer Yates—sons James and Kelley.
9. The Trump administration asked her to stay on as acting Attorney General.
According to CNN (opens in new tab), the Trump administration asked Yates to stay on and act as Attorney General in the interim before Trump's nominee Jeff Sessions could possibly take over—despite the president's complaints on Twitter that she was an Obama nominee. While Sessions likely would have let Trump's immigration ban slide and ordered the Justice Department to defend it, Yates instead chose to stick to the letter of the law, writing to her colleagues that she did not see proof the executive order was "lawful."
Follow Marie Claire on Facebook (opens in new tab) for the latest news, fascinating reads, livestream video, and more.
Gina Mei is a writer and editor based out of Los Angeles. When she isn't writing, reading, and lost in an Internet vortex, she can usually be found petting the nearest dog.