Alicia Garza: Women Are the New Face of Power
From marching to mobilizing to making policy, women are rising up.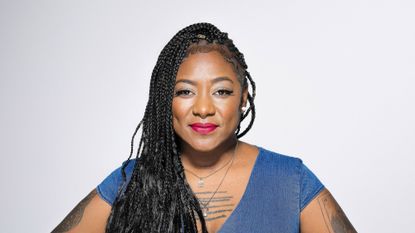 (Image credit: SCOTT ROCKWELL)
Marie Claire Newsletter
Celebrity news, beauty, fashion advice, and fascinating features, delivered straight to your inbox!
Thank you for signing up to Marie Claire. You will receive a verification email shortly.
There was a problem. Please refresh the page and try again.
As a cofounder of Black Lives Matter, new Marie Claire contributing editor Alicia Garza has called for the empowerment of the underrepresented. As director of strategy and partnerships at the National Domestic Workers Alliance, she helped the group's allied organization, Care in Action, mobilize 250,000 voters in the Georgia midterm elections. She's also principal and founder of Black Futures Lab, which trains black grassroots leaders to become more powerful in politics and is conducting the Black Census Project, the largest survey of black people in more than 150 years, for data that will be used to impact policy across the nation. Here, she underscores how women are reclaiming their power.
At the halfway point between the 2016 election and the upcoming election in 2020, one thing is clear: Women, and particularly women of color, are the new face of power in the United States. Women are mobilizing like we haven't seen in decades, from the historic Women's Marches that became the largest mobilizations in the history of the nation to the record numbers of women running for office and winning, so we can expect that power in 2020 will look and feel much different than it does today.
Women are organizing in response to attacks on our personhood and our right to live full, dignified lives. The president awakened a sleeping giant when he talked about grabbing women by the pussy—to which women responded by donning pussy hats and marching around the world by the millions. When the president nominated Brett Kavanaugh for the Supreme Court, women were brave. From Christine Blasey Ford, who courageously testified about being assaulted by Kavanaugh while in high school, to the women who bird-dogged Senator Jeff Flake to the women who galvanized 1,600 men in support of Blasey Ford and Anita Hill, women did not come to play games.
Women are fighting because the old forms of power are harmful and abusive to us, to our families, to our workplaces, to our houses of worship, to our democracy, and to our planet. We're no longer willing to accept that women make 80.5 cents to every dollar a man makes. Asian women make 87 cents to every dollar a white man makes. Black women make 63 cents to every dollar a white man makes. Latinas make 54 cents to every dollar a white man makes.
We're no longer willing to accept that in 2019, women are overrepresented in the lowest-paying jobs and underrepresented in the jobs with power or even a livable wage. We're fed up that women are the least likely to have access to affordable health care and increasingly becoming the primary income earners in their households. We are outraged that the rights we have fought for and won—like the right to decide if and when we have families, the right to be free of discrimination, the right to form organizations that fight for our dignity in the workplace, and the right to make decisions over our own lives—are systematically being stripped away.
COUNTDOWN TO 2020
That's why women are fighting to become the new face of power, because, as women's-, civil-, and voting-rights activist Fannie Lou Hamer once said, "We are sick and tired of being sick and tired." Women are running for president. Women are running presidential campaigns. Women are changing the balance of power in Congress, our statehouses, our city councils, and our school boards. Women are introducing federal bills, like the Federal Domestic Workers Bill of Rights. Women are registering people to vote; women are running, not walking, to the polls; and women are fighting to preserve and expand our right to participate. We are stopping deportations, and we are keeping families together.
Women are demonstrating, with our words and our actions, that when we stick together, there's nothing we cannot accomplish. In the countdown to 2020, women are a force to be reckoned with.
This article originally appeared in the April 2019 issue of Marie Claire, on newsstands now.
Correction: An earlier version of this story incorrectly referred to Care in Action as the "political arm" of the National Domestic Workers Alliance.
Celebrity news, beauty, fashion advice, and fascinating features, delivered straight to your inbox!