Chicago Mayor Lori Lightfoot Is Ready to Shake Up the City
She made history—and now she wants to create change.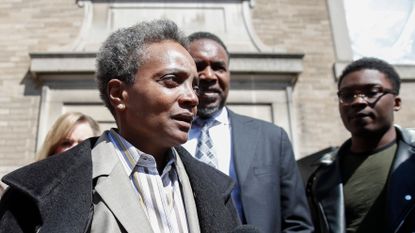 (Image credit: Getty Images)
In April, Lori Lightfoot reached a major milestone, becoming the first Black woman, and the first openly gay person, to be elected to the Windy City's highest office. The win wasn't easy. Lightfoot was initially considered an underdog in a field of 14 candidates. But in the end, her platform promising a police-department overhaul, significant neighborhood investments, and political reform won voters over. The lawyer turned politician, who once chaired the city's Police Accountability Task Force, now leads a city under federal mandate to root out systemic racism in law enforcement. Lightfoot says she's dedicated to improving equity and empathy while grappling with other concerns like reducing violence and supporting women in the workplace. Here she discusses her historic victory, the challenges ahead, and how she's rewriting the rules on who gets to be in the inner circle.
Marie Claire: Why is it significant that a gay Black woman leads Chicago?
Lori Lightfoot: What we've seen across the country is voters are hungry for change— change in leadership, change in approach—and certainly I think that was true here in Chicago. We beat a very established, long-tenured public official [Toni Preckwinkle] on a message of change and breaking away from the machine. It also shows that, for people
in the various constituencies that I represent, my gender, my color, my sexual orientation need not be a barrier to obtaining leadership roles at the highest levels.
MC: What is the first thing you want to change?
LL: Businesses aren't going to invest if they don't feel like they can go into a neighborhood and be safe. People are not going to stay in neighborhoods if they don't feel safe, which has a dramatic impact not only on the economy but also on public schools. We are not going to be able to tackle a lot of the tough challenges if our resources continue to be disproportionately focused on public safety, as they are now by necessity. So, public safety is a big, important issue that we have to get right.
MC: As you try to get that right, will you also try to repair the relationship between the Chicago police and people of color?
LL: It's got to be done simultaneously. Successful policing, meaning keeping communities safe, really depends upon legitimacy. Legitimacy can come only when you've got a good working relationship between the communities and the police. So, we can't achieve any success when communities still continue to view the police as an unwelcome invading force.
MC: Did you receive any questions on the campaign trail that a man would never have faced?
LL: One hundred percent. Not just questions but comments: "You have to think about what you're wearing and how you're wearing it." "Make sure you smile more. You have a beautiful smile." People, men and women, felt like they needed to tell me to smile more, to wear lighter colors, and to not be so stern and lawyerlike. Give me a break! We've got big, serious issues in our city. We still live with the reality in Chicago that we're one of the most segregated cities in the country. Thinking about those issues is really important, not what color blouse I'm wearing.
MC: Do you have any policies in mind that are specifically focused on women?
LL: A lot of the things that we're talking about—making sure we have safe neighborhoods, good schools, building an economy that's inclusive—those are all things that are important for women. There's a [proposal] called the Fair Workweek Ordinance that's been talked about for quite a long time. [It would limit employers' ability to change employees' posted schedules.] I'm a kid whose mother worked every single day at a series of low-wage jobs, and she didn't have predictability around her schedule. That meant she couldn't schedule childcare. If a woman can't schedule childcare, she can't work. If a woman can't work, that's catastrophic not only for her but for her family.
MC: Speaking of families, how did you prepare your 11-year-old daughter for public life?
LL: We're talking to her about my status in the public eye, about who her friends are, and that there may be new people who suddenly try to gravitate toward her, and how to navigate that. Also, she may hear things out there; we told her, always come to us and we will tell you the truth; we're not going to lie to you. But I have to tell you, my daughter, Vivian, is unbelievably precocious, and I'm proud of the way that she conducts herself in public. She is very mature and generous in talking to people. I have to give credit to my wife, Amy, because she ends up spending more time on a day-in, day-out basis with our daughter.

MC: Chicago's a wonderful city—it's my city—but it also has a history of racism and segregation. This summer marks the 100th anniversary of the Chicago race riots of 1919, which were kicked off by the deliberate drowning of a Black kid on the white side of the beach. What can we learn from this terrible legacy, and how do we move forward?
LL: We should be thinking about ways we can reflect on that important historical moment, viewing it through the lens of today and recognizing the opportunities and challenges that we continue to face. Race still matters in almost everything that we do. We have made a lot of progress: I'm a Black woman taking over as the mayor of this great city, which was unimaginable not that long ago. But we need not take a victory lap because there's still so much more to do. People of color, particularly African Americans, are struggling and suffering every single day. A lot of that is a result of the continuing effects of racism. It underscores that we have to keep being diligent about creating opportunities for equity and inclusion and healing.
MC: On a positive note, it seems like it's the year of the Black woman in Illinois. You, the state's attorney, the city treasurer, and other top officials are winning seats historically held by white men.
LL: We're kicking the door open. Hopefully what we're also doing is waving our hand and inviting other people to come along with us.
This article originally appeared in the July 2019 issue of Marie Claire.
RELATED STORY
Adrienne Samuels Gibbs is an award-winning journalist. Her work has appeared in Vice, Fit Pregnancy, Essence, The Boston Globe and Chicago magazines. She lives in Chicago.