How Rapper-Turned-Politician Mariah Parker Does It All
A record number of women won election last year—what happens when the rush of victory ends and it's time to get to work?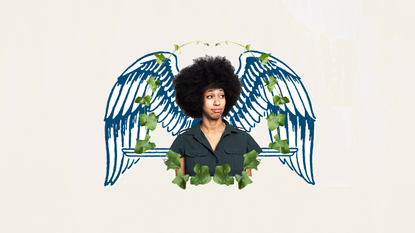 (Image credit: Design by Morgan McMullen)
There's a reason why Mariah Parker, the youngest county commissioner in Athens, Georgia, remains buoyant when confronted by her haters—voters who heckle her during campaign events, online trolls who've threatened her life, and older politicians who react with, "Oh, honey," to her more radical ideas. "I've survived so many rap battles, when people have said much worse," says Parker, 28. "I really can't be phased by anything."
Parker isn't the only rapper-turned-politician in U.S. history, but she is the most visible. In June 2018, her swearing-in ceremony went viral when she took her oath on The Autobiography of Malcolm X, rather than the Bible. In photos from that day she looks resplendent in a pink blouse and towering afro, one fist raised in the air. "The attention was so unlike anything I'd experienced," Parker says. "Folks as far away as Tanzania were messaging me on Facebook."
Congratulations to 26 year-old Mariah Parker who took her oath of office as Athens-Clarke County commissioner with her Mother holding the Autobiography of Malcolm X. A loud and respectable statement. #MalcolmX #MariahParker #GenerationYes #MoveForward #BlackExcellence pic.twitter.com/HQV7axpSpXJune 7, 2018
See more
Parker launched her campaign for local office in February 2018, joining the scores of American women entering politics in response to President Donald Trump's ascent. Like many of these candidates, Parker campaigned on progressive reform, promising to fight for fair wages, affordable transportation, and an end to discriminatory policies. It was a tight race, with early returns showing a roughly 50-50 split between Parker and her opponent well into the night. "It was one of the most nerve-racking nights of my life—your vision for a whole community is riding on the line," Parker says of election night. "I was so scared that I would let everyone—my team, everyone I talked to on the phone—down."
When the count was final, she learned she had won by just 13 votes. "It was such a huge relief," Parker says, adding that she gave a teary victory speech to the "diehards" that hung around until the end of the night.
It was a thrilling, nerve-wracking, chaotic moment in her life, but then it was over. And once the job actually began, "I was shocked by how boring a lot of it was," Parker says. "I ran on a platform of racial and economic justice, but those issues were not being talked about at all. We talked about getting roads paved and keeping sewers running." She managed to notch one victory that felt meaningful: When she learned nonprofits serving black communities were being made to pay more to rent office space in government buildings than other groups, "I called it out as racism in City Hall and demanded that not only should we lower their rates to zero, but that as a matter of reparations their rates should remain at zero," Parker says.
When she's not shaking up City Hall, Parker is working toward her Ph.D. in language and literacy education from the University of Georgia, and performing around the country as a rapper under the name Linqua Franqa. Last year, her gig at South By Southwest landed her on The New York Times' list of acts that stood out. "There's no way I could hide that side of me," Parker says. "The rap persona is really important in my foundation as a politician."
As an elected official, Parker has less time for music. She can't pick up and go on tour for a month anymore. And while she's known for deeply personal songwriting—rapping about abortion, depression, and heartbreak—she's thinking more about being "deliberate and thoughtful" in her lyrics, knowing they'll be scrutinized by political enemies when she runs for reelection in 2020. "I think activism and being a public official goes hand-in-hand with rapping," Parker says. "I don't think I have to choose—I don't want to choose."
But managing both, along with her studies, can be hard. "I constantly feel guilty," Parker says. "Any time I do anything fun, even when I'm sipping a cocktail at happy hour with friends, it's like, What are you doing? The world needs you!"
It's a tricky exercise, considering Parker believes people can and should govern as their full, messy selves. That's why she talks openly in public forums and local media about paying bills late and dodging calls from student loan officers. It's also why she refuses to separate her two identities: Commissioner Parker and Linqua Franqa. "I'm gonna be a rapping politician—I don't see rapping leaving my life because I need it so much. I need to travel and do music and sit and write for my own mental and spiritual wellness," she says. "Without that, I can't serve."
For more stories like this, including celebrity news, beauty and fashion advice, savvy political commentary, and fascinating features, sign up for the Marie Claire newsletter.
RELATED STORIES
Jessica Testa is a reporter based in New York writing on crime and gender.