Behind the Scenes of the Controversy at the Women's March
They organized the largest one-day protest in U.S. history—and then everything fell apart. On the third anniversary, Marie Claire talks to the leaders of the Women's March to learn the truth behind the drama.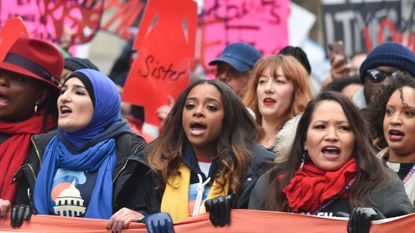 (Image credit: Aaron J. Thornton)
The first time Bob Bland and Tamika Mallory met, it was like an awkward blind date. They had been set up in November 2016 because of their early involvement in the Women's March. During one of their first conversations, Bland, a white fashion designer known for her "Nasty Woman" T-shirt, asked Mallory, a black civil-rights activist, a question that still makes Bland cringe: "I don't get it, what does racial justice have to do with women's rights?"
Reflecting on that question years later, Mallory says it was "very painful" to hear. "That was a moment when I didn't know if I should continue with the Women's March, because I knew Bob was willing to say what many others were thinking," Mallory recalls. But instead of walking away, she kept talking, knowing the difficult work ahead hinged on uniting people from different backgrounds and differing views. "I tried to illustrate where I was coming from by describing how white women are very concerned about reproductive rights, whereas many black women are more concerned about socioeconomic inequality or gun violence, which is why many may not want to get pregnant in the first place. They are afraid the baby could be killed by a stray bullet," she says.
That vivid example clicked for Bland, spurring an examination of her white privilege and a desire to increase the visibility of women who have not been seen or heard. Today, Mallory and Bland, both of whom ended two-year terms on the board of the Women's March, consider each other allies.
The interaction between Bland and Mallory is reflective of the strange bedfellows—a chef, a yoga teacher, a film director, a poet, an herbalist—who came together to make history with the single largest one-day protest in U.S. history. "We were a random club of ladies who had never met, trying to organize this historic event in nine and a half weeks," says Linda Sarsour, one of the original board members of the Women's March. Many had no background in political organizing or activism.
Three years after a mass of pink pussy hats descended on Washington, D.C., on January 21, 2017, the new guard—the recently appointed executive committee, which granted its first-ever interview to Marie Claire—has big shoes to fill. After all, this is a movement that packed trains and planes, gave Tarana Burke (the founder of the #MeToo movement) her first public platform, led to the arrest of nearly 600 women protesting family separation in D.C., spearheaded demonstrations during the Brett Kavanaugh hearings, and helped spark an unprecedented number of women to run for—and win—office in 2018. Yet despite such successes, the dominant narrative about the Women's March has been of tensions and reported infighting among the organizers, with accusations of anti-Semitism splashed across headlines and on Twitter. But both the original founders and current organizers say the real behind-the-scenes story is much more complicated, nuanced, and, ultimately, hopeful than what has been told.
The day after President Donald Trump was elected, a Facebook post written by Teresa Shook, a grandmother in Hawaii, suggesting a women's march on Washington, D.C., caught fire. Within the first 36 hours, two Facebook groups made up of primarily white women merged into what was originally called the Million Women March. Less than a week later, Sarsour and Mallory, along with Carmen Perez-Jordan, president of the Gathering for Justice, a racial-equality-focused nonprofit, were brought on by Michael Skolnik, Russell Simmons's former political director, to add more diverse voices to the organization, which had been intensely criticized for being too homogenous.
To say there was a lot of damage coming into the Women's March is an understatement. There were disgruntled women from the Bernie Sanders campaign, depressed women from the Hillary Clinton campaign, terrified Muslims and Mexicans who had been targeted for months by Trump, and many women of color who felt betrayed by the 53 percent of white women who voted for him. Some of the leaders saw women's rights through the lens of equal pay, paid leave, and abortion rights, while others pushed a broader view of tackling economic inequality, racial injustice, and climate change. These weren't just open cuts but gaping, bleeding, raw wounds that a single one-day protest was never going to cauterize.
The Women's March movement, it could be argued, started after the march itself, when fired-up attendees wondered, What do we do now? The day after women took to the streets, Planned Parenthood and Emily's List offered a four-hour course to train women how to run for office. The course sold out in nine minutes and had a 400-person wait list. Nine months later, a follow-up to the march, called the Women's Convention, took place in Detroit, where 5,000 women gathered.
While Trump may have united the Women's March, another man, Louis Farrakhan, a minister with the Nation of Islam, led to its division. In 2001, when Mallory was a young mother of a toddler, her son's father, Jason Ryans, was shot in Pennsylvania. Members of the Nation of Islam extended a hand to Mallory, who was raised a devout Christian, after his murder. The African American political and religious organization has deep anti-Semitic and anti-LGBTQ roots, but as Adam Serwer noted in The Atlantic in 2018, it is also "a force in impoverished black communities—not simply as a champion of the black poor or working class, but of the black underclass." Much of the Women's March controversy spun from a video clip of Mallory at a Nation of Islam gathering called Saviours' Day. "In that most difficult period of my life, it was the women of the Nation of Islam who supported me, and I have always held them close to my heart for that reason," Mallory said in a statement in March 2018.
That, in a nutshell, is how Farrakhan, who has been called an anti-Semite by the Anti-Defamation League, came to be inextricably associated with the Women's March. Perez-Jordan, too, was criticized for her past support of Farrakhan. Then came accusations of anti-Semitism against Sarsour, who is a supporter of the Boycott, Divestment, Sanctions movement against Israel. Bland also found herself a target of criticism when, in March 2019, she shared someone else's Facebook post that criticized the Jewish community in connection with the Christchurch, New Zealand, mosque shooting. (Bland apologized and clarified that she did not agree with the original post.) The women publicly denied allegations of anti-Semitism but say it felt like no one was listening. "I want to be clear that our movement is a safe place for Jewish women," Perez-Jordan says. "I have always rejected anti-Semitism, and I am intensely proud of our inclusive, intersectional movement for women's liberation, [which] exists to fight bigotry and discrimination in all forms."
In a November 2019 interview, Mallory acknowledges the initial language of the Women's March should have been more inclusive to Jewish women but sticks with her original defense, saying she did not condemn Farrakhan because she does not "believe in denouncing black people in America." The conditions for black people in the U.S. "are way too challenged and difficult for other black women, particularly, to be denouncing black men, and that was the charge that was demanded of me," Mallory says. With hindsight, she sees much of the controversies as "the right wing hoodwinking liberal white women."
"Look, there were very reasonable questions in light of my relationship with the Nation of Islam, and everyone had the right to ask what happened, but the mass-media machine that descended really was out to destroy the Women's March," Mallory says, referring to the barrage of negative coverage and personal attacks from right-wing outlets like the Daily Caller, which circulated a false claim that Sarsour has ties to the terrorist organization Hamas.
As recently as September 2019, Breitbart News, which practically has a beat dedicated to denigrating the Women's March, ran a story headlined "Women's March Boots Linda Sarsour for Antisemitism, Keeps Pro-Farrakhan Carmen Perez." According to the women, that headline is patently false: No one was booted. Sarsour, along with Bland and Mallory, came to the end of sanctioned two-year terms. The trio remains close to this day. Sarsour calls Perez-Jordan and Mallory her best friends, and she works closely with them on social-justice issues.
The relentless faultfinding against the Women's March made Sarah Sophie Flicker, one of the original organizers, want to disappear into an underground bunker. "The press became distorted and overly focused on the negative, so I had a lot of reluctance to participate in another conversation about the Women's March," says Flicker, speaking on the record for the first time in over a year. "I could not live with myself if I contributed to the narrative that intersectional organizing doesn't work." She's baffled that the Women's March became such a target. "There are actual Nazis and white supremacists marching in the streets and holding power in the White House," Flicker says. "My discomfort around the discourse is that instead of focusing our ire and condemnation at the real monsters, the narrative focused on a group of women of color."
The board underwent three trainings, primarily run through Jews for Racial & Economic Justice. Flicker, who says she identifies as white, Jewish, and privileged, feels the anti-Semitism allegations have been overly talked through and that the leadership really grappled with the crisis. "I am proud of the fact that we stayed in conversation with each other, learned about each other's histories, and never gave up," she says. "We waded through really difficult, loving, and sometimes painful discussions. In my estimation, that's how change happens."
For those in the trenches, the fallout hasn't been easy to digest. Mallory says "the repeated lies and smear campaign" took a toll. Sleeping pills failed her, and a doctor diagnosed her with post-traumatic stress disorder. Sarsour says she still has difficulty coming to grips with what she perceived to be an unfair and unrealistic standard for the Women's March: "The idea that we all have to be united, where we all share the same agenda, the same issues, and agree on everything—it's not possible," says Sarsour, whose book, We Are Not Here to Be Bystanders: A Memoir of Love and Resistance, will be published in March. "We grew up differently. We come from different places." She reiterated that conflict is often intrinsic to movement building. And movement building is really, really hard work.
Sarsour herself became a target of the hate that grew out of the Women's March. In October 2018, two FBI agents knocked on her door to warn her about a man in Florida named Cesar Sayoc who had sent pipe bombs to Barack Obama, Joe Biden, and Clinton. When searching Sayoc's house, the FBI found three addresses for Sarsour, along with a photograph of her. (Sayoc was sentenced to 20 years in prison.) "I have kids," Sarsour says. "How do you explain to them, don't touch the mail?" A lingering question for Sarsour: "Was the Women's March obsessively scrutinized in a way that is actually dangerous and put many of our and our families' lives at risk?"
In September 2019, a new regime was put in place. Perez-Jordan stayed on as the only holdover from the original board. "We've all seen how our nation's politics have changed in the last two years by electing female leaders of color who are committed to radical change," Perez-Jordan says. "My goal for the Women's March is to elect more progressive women in 2020 than ever before." Rinku Sen, the new co-president, says she is very much looking toward the future. "We are going to be standing up against this vision of a white nationalist, homophobic country," she says. "We are a new team, we're all the way in, and people will judge us by our work." For the 2020 Women's March in Washington, D.C., on January 18, the organization is again planning on mobilizing millions of women to take to the streets across the country.
Sen, formerly the executive director of the racial-justice organization Race Forward, who has 40 years' experience in movement building and activism, is part of a new group of 16 board members. While the organization has no physical headquarters, the executive committee—Sen and Isa Noyola, former deputy director at the Transgender Law Center, are co-presidents; Lucy Flores, a former Nevada State assemblywoman, is treasurer; and Mrinalini Chakraborty, a political organizer working on immigrants' and women's rights, is the secretary—has weekly meetings via Zoom, and the full board meets virtually about once every six weeks.
The organizers say they are in the process of rebooting to become less about the people at the top and more about the issues that unite its members and supporters. The new leaders acknowledge that the Women's March, born out of the opposition to Trump, needs to evolve into something bigger and more far-reaching than opposing a single person. In other words, the Women's March has to go from fighting Trump to fighting Trumpism—from being against someone to standing for something. "We need to demonstrate our collective power to end the policies of racism, sexism, and hate that come from this administration," Flores says.
They surveyed more than one million people on their email list three times during 2018 to understand what they wanted. The top issues that emerged—reproductive rights and health, immigration, and climate change—will be the focus moving forward. They also want to combat the normalization of sexual assault and sexism and lobby for laws to protect all gender identities.
The coattails of the Women's March are long. Not only did the organization catalyze the largest political movement in at least a generation, but many progressive wins during the Trump era could be seen as stemming from that first march in 2017: the 126 female members of Congress, the highest number in U.S. history; the expansion of Medicaid in Idaho in April 2019; flipping the Virginia Legislature just last fall. The real test for the Women's March, however, won't come until January 2021, when they will be marching either in support of or opposition to the president. Get your hats ready.
This story appears in the February 2020 issue of Marie Claire.
RELATED STORIES
Celebrity news, beauty, fashion advice, and fascinating features, delivered straight to your inbox!