Talks to Help You Get Informed About Racism in America
Become a better ally by educating yourself.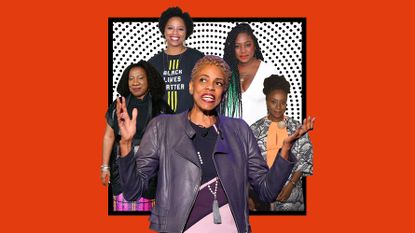 (Image credit: Getty/ Morgan McMullen)
Marie Claire Newsletter
Celebrity news, beauty, fashion advice, and fascinating features, delivered straight to your inbox!
Thank you for signing up to Marie Claire. You will receive a verification email shortly.
There was a problem. Please refresh the page and try again.
The killings of George Floyd, Ahmaud Arbery, Breonna Taylor, Tony McDade, and so many more have catalyzed a nationwide reckoning: The onslaught on the lives of Black people, rampant injustice, police brutality, and systemic racism in our country has to stop. It needed to stop days, weeks, months, years, decades, and centuries ago. As many take to social media and the streets in solidarity of this mission, it has become increasingly clear that there's still so much work to be done. Even after protestors clear from cities and selfies fill our Instagram feeds once again instead of black squares, we must not allow things to go back to a normal that has abused so many.
It's not the job of Black people to teach white people about racism, injustice, and prejudice. It's white people's responsibility to put in the work and learn how to become better allies and anti-racists. There are many ways to do this: Read more work by Black authors. Listen to the voices and stories of Black people. Shop Black-owned businesses. This needs to be a conscientious effort not only today, but each and every day. In instances where members of the Black community have chosen to share their stories and use their voices to inform others, everyone needs to listen. Here, we've gathered a few of those moments: Informational videos, from TED Talks to college lectures to interviews with activists, that you can watch to become a better, stronger, more educated and active ally.

An Interview With The Founders of Black Lives Matter
Alicia Garza, Patrisse Cullors, and Opal Tometi, the three founders of Black Lives Matter— the movement that sparked global conversation around challenging systemic racism in America—talk candidly with activist and advocate Mia Birdsong. In this conversation, they share how we can take our activism offline and extend that fervor into the world. It's a must-watch for everyone who wants to learn more about the evolution of the Black Lives Matter movement—really, everyone, period.
How To Overcome Your Biases by Vernā Myers
Diversity advocate Vernā Myers examines and unpacks the unconscious bias and implicit stereotypes we carry—and implores us to acknowledge them. In her TED Talk, she tells us that when we "stop trying to be good people" and focus on being "real people," ones who are not in denial about implicit social and racial bias, we can more effectively focus on uprooting those prejudices and catalyzing change. Watch this to be a better, more self-aware ally.
The Danger of a Single Story by Chimamanda Ngozi Adichie
After growing up reading novels by white, British authors, Chimamanda Ngozi Adichie, the Nigerian author behind books such as Americanah, shares how she developed her authentic voice as a Black female writer. If you haven't read Americanah already, you should (it dexterously illustrates the construct of race in the U.S. vs. Blackness in other countries), but don't stop there: She cautions that reading only one book from a writer or color or from another country risks warping your perception and can perpetuate cultural misunderstandings, underlying how crucial it is to broaden your horizons and absorb literature from various writers of all races and ethnicities.
A Conversation With Black Women on Race by The New York Times
In this New York Times Op/Ed video, a group of Black women speak candidly about their existence as Black women. Hearing their stories and learning their experiences on the receiving end of both microaggressions and overt racism help illustrate all of the levels of injustice that Black people experience every single day. It's also helpful to hear from women who are not necessarily scholars or activists, as it showcases how pervasive these issues truly are.
#MeToo and Women of Color by Tarana Burke
For an informative segment on PBS, civil rights activist and founder of the #MeToo movement Tarana Burke explains how marginalized communities experience the impact of sexual violence in different ways. It's crucial to prioritize the pain of women of color, especially when that intersects with sexual and domestic violence.
Black Feminism and Respectability Politics by Tricia Rose
Tricia Rose, Professor of Africana Studies and Director of the Center for the Study of Race and Ethnicity in America at Brown University, delivers a thought-provoking lecture on Black feminism and respectability politics. For those who want to challenge themselves to high-level discourse, this is one to watch.
Color Blind Or Color Brave by Mellody Hobson
"Now, race is one of those topics in America that makes people extraordinarily uncomfortable" says Co-CEO of Ariel Investments Mellody Hobson in the first 2 minutes of her TED Talk. She then explains how in order to actually create change, it's crucial to engage in conversations about race and racial disparity— we need to get comfortable with being uncomfortable.
The Urgency of Intersectionality by Kimberlé Crenshaw
A pioneer in race theory and a professor in law (and a thought leader behind the #SayHerName campaign), Kimberlé Crenshaw discusses the collision of race and gender, which she coins with the term "intersectionality." In this Ted Talk, she explains the double prejudice that women of color face. She uses the relatively unknown stories of Black women killed by police to discuss how intersectionality often is an invisible problem in the media, but it shouldn't be.
Performance Allyship by Layla Saad
In this video for Jezebel, best-selling author of the book Me and White Supremacy Layla Saad explains what performance and optical allyship means. She breaks down why white saviorism narratives are problematic— and why it's crucial that allyship exists off of social media. (For ways you can be a better ally, click here.)
Black Lives Matter
Celebrity news, beauty, fashion advice, and fascinating features, delivered straight to your inbox!
Megan DiTrolio is the editor of features and special projects at Marie Claire, where she oversees all career coverage and writes and edits stories on women's issues, politics, cultural trends, and more. In addition to editing feature stories, she programs Marie Claire's annual Power Trip conference and Marie Claire's Getting Down To Business Instagram Live franchise.