How to Help Texans as Winter Storm Uri Rages
Millions of people are without power and heat during the historic storm.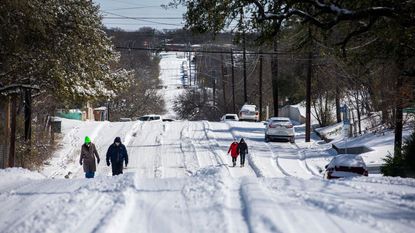 (Image credit: Montinique Monroe)
Texas has declared a state of emergency.
Amid a fierce storm raging across the United States, 21 people nationwide have died, millions of Texans are without power, zoo animals are freezing to death, and Colorado City's mayor just resigned after telling fearful residents "only the strong will survive."
Texas has had a uniquely difficult time weathering the storm. Bitterly cold temperatures, serious electricity grid problems, and outages have caused millions of Texans to go without power or heat for days on end. In light of this, President Biden ordered federal assistance and authorized the Department of Homeland Security and FEMA (Federal Emergency Management Agency) to coordinate relief efforts.
People are suffering. Even if you are far outside the Lone Star state, there are still ways you can help.
Donate Supplies
Nonprofit organization Front Steps is collecting warm blankets at its downtown Austin location at 500 E. Seventh St. You can even order a blanket online and have it shipped there.
The best blankets are big enough to cover an adult and are made of fleece or acrylic (not cotton or wool) because these materials don't soak up moisture. Check out Front Steps' site for specific recommendations.
Here are other supply donation options:
Donate Money
One of the most effective ways to help others is to put your money where your mouth is.
Feeding Texas is a nonprofit working to feed millions even in non-disaster times, but it has mobilized around connecting donors with food banks especially in need right now. Click here to donate towards its efforts.
Here are additional places to donate $$:
Donate Time
In San Antonio, the South Alamo Regional Alliance for the Homeless is most in need of volunteers to work overnight shifts. They also need hot meals. If you live in the San Antonio area are are willing and able to contribute, read more about what they need here:
Here are a few volunteer alternatives:
If you live in Texas, Stay Home and Conserve Electricity
If you actually live in Texas or other impacted areas, consider reducing your power use if you're able to do so safely.
Many people are experiencing rotating power blackouts, and a cumulative reduction in energy use may help keep the power grid functioning, according to utilities and power companies. Keeping your thermostat below 68 degrees and laying off the laundry can make a difference.
Drivers are also urged to stay home because road crews are working to clear ice and snow.
For more information on how to help and what to do if you're being impacted by the storm yourself, The Texas Tribune and the Austin American-Statesman have rounded up additional resources for Texans in need.
Celebrity news, beauty, fashion advice, and fascinating features, delivered straight to your inbox!
Alexandra Whittaker oversees all of Cosmo's news and entertainment digital coverage—follow her on Instagram here. As the lead of two teams, Alexandra manages stellar writers and editors who deliver your daily dose of celebrity, TV, movie, book, general entertainment and pop culture news. She's known for her strategic coverage calls and celebrity interviewing skills. Awards shows are her favorite thing, and she's a proud Northwestern and Marquette alumna.