Who Is Gwen Berry, the Athlete, Activist, and Olympian?
"I'm extremely American because I'll fight for people here, because we've endured it here..."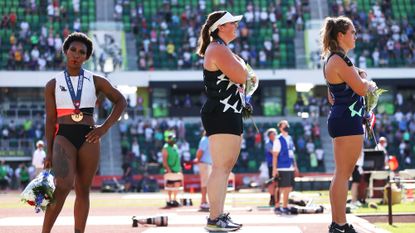 (Image credit: Patrick Smith)
Marie Claire Newsletter
Celebrity news, beauty, fashion advice, and fascinating features, delivered straight to your inbox!
Thank you for signing up to Marie Claire. You will receive a verification email shortly.
There was a problem. Please refresh the page and try again.
Now more than ever, elite athletes are using their voices and podiums for activism, be it social justice, paid leave, gender equality, mental health, or another pressing issue. Gwen Berry, 32, a hammer thrower for the women's U.S. Olympic track and field team, made headlines during the Olympic trials when she turned her back on the American flag during the national anthem. Ahead of her Tokyo debut, here's everything you need to know about Berry: an athlete, activist, and two-time Olympian.
Berry is one of the the country's top hammer throwers.
A Missouri native, Berry started competing in track and field in high school. In college, she began throwing for Southern Illinois Salukis, the varsity athletic teams that represent Southern Illinois University Carbondale. She came in fourth place at the 2008 USA Junior Championships.
After college, Berry continued hammer and weight throwing (the indoor version of the hammer throw) at an elite level. A throw from 2018 of 77.78 m ranks her sixth of all time. She also holds the world record in the weight throw. Berry didn't make the U.S. team for the London 2012 Olympics; she did compete at Rio in 2016, though didn't medal.
Berry has always been an activist.
Berry has a history of using the podium to demonstrate activism. In 2019 at the Pan American Games in Peru, where Berry won gold, she raised her first on the podium in protest of rampant racial injustice and of then-President Donald Trump. The move caused backlash: The U.S. Olympic and Paralympic Committee put Berry on a 12-month probation and Berry lost numerous sponsorship deals (which she estimates totaled $50,000). The suspension was due to Rule 50, an International Olympic Committee rule that bans political, racial, and religious demonstrations on Olympic sites.
But her move elicited support, too: Many athletes called for the abolishment of Rule 50 The IOC subsequently issued an apology to Berry and changed the rules, now allowing athletes to protest at domestic events.
Berry had not been planning to protest at the U.S. Trials.
Berry placed third in the U.S. track and field hammer throw trials. On the podium, while her fellow athletes (winner DeAnna Price and second-place finisher Brooke Andersen) put their hands on their hearts and faced the flag during the national anthem, Berry turned away from the flag and put a shirt that said "activist athlete" over her head.
Stop playing with me pic.twitter.com/WLN3clqOCMJune 27, 2021
See more
She later told press that she had been told by an official that the anthem would not play during the podium awards, and thus her protest had been spur of the moment. A spokesperson for USA Track and Field claims the song playing at that time was entirely coincidental, claiming that the song is played once a night during the trials and that happened to be the time Berry was on the podium. (The song reportedly played five minutes past schedule, aligning with the time Berry was on the podium.)
Berry didn't believe it was a coincidence, later telling the Washington Post: "I feel like it was set up. I feel like they did that on purpose, and I was pissed, to be honest. I was thinking about what should I do? Eventually, I just stayed there and just swayed. I put my shirt over my head … I know they did that on purpose, but it'll be all right. I see what's up."
Berry has received both backlash and support.
Senator Ted Cruz tweeted "Why does the Left hate America?" in response Berry's protest, while White House Press Secretary Jen Psaki said: "I know [Biden] is incredibly proud to be an American and has great respect for the anthem and all that it represents...part of that pride in our country means recognizing there are moments where we are, as a country, haven't lived up to our highest ideals."
Berry's competitor DeAnna Price spoke out in solidarity, saying: "I think people should say whatever they want to say. I'm proud of her."
For Berry, using her voice to demand change is part of what fundamentally makes her American. "They can feel how they feel, but I'm extremely American because I'll fight for people here, because we've endured it here," she explained. "People are still capitalizing off of our unpaid labor force, more than 400 years […] so how can they be mad at me for standing up for my people?"
Berry won't stop protesting.
The IOC upholding Rule 50 at the Tokyo Olympics means that athletes are unable to protest during the Games. If they do, they'll face consequences. Berry, however, won't be silenced. "I don't need to do anything sport-wise," she told the AP. "What I need to do is speak for my community, to represent my community and to help my community. Because that's more important than sports."
There's no telling yet if Berry will make the podium, but if she does, there's a chance she ignores the IOC ruling and still protest. "I will do whatever comes upon me and whatever is in my heart," she told CNN.
Celebrity news, beauty, fashion advice, and fascinating features, delivered straight to your inbox!
Megan DiTrolio is the editor of features and special projects at Marie Claire, where she oversees all career coverage and writes and edits stories on women's issues, politics, cultural trends, and more. In addition to editing feature stories, she programs Marie Claire's annual Power Trip conference and Marie Claire's Getting Down To Business Instagram Live franchise.