The Women of Congress Share Why They Almost Didn't Run for Office
"As someone who has led a fairly private life, I hesitated to share my personal story with the world. As an immigrant and refugee, I didn't know if I was ready to talk about my family's journey to the U.S."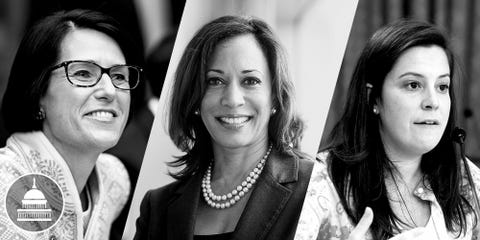 Design by American Artist
From Senator Shelley Moore Capito to Chair Cathy McMorris Rodgers, ahead nine congresswomen reveal why they almost didn't run for office.
1
Senator Shelley Moore Capito (R-WV)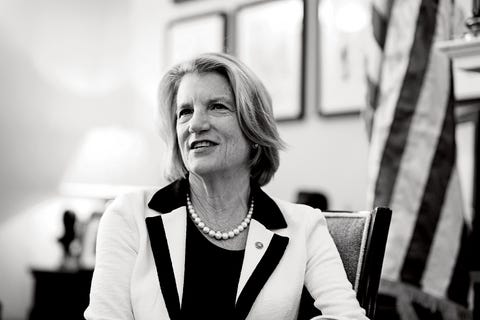 Bill Clark/CQ Roll Call/Newscom
"I knew what I was getting into in terms of the time commitment. At that point, I was still a stay at home mom and I was concerned about mostly my youngest child at that time, my daughter. She was in 5th grade—it's not like she was just out of the womb—but I was worried about what kind of impact this would have on my three children. I knew I would be living in another city during the week, which is very challenging. The way I overcame that was to ask them what they thought about it. My daughter was hesitant. She said, 'You didn't leave the boys, how can you leave me?' A nice guilt trip for me. Then, all her friends started talking 'Hey, your mom might run for Congress, that's a pretty cool deal!' She started thinking about it and ended up thinking, it would be neat to have my mom be such a leader. And she's been a great support, they all have. So, the way I overcame it was number one, ask—not so much ask for permission, but I invited them into this new world with me. It wasn't going to be just me; it was going to be all of us. That's how I overcame my anxiety of 'Can I really make a seismic change in our family?"
2
Senator Kamala Harris (D-CA)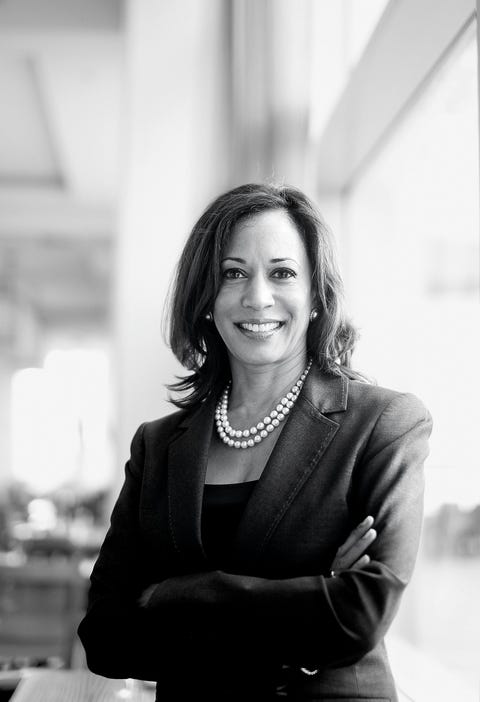 Sandy Huffaker/Corbis
Getty Images
"After years of prosecuting everything from low-level offenses to homicides, I decided to run to be the District Attorney of San Francisco. Now, there was a two-term incumbent running. His nickname is KO, because he was a boxer who was known for knocking people out. He came from an old political family. Everyone knew his name, but I thought he wasn't doing the job well. And one of the issues I felt like we needed to take more seriously were crimes against women and children—crimes like human trafficking, domestic violence, and child abuse. People told me, "Hmm, maybe it's not your time." Some people said to me, "maybe you're a little too young for this." Or, "You know it's going to be a lot of hard work." (That's ridiculous—as though any of us runs away from hard work!) Long story short, I was elected as the first woman district attorney in San Francisco."
3
Chair Cathy McMorris Rodgers (R-WA)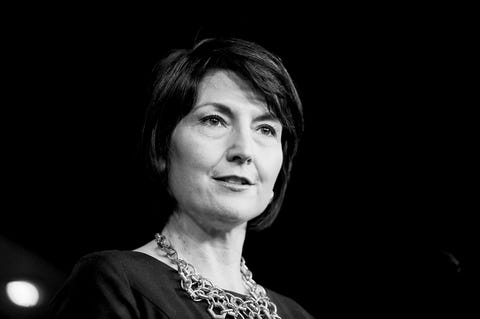 Bill Clark/CQ Roll Call/Newscom
"I was hesitant to run for Congress. I was 35, single, and had worked hard to make an impact in the Washington State Legislature. The state house was familiar to me, but Congress was outside my comfort zone. When I was asked to run, and then won, I realized that I needed to have more faith in myself. I would tell all women to take that chance on yourself—you don't know what's possible if you don't try."
4
Representative Stephanie Murphy (D-FL)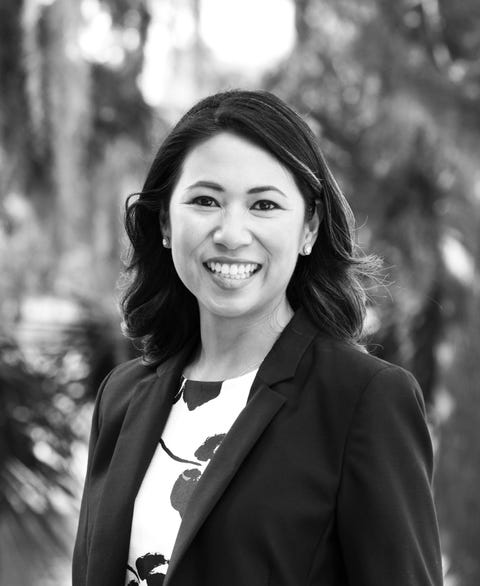 "As someone who has led a fairly private life, I hesitated to share my personal story with the world. As an immigrant and refugee, I didn't know if I was ready to talk about my family's journey to the U.S., or about the challenges my working-class parents overcame to provide a better life for my brother and me. One day, my brother told me that it was time to own my story. He said talking about my family's pursuit of the American dream—with all its challenges, hurdles and setbacks—might motivate other people in similar situations. That's why today I feel unafraid to say my father worked multiple jobs to put food on our table, and that his sacrifices made it possible for me to be the first woman in my family to go to college. To the women who continue to feel that hesitation: Own your story."
5
Representative Nancy Pelosi (D-CA)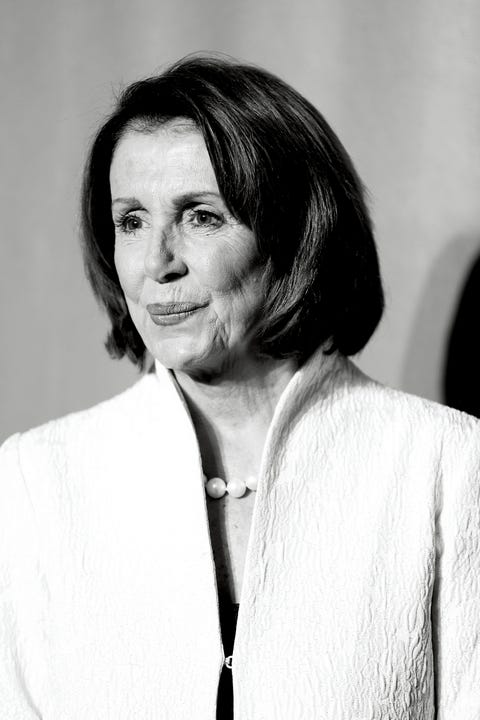 "When I was asked to run for Congress, my youngest daughter Alexandra was still a senior in high school. Before I officially ran, I sat down with her and said, 'Mommy has a chance to run for Congress. I know the timing is not ideal. A year from now, when you're in college, would be much better. I would leave San Francisco on Mondays and come back Thursday nights. I know this is a big deal, so if you don't want me to do it, I won't. I promise I'll be happy either way.' Alexandra looked back at me. 'Mother,' she said, 'Get a life!'"
6
Representative Elisa Stefanik (R-NY)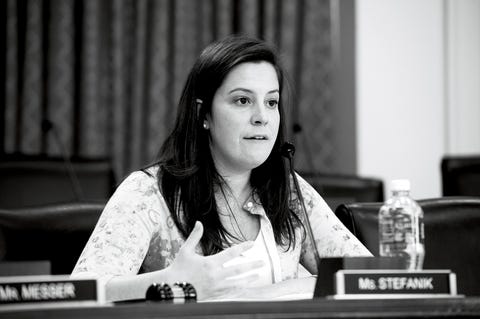 Tom Williams/CQ Roll Call
Getty Images
"When I was first considering running for Congress, I was 28 years old. Concerned that I was too young, many political experts gave me the advice that I needed to present myself more like a typical Member of Congress and run away from the fact that I was a young female. I realized very quickly that this was bad advice. That I was a young, female candidate turned out to be a tremendous strength as voters of all party affiliations are looking for fresh approaches and a new generation of leadership."
7
Senator Elizabeth Warren (D-MA)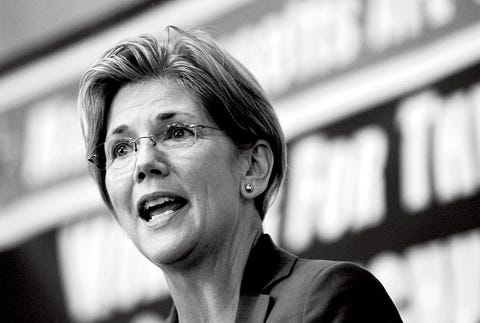 Bill Clark/CQ Roll Call
Getty Images
"Before I jumped in the Senate race, I got a call from Senator Patty Murray of Washington. 'You should run,' she said. 'I'll help you.' I heard her out, then I started listing the reasons why I might not be good enough for the job. She listened quietly for a couple of minutes, then cut me off: 'Oh, please,' she said. She told me that women always think of reasons they aren't good enough. Men never ask if they're good enough—they just ask if they can raise enough money to win."
8
Representative Mimi Walters (R-CA)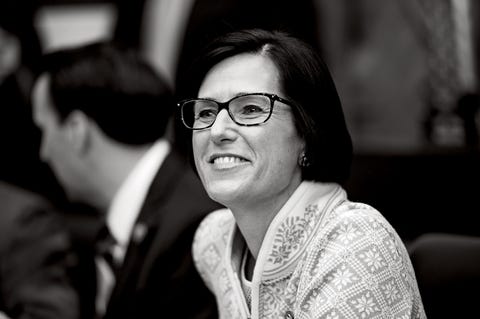 "I had three young children, and was pregnant with my fourth, when I first ran for city council. I was worried about being able to balance commitments at work while caring for my children and the household. The best piece of advice I could give to other mothers, or any young woman looking to run for public office, is that you can do it all. It will be hard and you will make many sacrifices along the way, but never lose faith in yourself and what you can accomplish."
This article is part of our "Women Running for Office" series, which originally appeared in Marie Claire's November 2017 issue, on newsstands October 17. To view the full package, click here.

This content is created and maintained by a third party, and imported onto this page to help users provide their email addresses. You may be able to find more information about this and similar content at piano.io