These Female Human Rights Activists Are Risking Everything to Take a Stand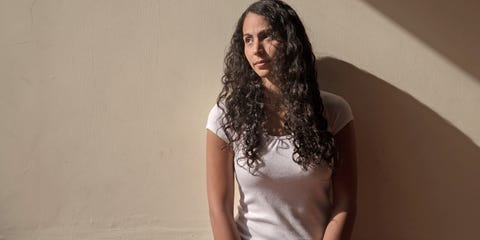 Every December, Amnesty International hosts Write for Rights, a global letter-writing event that sees millions of letters written and mailed to defend those whose human rights are being threatened. This year, Write for Rights—described by Amnesty as the largest human rights event in the world—will encourage its participants to write letters on behalf of the women who have risked everything to stand up for human rights, and have been jailed, tortured, and, in some cases, murdered for it.
Among these women are Atena Daemi, an activist in Iran who spoke out against the country's death penalty, and is in the midst of serving a seven-year prison sentence for doing so; Nonhie Mbuthuma, who has spoken out against a mining company trying to destroy her ancestral land in South Africa, and routinely receives death threats; Marielle Franco, a politician and activist shot dead in her car in Brazil; and so many more.
If you take part in Write for Rights this year and stand up for these women, not only will you be showing these women and their families that they have allies, you'll also be showing their oppressors that you stand with these staunch human rights defenders.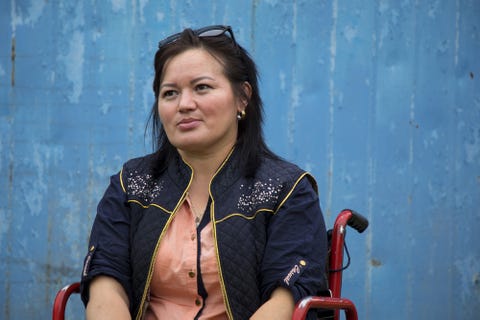 Gulzar Duishenova
In Kyrgyzstan, a country in Central Asia, where Duishenova lives, people with disabilities and women are both regarded as second-class citizens. After losing her legs in a car accident in 2002, Duishenova is both. Now, she spends her days campaigning for equal access for other women who are disabled.
"We are told that we are not allowed to talk," she tells Amnesty. "But we still do."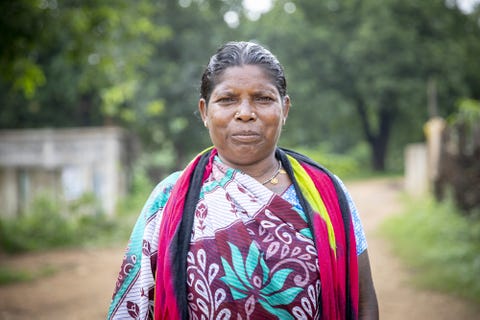 Pavitri Manjhi
In India, Manjhi is a member of the Adivasi Indigenous community, a group whose land is under threat from power companies. These companies have demanded the community sell its land to them so they can build power plants. Although her community is male-dominated, Manjhi ran for and was elected leader of her local village, and has helped members of her community file 100-plus complaints against the power companies.
"Our lives are dependent on our land and forest, and we will fight for our rights," Manjhi tells Amnesty.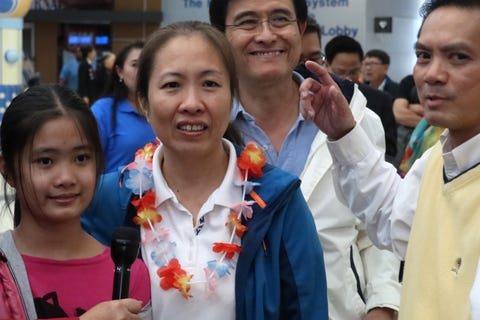 Mother Mushroom (Me Nam)
Known by her pen name Mother Mushroom, or Me Nam, Nyugen Ngoc Nhu Quynh is a blogger in Vietnam. (She chose the name because her daughter's name also translates to "mushroom.") Me Nam criticized political corruption on her blog, and Vietnamese authorities sentenced her to a decade in prison.
She spent two years in prison before being released on the condition that she leave Vietnam for the United States.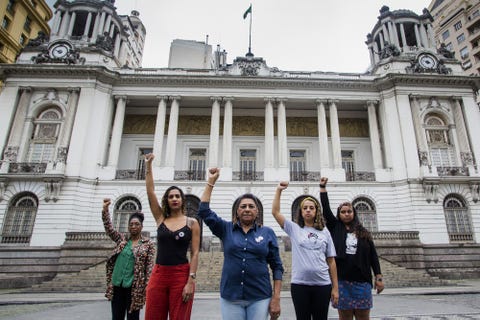 Solidarity For Marielle Franco
In Brazil, dozens of human rights defenders have been murdered for their activism. One of them was Marielle Franco (not pictured), who stood up for black women, the LGBTQ community, and local youth. She was shot dead in her car. Nobody has been held responsible for her death.
"She knew what she wanted. No one can take that away from her," says her mother (front, in blue). "We need to know what motivated this. And we want an answer as soon as possible."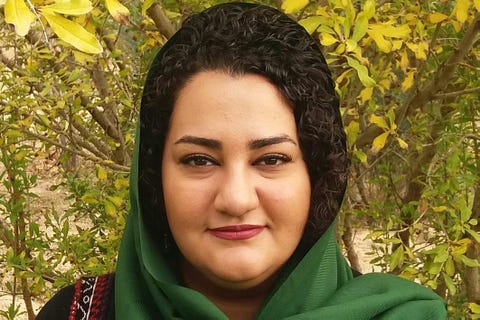 Atena Daemi
A longtime activist and opponent of capital punishment—which remains legal in Iran, where she lives—Daemi protested the country's death penalty laws on social media, as well as other human rights violations by Iran, and was thrown in jail. She is serving a seven-year prison sentence. Before she was sentenced, she was held in solitary confinement for two months.
"I will defend the rights of my sisters until my last breath," she tells Amnesty.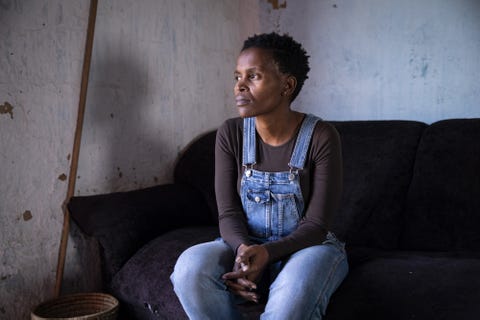 Nonhle Mbuthuma
In Pondoland, South Africa, Mbuthuma is a member of the Amadiba community, which faces oppression from a mining company that demands it be allowed to mine titanium on the community's ancestral land. Thousands of people risk losing their homes, and several of Mbuthuma's fellow activists have already died trying to defend the land.
"The elites have discovered what we have, and want to take it away from us," she tells Amnesty.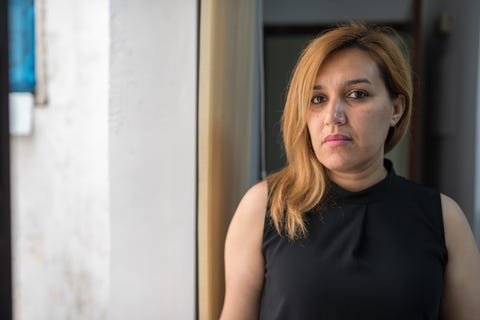 ABDELLAH AZIZI/Amnesty International
Nawal Benaissa
In the Rif region in the north of Morocco, a mass-protest group called the Hirak movement fights peacefully for the rights of marginalized individuals in the region. Nawal is among the most senior women in the Hirak movement.
Benaissa has been arrested four times, been ordered to shut her social media accounts, harassed by authorities, sentenced to a suspended prison sentence, and fined on numerous charges, but continues to fight.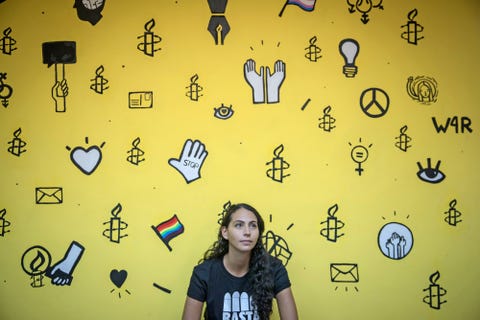 Geraldine Chacón
As a leading human rights organizer in Caracas, Venezuela, Chacón has been involved in campaigns with nonprofits and/or NGOs since she was 14. As a result of her work to educate young people in the region about their rights, she spent four months in prison this year. She has been conditionally released, but cannot leave the country.
"I never imagined I'd be on the other side of the [Write for Rights] campaign," she tells Amnesty.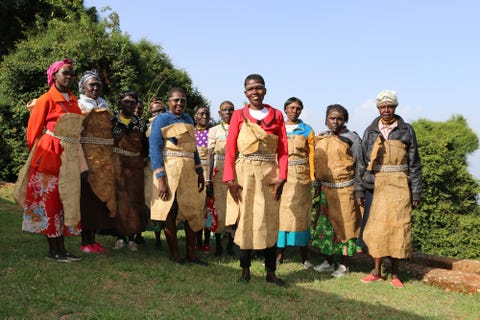 Sengwer Indigenous Community
For centuries, Kenya's Indigenous Sengwer community has lived on their ancestral land in Embobut Forest, a place they hold sacred. In 2014, the country's government chose to eject everyone living in the area, unfairly blaming the Indigenous Sengwer community for illegal logging there. Thousands of members of the community are homeless and live in horrific conditions, both inside and outside what's left of their homes in Embobut Forest.
"I want to take action and speak out," Albina (who wears a blue sweater in this photo) tells Amnesty.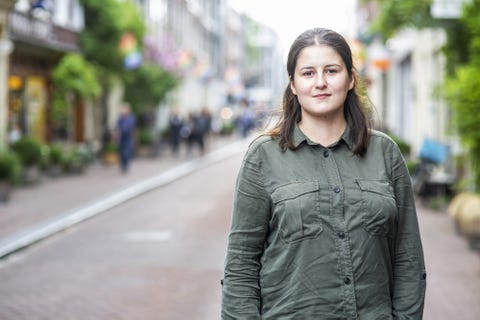 Vitalina Koval
In March of this year, Koval, a passionate activist for LGBTQ rights in Ukraine, organized a peaceful rally for International Women's Day. One of the local far-right groups who oppose the community's rights showed up to interrupt the protest, and Koval suffered chemical burns from the red paint thrown in her face. Her attacks were only briefly detained.
"There are many people in the community in Ukraine who are afraid," she tells Amnesty.
This content is created and maintained by a third party, and imported onto this page to help users provide their email addresses. You may be able to find more information about this and similar content at piano.io