Unforgettable Black Lives Matter Protest Signs
"A riot is the language of the unheard."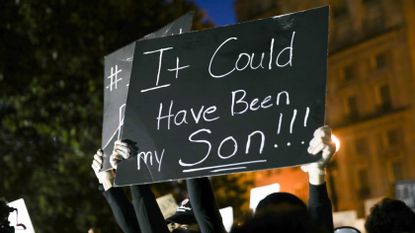 (Image credit: Getty/Anadolu Agency)
In recent months and years, people have taken to the streets to protest the racism embedded in the fabric of the United States. The murder of George Floyd in Minneapolis was the catalyst for such activism in 2020, but recent deaths have spurred righteous anger once more. Some of the latest injustices include the police killings of 13-year-old Adam Toledo and 20-year-old Daunte Wright, in addition to the sharp uptick in violence against Asian Americans and Pacific Islanders (AAPI). Sadly, these are just a few examples of the countless acts of racial injustice that continue to plague this country. The placards, signs, and banners in this article range from snarky and funny to poignant and devastating, but they all have one thing in common: They're strong, sometimes wordless statements against brutality and injustice. If you're looking for sign ideas for your next protest, there are some great ideas here (and here's how to keep yourself safe).
Content warning: Some of these signs display words like "murder" and "kill," and others center around violence against BIPOC (Black, Indigenous, and people of color) generally or specifically. While awareness and advocacy are both important, so is self-care, so be careful if you think these subjects will trigger you in any way.
1/47
Brooklyn Center, Minnesota
This Martin Luther King Jr. quote (one that hasn't been used as often until recently) speaks to the importance and significance of the protests.
2/47
Reno, Nevada
A Black girl holds a sign that says it simply: She matters.
3/47
Columbus, Ohio
A small twist on the iconic statement, to remind people that it's no less true today.
4/47
Brooklyn Center, Minnesota
Simple, to the point, and aimed directly at the source.
5/47
Brooklyn Center, Minnesota
6/47
Philadelphia, Pennsylvania
Reinforcing the importance of language—and underscoring the value of lives lost.
7/47
8/47
Cardiff, Wales
Underscoring the purpose of demonstrations, this sign also points out the fallacy about violence and protests.
9/47
Toronto, Canada
A young woman holds up a sign expressing the sacredness of BIPOC lives and bodies.
10/47
New York, NY
A male protester holds a flower and wonders, "Am I next?"
11/47
New York, NY
Protesting is important. So is voting to continue working for change, at both the local and national levels.
12/47
Madrid, Spain
Maybe a little profane, if you happen to be protesting with your kids, but one of my personal favorites.
13/47
Edinburgh, Scotland
Goodest boy ever? Goodest boy ever. (Also worth pointing out the nice counterpoint to "All Lives Matter" on the left.)
14/47
New York, NY
A young woman implores for equality for her future kids.
15/47
Washington, D.C.
An excerpt from a classic James Baldwin line: "To be a Negro in this country and to be relatively conscious is to be in a rage almost all the time."
16/47
Amsterdam, The Netherlands
A Black woman holds a sign asking for respect of Black people—in the same way that Black culture is accepted (and glorified) by society.
17/47
New York, NY
A woman holds a sign reading, "You can't kill us all" as she puts her head out of the roof deck of a car.
18/47
Krakow, Poland
A young woman lays it out: Every Black life matters.
19/47
Washington, D.C.
This sign references the death of Floyd, and the delay in arresting the Minneapolis officer who killed him.
20/47
Boyertown, PA
A young woman makes a reference to the COVID-19 pandemic (and wears a mask to practice safety measures) but alludes to Floyd's words: "I can't breathe."
21/47
Washington, D.C.
Even though many of the signs referenced Floyd, others referenced female BIPOC lives lost, including Breonna Taylor, and how their lives matter, too.
22/47
Krakow, Poland
And another protester calls her out by name with a heartbreaking portrait.
23/47
Charlotte, NC
A note of levity among the more serious: Even "Karens" can help in the movement.
24/47
Houston, TX
A white man stands for Black Lives Matter and against racism in Texas.
25/47
Barcelona, Spain
A protester notes that this is not a sign of division between races, but a sign of unity against racial injustice.
26/47
New York, NY
A woman wonders, "Who do you call when the police murder?"
27/47
London, England
Two women, one Black, one white, have a pair of signs that speak volumes.
28/47
Toronto, Canada
A man presents an ultimatum.
29/47
New York, NY
A wordless painting saying a thousand words: A closed fist, a sign of support and resistance, that turns into a rose.
30/47
Marin City, CA
Short, simple, to the point: Enough is "enough."
31/47
Columbus, Ohio
Two signs here—one written on a boarded up building, one held up as a woman roller blades by, but both about love.
32/47
London, England
Another beautiful, concise message.
33/47
Sydney, Australia
A classic Malcom X quote—and still depressingly relevant today.
34/47
Sydney, Australia
A woman holds a sign that speaks to the non-violent aims of the protest.
35/47
Amsterdam, The Netherlands
A woman makes another reference to the COVID-19 pandemic—comparing it to the insidious spread of racism.
36/47
Barcelona, Spain
Another protester puts it even more bluntly.
37/47
London, England
A protester urges collective responsibility for systemic racism—so that we can all work on dismantling it.
38/47
Washington, D.C.
Another tiny glimmer of humor—how can we speak to the manager to fix this, please?
39/47
New York, NY
Several people hold a banner wondering "How many [murders of BIPOC] weren't filmed?" (2+2=5 has been used in literature and in the media to expose fake dogma.)
40/47
Washington, D.C.
Outside the White House, someone holds a sign that speaks to the long, long history of entrenched racism in the U.S.
41/47
Washington, D.C.
A sign simply lists a few of the many, many BIPOC who have been killed unjustly.
42/47
Brooklyn, NY
A white woman practices allyship, saying she stands with BIPOC even if she personally hasn't had to experience similar prejudice.
43/47
New York, NY
More allyship: A white protester pronounces BIPOC family and friends, and begs the police to stop killing them.
44/47
Oxford, England
A woman implores others to be anti-racist, instead of staying silent.
45/47
Brooklyn, NY
A wordless, poignant painting, this one a beautiful representation of Floyd.
46/47
Rio de Janeiro, Brazil
Another evocative image. A cross, bearing Floyd's name (and also, conceivably, one example of protesters noting their religious beliefs as they protest).
47/47
New York, NY
A woman speaks directly to police officers.
Marie Claire email subscribers get intel on fashion and beauty trends, hot-off-the-press celebrity news, and more. Sign up here.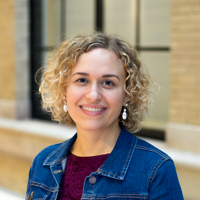 Katherine's a Boston-based contributor at Marie Claire who covers fashion, culture, and lifestyle—from "Clueless" to Everlane to news about Lizzo. She's been a freelancer for 11 years and has had roles with Cosmopolitan and Bustle, with bylines in Parents, Seventeen, and elsewhere. It's "I go to dinner," not "Her huge ego," but she responds to both.