Unforgettable Black Lives Matter Protest Signs
"A riot is the language of the unheard."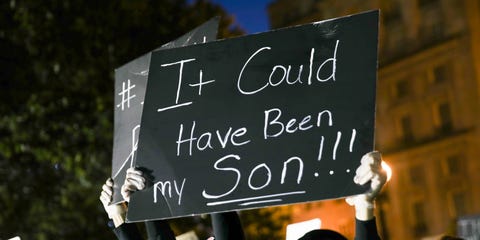 Anadolu Agency
Getty Images
As protests continue across the United States, people have been taking to the streets to protest the racism embedded in the fabric of this country. The murder of George Floyd in Minneapolis was the catalyst for such activism in 2020, but recent murders have spurred righteous anger again. Some of the latest injustices include that of 13-year-old Adam Toledo and 20-year-old Daunte Wright—and Wright was killed while the trial of Derek Chauvin for Floyd's murder was going on. As the protesters have indicated many times over, this is just one of many, many acts of injustice against Black voices and bodies that have occurred over centuries. These placards, signs, and banners range from snarky and funny to poignant and devastating, but they all have one thing in common: They're strong, sometimes wordless statements against brutality and injustice. If you're looking for sign ideas for your next protest, there are some great ideas here (and here's how to keep yourself safe).
Content warning: Some of these signs display words like "murder" and "kill," and others center around violence against BIPOC (Black, Indigenous, and people of color) generally or specifically. While awareness and advocacy are both important, so is self-care, so be careful if you think these subjects will trigger you in any way.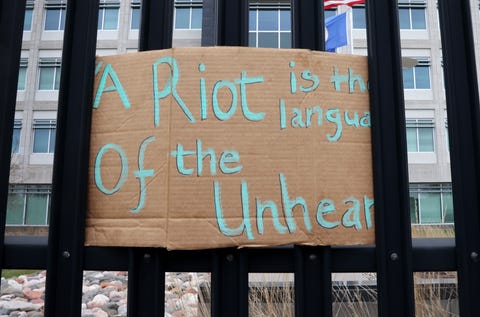 Brooklyn Center, Minnesota
This Martin Luther King Jr. quote (one that hasn't been used as often until recently) speaks to the importance and significance of the protests.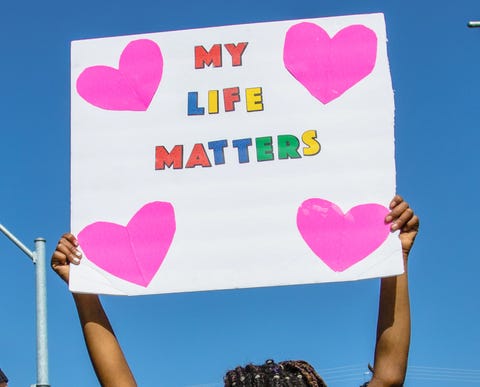 Reno, Nevada
A Black girl says it simply and beautifully: She matters.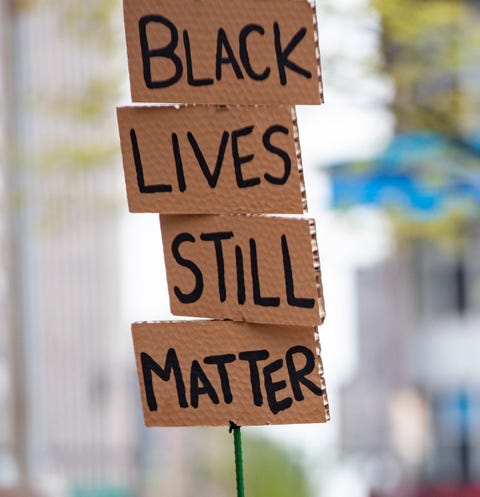 Stephen Zenner
Getty Images
Columbus, Ohio
A small twist on the iconic statement—to remind people that it's no less true today even with increased visibility around systemic racism.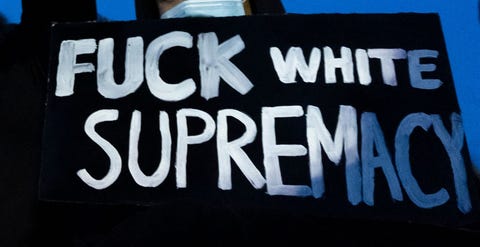 Brooklyn Center, Minnesota
Simple, to the point, and aimed directly at the source.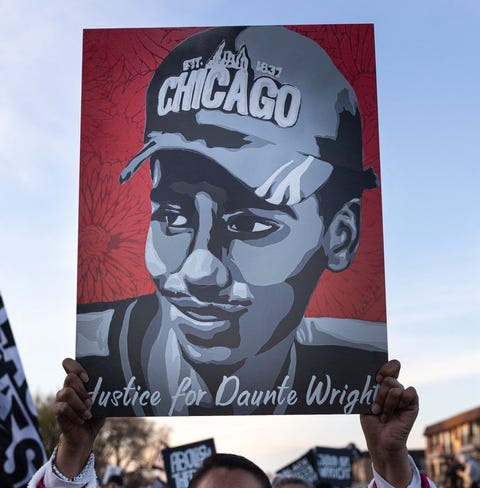 Brooklyn Center, Minnesota
Some of the protesters referenced recent victims of police brutality— including this beautiful painting of Daunte Wright.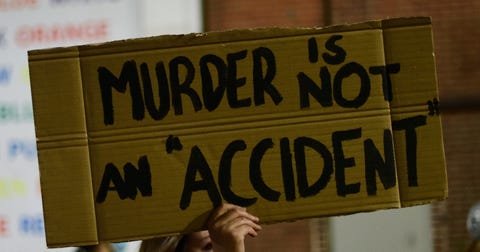 Philadelphia, Pennsylvania
Reinforcing the importance of language—and underscoring the value of Black lives.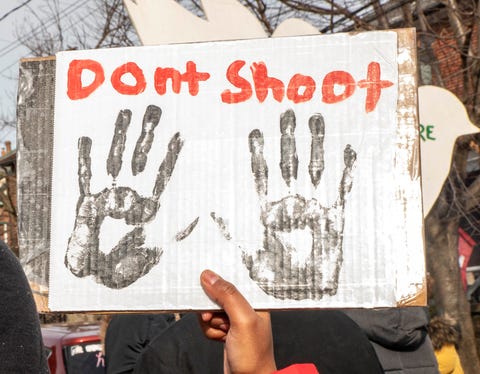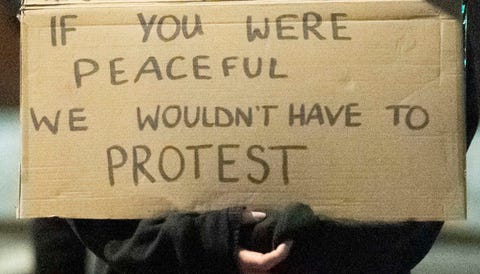 Matthew Horwood
Getty Images
Cardiff, Wales
Underscoring of the true purpose behind demonstrations, this sign also points out the fallacy about violence and protests.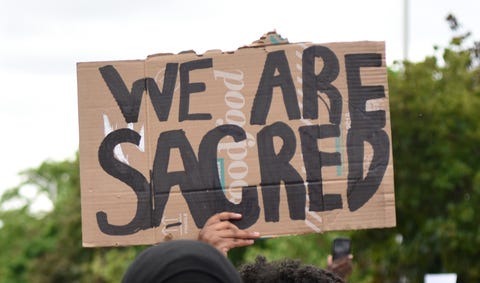 Toronto, Canada
A young woman holds up a sign expressing the sacredness of BIPOC lives and bodies.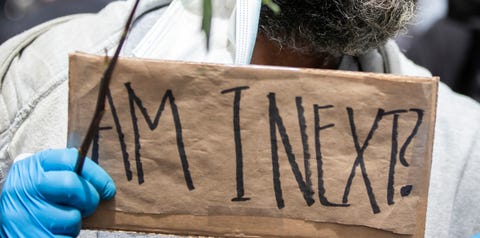 Ira L. Black - Corbis
Getty Images
New York, NY
A male protester holds a flower and wonders, "Am I next?"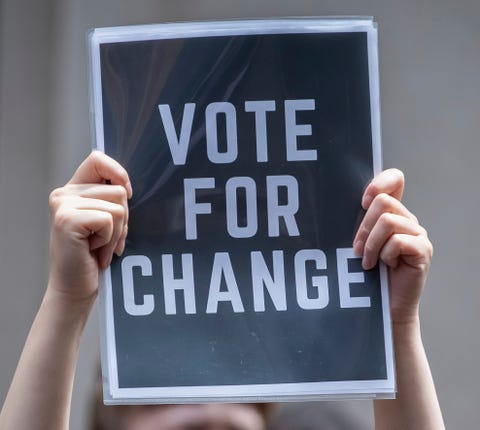 Ira L. Black - Corbis
Getty Images
New York, NY
An important point, noted here and on a number of signs: Protesting is important. So is voting to continue working for change, at both the local and national levels.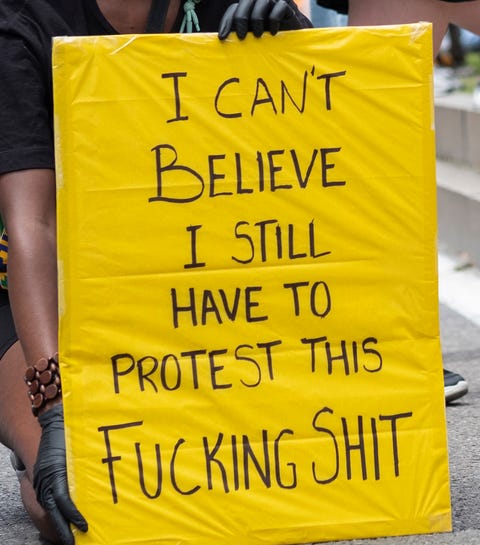 Madrid, Spain
A bit profane, if you happen to be protesting with your kids, but one I enjoyed very much. Honestly, though.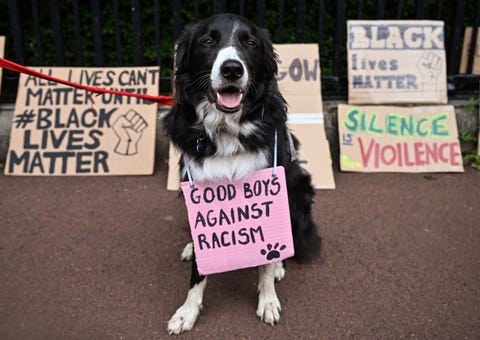 Jeff J Mitchell
Getty Images
Edinburgh, Scotland
Goodest boy ever? Goodest boy ever. (Also worth pointing out the nice counterpoint to "All Lives Matter" on the left.)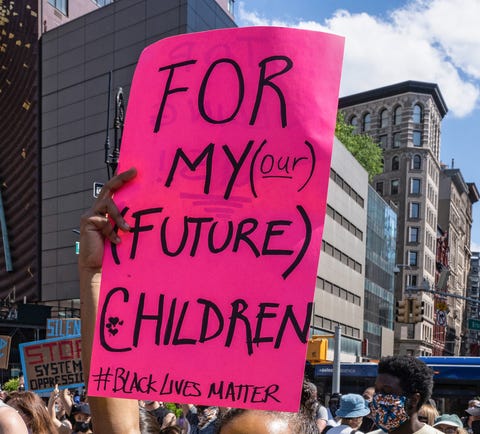 New York, NY
A young woman implores for equality for her future kids.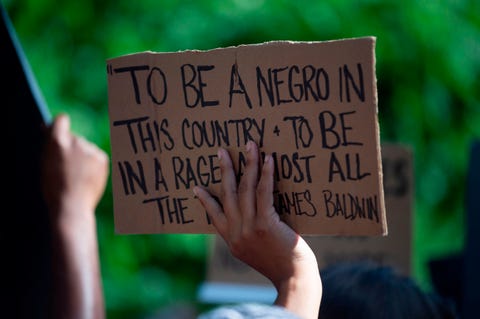 ROBERTO SCHMIDT
Getty Images
Washington, D.C.
An excerpt from a classic James Baldwin quote: "To be a Negro in this country and to be relatively conscious is to be in a rage almost all the time."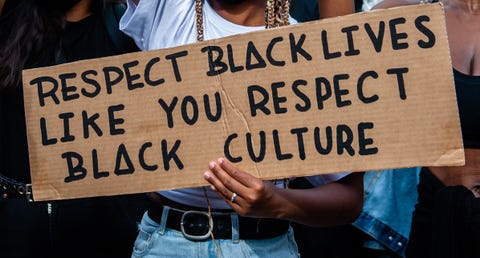 Amsterdam, The Netherlands
A Black woman holds a sign asking for respect of Black people—in the same way that Black culture is accepted (and even glorifeid) by society.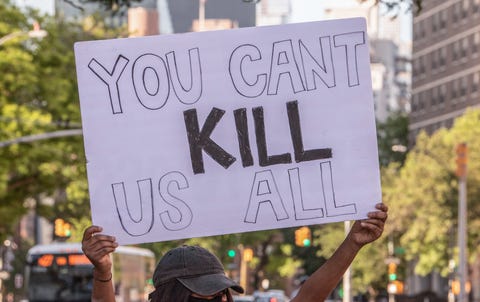 New York, NY
A woman holds a sign reading, "You can't kill us all" as she puts her head out of the roof deck of a car.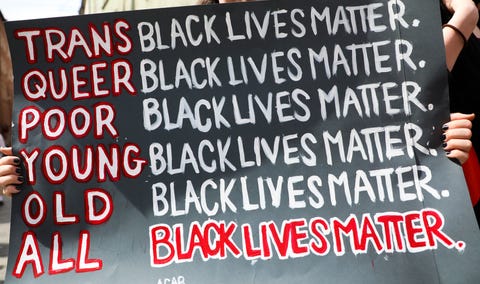 Krakow, Poland
A young woman lays it all out: Every Black life matters, and all Black lives matter.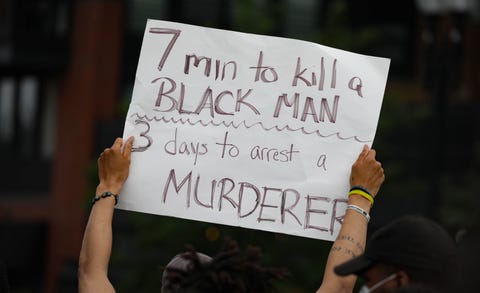 Anadolu Agency
Getty Images
Washington, D.C.
This sign references the death of Floyd, and the delay in arresting the Minneapolis officer who killed him.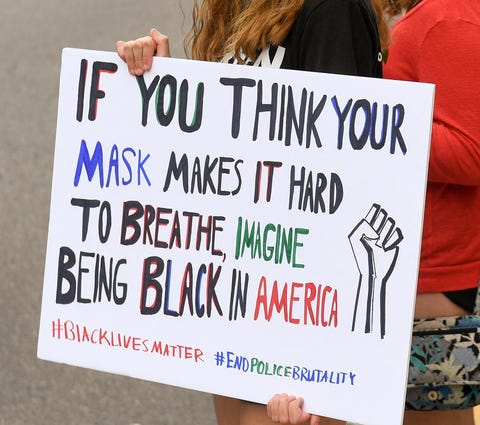 MediaNews Group/Reading Eagle via Getty Images
Getty Images
Boyertown, PA
A young woman makes a reference to the COVID-19 pandemic (and wears a mask to practice safety measures) but alludes to Floyd's words: "I can't breathe."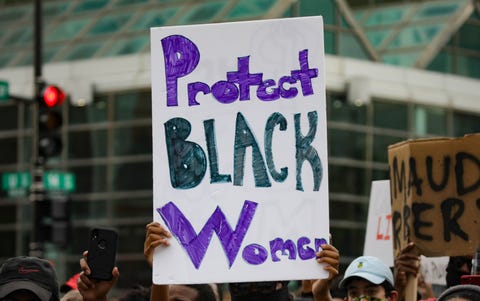 Anadolu Agency
Getty Images
Washington, D.C.
Even though many of the signs referenced Floyd, others referenced female BIPOC lives lost, including Breonna Taylor, and how their lives matter too.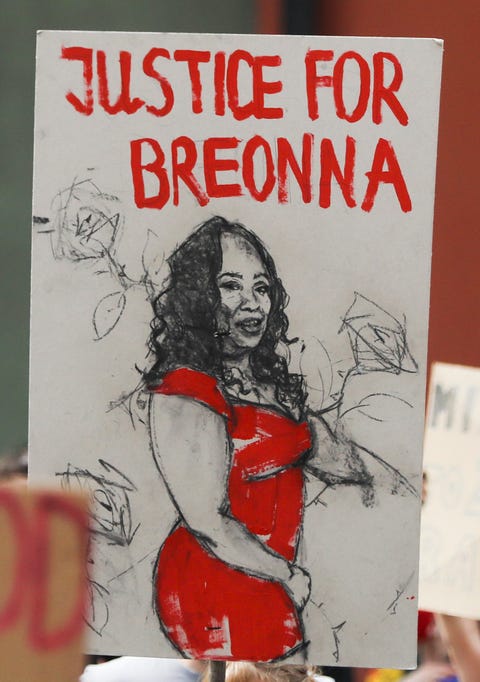 Krakow, Poland
And another protester calls her out by name, over a heartbreaking portrait.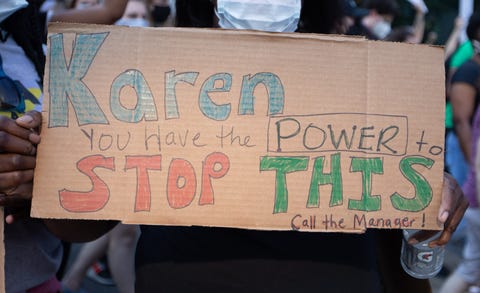 Charlotte, NC
A note of levity among the more serious: Even "Karens" can help in the movement.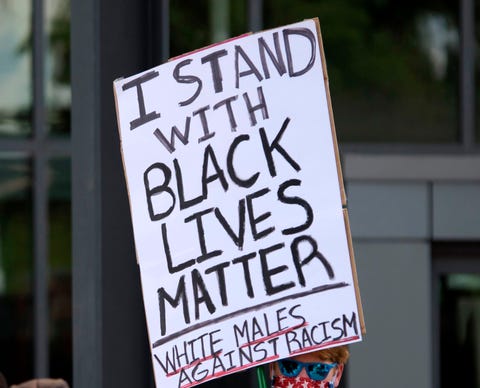 Houston, TX
A white man stands for Black Lives Matter and against racism in Texas.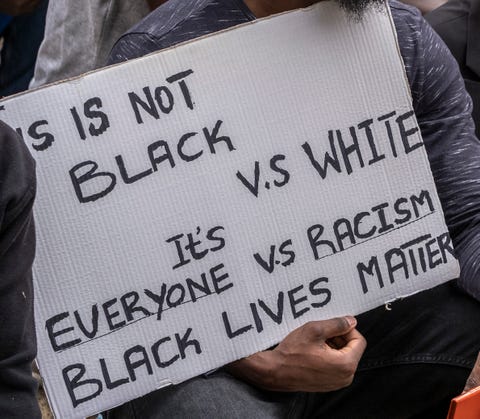 Barcelona, Spain
A protester notes that this is not a sign of division between races, but a sign of unity against racial injustice.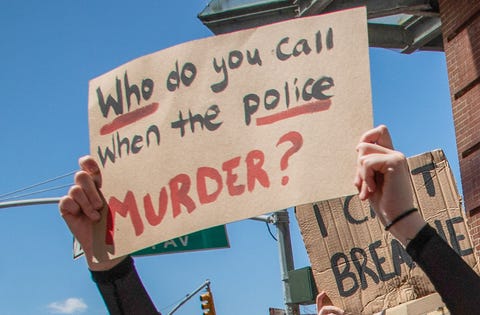 New York, NY
A woman wonders, "Who do you call when the police murder?"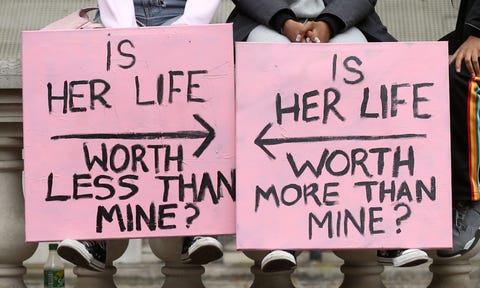 ISABEL INFANTES
Getty Images
London, England
Two women, one Black, one white, have a pair of signs that speak volumes.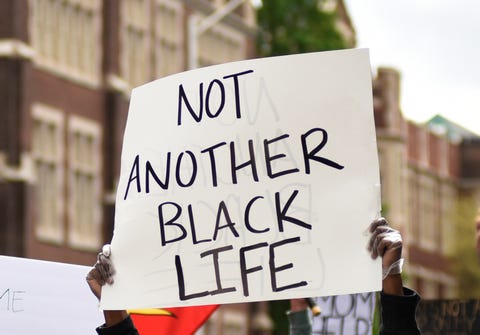 Toronto, Canada
A man presents an ultimatum.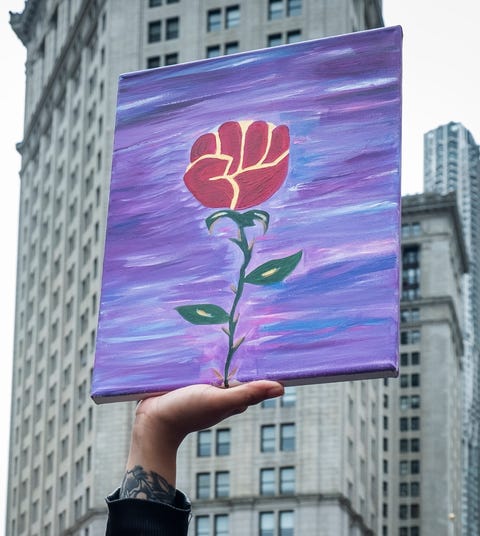 Ira L. Black - Corbis
Getty Images
New York, NY
A wordless painting saying a thousand words: A closed fist, a sign of support and resistance, that turns into a rose.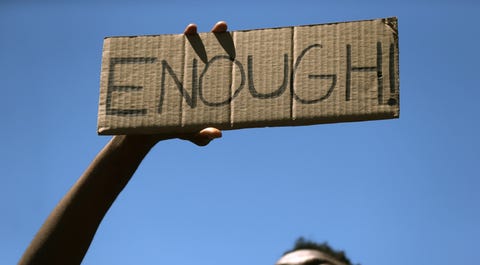 Justin Sullivan
Getty Images
Marin City, CA
Short, simple, to the point: Enough is "enough."
This content is created and maintained by a third party, and imported onto this page to help users provide their email addresses. You may be able to find more information about this and similar content at piano.io