There is a Right Way to Address Rape on Campus
University of Texas Address Rape on Campus - Campus Rape News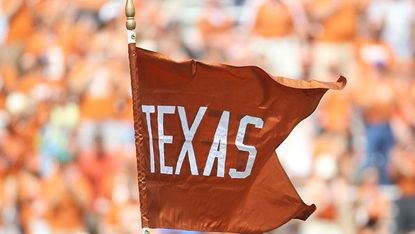 (Image credit: Archives)
Marie Claire Newsletter
Celebrity news, beauty, fashion advice, and fascinating features, delivered straight to your inbox!
Thank you for signing up to Marie Claire. You will receive a verification email shortly.
There was a problem. Please refresh the page and try again.
Amid rampant mishandling of sexual assault investigations across American college campuses, one university seems to be getting it right. The University of Texas last week proved to be a model of how to respond to a sexual assault allegation. After a student reported she had been sexually assaulted in June, university police promptly responded to her call and investigated the accusation, leading to the arrest of two UT football players last Thursday.
According to the arrest affidavit, after receiving the student's 911 call in the early-morning hours, campus police found her crying under a desk, barefoot and disheveled. The woman named two Longhorn wide receivers, Kendall Sanders and Montrel Meander, as her attackers. She told police that she had joined Meander in his dorm room, where she began having consensual sex with him. When Sanders knocked on the door, though, Meander let him in and left the room while Sanders forced her to have sex with him, and when Meander returned, both men continued the assault.
Sanders and Meander have been indefinitely suspended from the football team and charged with second-degree felony sexual assault. Both players' attorneys maintain that the men are innocent.
Ada Meloy, general counsel for the American Council on Education, said of the case, "It appears that the campus safety officials at UT were right on top of the situation and began a prompt investigation, which is what should be happening: a fast and fair investigation." The police's quick response and thorough independent investigation is just one reason experts point to the University of Texas as a model of how to handle sexual assault on college campuses.
At the University of Texas, a student can choose to report sexual assault to the police or university administration (or both), and campus police can launch an investigation independently, without interference from the university. At a time when many colleges are being accused of sweeping rape allegations under the rug, UT's separate inquiry systems help give assault victims confidence that their allegations will be taken seriously.
Sexual assaults often go unreported—one of the biggest challenges campuses face in preventing and responding to sexual assault. The University of Texas is now seeing dramatic growth in the number of students reporting sexual assault, according to LaToya Hill, an associate dean of students at UT-Austin.
Much of this is thanks to the school's counseling and outreach program, Voices Against Violence. The program was highlighted as a promising one by the taskforce Barack Obama convened in January to protect students from assault, and other universities are now asking UT for advice as they build their own programs. Voices Against Violence provides counseling services and educates the student body about consent, options for victims and what to do if they see disturbing behavior.
Voices Against Violence is one element of a comprehensive effort at UT to end sexual violence on campus. Anne Hedgepeth, government relations manager for the American Association of University Women, said UT's efforts are working because the university addresses every step of the process. "Schools need to look at this holistically, at all of the things that range from prevention to response to adjudication, because the stories we're hearing and the complaints that have been filed identify problems along each point."
As much of the recent national attention to campus assault has been due to schools' mishandling of preventing, responding to, and reporting sexual assault on campus, it's good to see one school doing it right.
Celebrity news, beauty, fashion advice, and fascinating features, delivered straight to your inbox!