Why I Ran for Office
We asked female political leaders around the country what inspired them to run.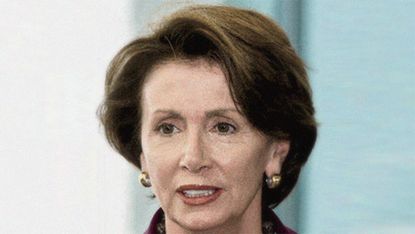 (Image credit: M. Brandt)
"When the opportunity presented itself to run for Congress in 1987, I thought I should ask my children. My youngest was entering her senior year in high school, and when I asked her whether she would mind my leaving home and going to Congress, she responded, 'Mom, get a life.' What she meant was, 'Get your own life.' And so I did."
Rep. Tammy Baldwin (D-WI)
"When I was growing up, there were many barriers and very few role models for a young woman hoping for a career in politics — especially one who was a lesbian! Given the obstacles, even well-meaning friends were often less than encouraging. I graduated from college in 1984, and that summer, I watched on my tiny TV as Geraldine Ferraro crossed the stage at the Democratic National Convention to accept the nomination for vice president. I thought to myself, I can be anything I want."
Sen. Claire McCaskill (D-MO)
"I got my start working with campaigns when I was a little girl. My parents taught me to say 'Trick or Treat and vote for JFK' when I was 7. But the real lesson I learned was in high school. I was defeated for elective office in student council by a guy who gave a really funny speech about chili peppers. I've realized that you've got to give people a sense of who you are as a person. Your humanity and sense of humor is a very important weapon."
Sen. Debbie Stabenow (D-MI)
"When I graduated in '72, I got involved with a group, Young Democratic Women, in Ingham County. The county board of commissioners at the time was trying to close the local nursing home, and I ended up leading the effort to keep it open. I remember one county meeting where the county commissioner was ridiculing those of us who were concerned with low-income senior citizens, and it just made me mad. Everyone came up to me and asked me why I didn't run against him. I was 24. He was a very entrenched incumbent who referred to me as 'that young broad.' This made me have even more resolve. My tenacity kicked in."
Sen. Elizabeth Dole (R-NC)
"My mother always encouraged me to go the extra mile, but she certainly did not think in terms of my having a career — I grew up in a time when that was not happening nearly as often as it is today. So I've never had a blueprint. I've found that when you put your energy and your time into something you believe in, it just moves you forward."
Sen. Amy Klobuchar (D-MN)
"When my daughter was born, she was very sick. No one knew what was wrong, and then I was kicked out of the hospital after 24 hours because that was the rule. I wasn't in elected office at the time — I was a lawyer at a law firm — but I went to the legislature and got one of the first bills passed in the country guaranteeing new moms and their babies a 48-hour hospital stay. Seeing that you can actually get something done as a citizen in the legislature gave me faith that government could get things done. And so a few years later, I ran for county attorney, and I won that election."
Rep. Virginia Foxx (R-NC)
"I was a member of the League of Women Voters in the '70s. I attended local city-council and school-board meetings as a public observer. The goal was to encourage public accountability of elected officials. I went to countless meetings, many times as the only person representing the general public. During one meeting of an all-male school board, a local radio reporter said, 'These guys are incompetent. Why don't you run for the school board?' My instinctive response was, 'I'm not qualified.' But I quickly realized that I was indeed more qualified than they were. I did run for the school board. I lost the first race and learned a valuable lesson: A loss in an election is sometimes more about timing than qualifications. I thought that perhaps the timing would be right the second time. Two years later I won."
Rep. Mary Bono (R-CA)
"The defining moment for me came when my late husband, Sonny, was killed during a family ski trip. I knew that night that I had to let my children know that, despite the fact their father was gone, whatever I decided to do, I would be strong enough to carry on for them. What ultimately convinced me to run was the encouragement I received from my mom. She was supportive of my running for Congress and, most importantly, that she believed that I would be able to balance my family and work responsibilities meant the world to me."
Rep. Marsha Blackburn (R-TN)
"I had been a small-business person, working with the chamber of commerce on local community-betterment and economic-development projects. I saw that the decisions that were being made in Washington were not necessarily friendly to small businesses. The people I was working with in the community encouraged me to run for office — there is such a strength that is found in that encouragement. I don't think I would've run had people not come to me."
Rep. Ginny Brown-Waite (R-FL)
"Efforts to store and burn toxic waste in my home county in the early '90s led me to get involved in elected politics. I could not stand idly by while out-of-state companies were trucking hazardous materials past schoolyards and playgrounds, so I ran for the county commission and won."
Rep. Kay Granger (R-TX)
"I was attending a meeting about recruiting women to run for office. I was there to gather recruiting information to bring home to a group of women who had decided it was time more women were making the decisions. The more I listened, the more I thought, Why shouldn't I be the one to run? I was elected to the city council. Two years later, I was elected mayor, and five years after that, I joined the United States Congress."
Rep. Deborah Pryce (R-OH)
"As a judge, I saw firsthand the evils of domestic violence and the destruction it wreaks in the lives of the innocent. The ramifications of the work done in Washington permeate not only throughout our economy and society, but within communities and households. While we have a responsibility to help, we have an equal ability to harm. My experience and time on the bench inspired me to want to fix a broken system and to bring positive and practical solutions to everyday Americans."
Rep. Debbie Wasserman Schultz (D-FL)
"I was working as a legislative staffer when I was 24 years old and realized that the voice of young women of my generation was basically absent from the debate surrounding important issues. I ran for the Florida House at 25 and was elected to serve with colleagues who were old enough to be my parents and my grandparents!"
Rep. Carolyn Maloney (D-NY)
"I had been working in state politics for a while — for other people — and I thought, Why not me? Why can't I do this? A lot of people told me that I was crazy and there was no way I could win. In a way, that made me work even harder and want it even more. I defeated incumbents in hard-fought, uphill battles to win seats on the New York city council, then in the U.S. Congress. If I had listened to the naysayers, I wouldn't be where I am today. I believed in myself, and I'm proud to say that I've never lost a race."
Celebrity news, beauty, fashion advice, and fascinating features, delivered straight to your inbox!