A Scary Look at What Life Is Like for Women in Military Academies
From blatant sexism to sexual assault.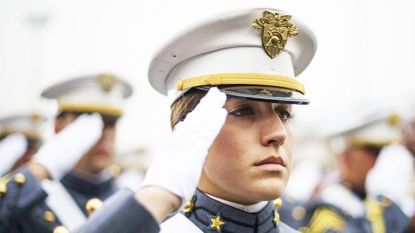 (Image credit: Getty Images)
Women are making major strides in the military, rising to leadership positions and breaking boundaries like never before. But there's still a scary undercurrent of sexism and sexual assault, and it starts early, according to a new op-ed in the New York Times.
Ashley Anderson and Elizabeth Deutsch, two Yale Law School students and interns for the Veterans Legal Services Clinic, call out a culture of serious and ongoing misogyny at America's most respected military academies. Their article points out common incidents of harassment at places like West Point and the Air Force Academy, where male leaders have been known to force women students to chant things like "I wish that all the ladies were holes in the road and I was a dump truck. I'd fill 'em with my load."
But the mistreatment of women doesn't stop at verbal harassment—it's physical, too. And when a woman is sexually assaulted at a military academy, she has even less recourse than a notoriously underserved civilian college student.
"Part of the problem is that the military service academies are not subject to the laws that have helped students at civilian schools force their colleges to shape up," Anderson and Deutsch write of Title IX protections that apply to other institutions. Instead, female cadets who have been attacked at academies have to file complaints within the chain of command, and can't appeal a ruling after it's been made. Because of this, few victims report their assaults at all.
It's a seriously scary way to live, especially for the brave women about to fight for our country. The writers call on President Obama to take action: "Female cadets and midshipmen volunteer to serve our country—the President should have their backs, too."
Megan Friedman is the former managing editor of the Newsroom at Hearst. She's worked at NBC and Time, and is a graduate of Northwestern's Medill School of Journalism.