"People Can Still Be Fired for Just Being Gay": Ellen Page Confronts Ted Cruz About LGBT Issues at the Iowa State Fair
While he was...grilling pork chops.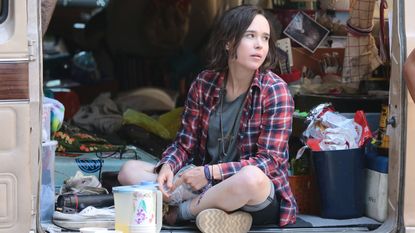 (Image credit: Getty Images)
Nothing like pork chops and a gay rights debate on a hot summer afternoon.
On Friday, actress Ellen Page showed up at the Iowa State Fair, where she asked Republican presidential candidate Ted Cruz why he supported so-called religious freedom laws that seem to simultaneously constrict the freedoms of gay, lesbian, and transgender individuals.
Cruz, a devout Christian senator from Texas, was grilling pork chops at the time. Page, who came out as a lesbian last year, was wearing sunglasses and a baseball hat when she approached him (which may explain why Cruz claimed later to not have known who she was), but quickly drew the attention of the camera-toting crowd.
Both sides were respectful, but there's no doubt it was a heated exchange, with Page asking pointed questions about the fairness of supporting the right to religious freedom while denying LGBT people the right to simply be who they are.
The conversation—which zig-zagged from LGBT rights in the U.S. to the plight of gays and lesbians in ISIS-controlled territories abroad—lasted nearly five minutes.
CBS News captured most of their discussion—it's worth watching all the way to the end.