The Women Working for Bernie Sanders Are Not Thinking About Boys Right Now
We're on the ground in New Hampshire.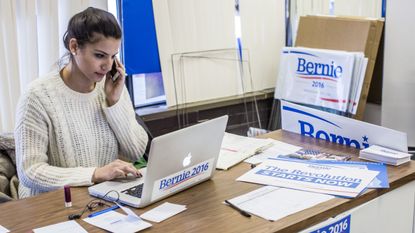 (Image credit: Getty Images)
On Monday night in Manchester, New Hampshire, Bernie Sanders's staffers shuffled back and forth accommodating the long line of media and supporters queueing up outside the Get Out the Vote Rally at the Palace Theatre. It was Sanders's second rally of the day, and one thing that didn't seem to be on the mind of the frazzled female staffers: boys.
On Friday night on HBO's Real Time, Gloria Steinem, a Hillary Clinton supporter, said of Sanders's women voters: "They're going to get more activist as they get older. When you're young, you're thinking, 'Where are the boys? The boys are with Bernie.'" (Steinem later apologized on Facebook for "what's been misinterpreted as implying young women aren't serious in their politics.")
And during a Saturday night rally in New Hampshire for Clinton, Madeleine Albright, the first female secretary of state, said of Sanders's female supporters: "We can tell our story of how we climbed the ladder, and a lot of you younger women think it's done. It's not done. There's a special place in hell for women who don't help each other!"
Julia Barnes, Sanders's 33-year-old state director for the New Hampshire campaign, has been involved in politics since she was a high school volunteer at the Iowa caucuses. She's been working with Sanders for three years. For her, the comments were personal.
"Honestly, I found it really disappointing," Barnes told MarieClaire.com. "Both of those women are idols of mine. My mother used to say I was the youngest feminist she ever knew. To hear so casually an entire generation of women being dismissed as participating in the political process for boys, that was really tough."
"I think women are smart enough to think before they support somebody," she continued. "That's exactly what I've done and that's exactly what a lot of women that are supporting Bernie have done: Looked into the policies, looked into what he has to say, and they're not going to go just for the fact there's another female running for president. We care about the policies, we don't necessarily care about just the identity."
Erika Andiola, Sanders's 28-year-old national Latino press secretary, has a background in grassroots organizing in the Latino community. She says she was drawn to Sanders for his similar grassroots approach to campaigning.
Sanders's message inspired a career change for Arianna Jones, his deputy communications director, who formerly worked at MSNBC.
"I knew about Bernie from the time I went to college because I went to UVM [University of Vermont]. He was already on my radar from back then but I worked in news before this," Jones, 28, says. "The minute I heard he was running, I went out there and begged, basically for this job, because I knew it was a once in a lifetime opportunity that I align so closely with in terms of politics."
When asked about the comments from Steinem and Albright, Jones reflected on the growing crowds the Sanders's team has seen.
"I think the primary goal should be not trivializing people's votes but asking them into the fold. Getting them inspired to get out there and vote," she said. "There was an apology from Steinem and I think she heard people's responses, and I think that's great. Feminism is about choice and I think a lot of people narrow that down to reproductive rights but I do think choice also means I have the right to choose who I'm voting for. There's a reason he's getting the support he's getting from women."
Follow Marie Claire on Instagram for the latest celeb news, pretty pics, funny stuff, and an insider POV.
Celebrity news, beauty, fashion advice, and fascinating features, delivered straight to your inbox!
Kate Storey is a contributing editor at Marie Claire and writer-at-large at Esquire magazine, where she covers culture and politics. Kate's writing has appeared in ELLE, Harper's BAZAAR, Town & Country, and Cosmopolitan, and her first book comes out in summer 2023.