Q & A With Laurie David
The environmental activist, producer of An Inconvenient Truth, and author, talks about the global-warming debate.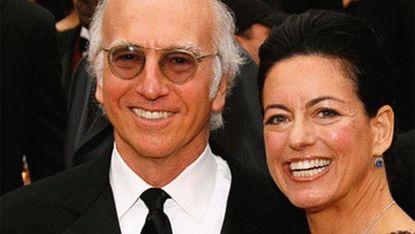 (Image credit: Lester Cohen)
Marie Claire Newsletter
Celebrity news, beauty, fashion advice, and fascinating features, delivered straight to your inbox!
Thank you for signing up to Marie Claire. You will receive a verification email shortly.
There was a problem. Please refresh the page and try again.
Environmental activist Laurie David has, with a tragic assist from Hurricane Katrina, brought unprecedented focus to the global-warming debate. The movie she produced, Al Gore's An Inconvenient Truth, was just released on DVD, and she recently published The Solution is You! An Activist's Guide. On an unseasonably hot October day in New York, she talked about . . . well, guess what.
Q: YOU DECIDED TO SPEND 2005 TRYING TO DRAW THE ATTENTION OF THE AMERICAN PUBLIC TO THE ISSUE OF GLOBAL WARMING. WHAT WAS YOUR STRATEGY?

A: Very simple. To de-wonkify it. To use every resource I had, every friendship, every relationship, to get into mainstream media to talk about this issue in a way people could understand. To me, it all came down to the purchase of a car. Because if every mom knew that by driving an SUV she's doubling the global warming of the atmosphere, which is going to impact her summer, her winter, her kid's lives, she wouldn't make that choice. So how do you reach these women? That's what I set out to do.
Q: HOW COULD YOU POSSIBLY HAVE KNOWN AL GORE'S "LITTLE SLIDE SHOW" WOULD MAKE SUCH A COMPELLING FILM?

A: The second I saw it, I knew it worked. Because I'm about message. I understand how to deliver a message, that's my skill. And if I know something is good, I will kill myself selling it. I will.
Q: BUT DIDN'T YOU THINK THE MESSAGE MIGHT BE BEST DRIVEN HOME BY SOMEONE LIKE GEORGE CLOONEY?

A: No, I never thought that. Gore had so much credibility on this issue. He had the slides and he had the science behind him, and he had honed it over thousands of miles and thousands of hours of talking to people.
Q: YOU'VE ENDURED HARSH CRITICISM FROM CERTAIN RIGHT-WINGERS.

A: Rush Limbaugh criticizes me a lot on the air. I take that as a badge of honor. Bobby Kennedy, Jr., always says you can't change the world without pissing people off.
Q: WHY IS THE PERSONAL NOT POLITICAL WITH GEORGE BUSH? HE SEEMS TO LOVE THE OUTDOORS, HAS A "GREEN" HOUSE ON HIS RANCH, LIKES TO BIKE . . .

A: I can't get into his head. All I can say is, he is going to rue the day that he did not engage on this issue. He was asked, "Will you see [An Inconvenient Truth]?" and he made a joke about it. It was the least gracious thing I've ever seen.
Q: IS IT HYPOCRITICAL FOR PEOPLE WITH LAVISH LIFESTYLES TO BE TALKING ABOUT THIS ISSUE?

A: Nobody's a better critic of myself than me, and I try to do the best I can. That's all I ask everyone else to do. If you come to my house for a dinner party, it looks like a Toyota dealership, because every single person I know drives a hybrid now.
Q: DOES YOUR HUSBAND, LARRY DAVID, SUPPORT YOUR ACTIVISM?

A: This guy has put up with so much. I literally put this relationship as close to the edge as is physically possible for two people to stay together. Look, he supports everything I do, financially and emotionally. I'm in New York, he's home with the kids. He plays a curmudgeon on TV, but he's really an amazing partner.
Q: WHAT DO YOUR DAUGHTERS, WHO ARE 10 AND 12, DO FOR THE CAUSE?

A: I'll tell you what they don't do: They don't run the water when they're brushing their teeth, and they don't leave lights on when they leave a room. If we're in the car and they see a Hummer go by, they're screaming in the back. So they're engaged.
Q: WHAT WOULD IT TAKE FOR YOU TO SAY, "MY WORK HERE IS DONE?"

A: Oh my God. It's a nice fantasy, isn't it? Well, here's what we would need: We'd need an 80 percent reduction in carbon emissions; we'd need carbon-dioxide polluters to pay a price. When that happens, I'm retiring to Martha's Vineyard.
For more information, visit Laurie David's website: www.stopglobalwarming.org.
Celebrity news, beauty, fashion advice, and fascinating features, delivered straight to your inbox!