Foreign Affairs
We can get over the fact that Lara Logan, CBS's sexy war correspondent, was a swimsuit model — but can she?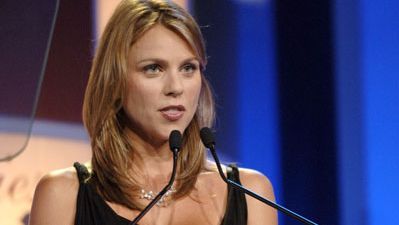 (Image credit: Larry Busacca)
FOREIGN AFFAIRS
Lara Logan is the kind of breathy stunner who makes men grovel and women take a sidelong look. The 37-year-old South African's meteoric rise from swimsuit model to lady Scud Stud has us bothered — but not for the wah-wah-wah, they're-all-just-jealous (or misogynist) reasons Logan seems to suggest. Clearly modeling was never the bottle blonde's destiny, despite that shot of her in the racy blue one-piece that the tabs have exploited ad nauseam. Truth is, we love Logan's gutsy reporting from the Middle East, but we hate her home-front hype.
BECOMING THE NEWS

Take last June's kooky appearance on The Daily Show, when Logan flirted her way through a charged encounter with a smitten Jon Stewart. "You remind me of a young Ted Koppel," he quipped, as Logan, her sleeveless shell tight over her enviable rack, flashed her legs and described seeing dead GIs firsthand. The sex-kitten routine diminished her credibility, just as it did in January when she declared to Good magazine that the three items she couldn't live without were "moisturizer, mascara, and food." To hear Logan tell it, she's no Martha Gellhorn, the World War II reporter who remarked, "I followed the war wherever I could reach it." No, Logan's feat, as she told Good, is "managing to keep long hair and still wear makeup in a war zone."
BOMBS AWAY

We don't doubt she's as dogged as CNN's tougher-than-Kevlar Christiane Amanpour. But Logan's preening — and the leaked details of trysts with a CNN reporter and her baby-daddy, a married contractor — detracts from her obvious talent. She scored an Emmy for bullet-dodging coverage in Ramadi, Iraq. Yet she gloated to an interviewer that her greatest achievement was "being able to say 'Screw you' to all the people who said a woman like me couldn't make it in this business." If she can't get over herself in a swimsuit, how can we? We'd be behind Lara Logan, if only she'd stop broadcasting conflicting messages: Love me for my mind — but first, check out my tits. Put them away already.
Celebrity news, beauty, fashion advice, and fascinating features, delivered straight to your inbox!