An Exclusive First Look at 'Trapped,' the New Abortion Documentary You *Need* to See
Inside what's really at stake in the battle for reproductive rights.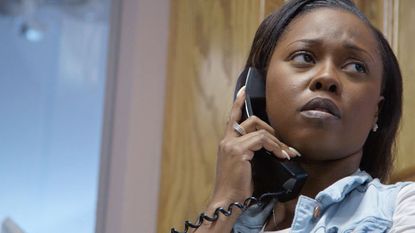 (Image credit: Courtesy of PBS)
Marie Claire Newsletter
Celebrity news, beauty, fashion advice, and fascinating features, delivered straight to your inbox!
Thank you for signing up to Marie Claire. You will receive a verification email shortly.
There was a problem. Please refresh the page and try again.
In the past five years, as state legislatures have enacted a record-setting 288 laws restricting abortion, we've heard a lot about the dwindling numbers of clinics nationwide. Trapped, a new documentary making its PBS premiere on Monday, June 20, gives viewers a chance to actually *see* the effects.
The raw, moving film goes inside abortion clinics in Texas, Alabama, and Mississippi as they struggle to comply with legislative actions known as TRAP laws, or targeted regulation of abortion providers. At the center of the film—which won a special jury award for social impact filmmaking at the Sundance Film Festival—is Whole Women's Health, a group of clinics that is, in many ways, at the crux of the abortion wars: They're the lead plaintiff in a pending case at the Supreme Court called Whole Women's Health v. Hellerstedt, arguing against a Texas law that requires clinics to maintain unrealistic standards.
The Supreme Court is expected to issue its decision this month. If it decides in Texas' favor and upholds the law, the state would be left with fewer than 10 clinics to serve its 5.4 million women of reproductive age.
The result of the dwindling numbers of clinics in the state—so far, at least 30 abortion clinics in Texas alone have closed—means women there have had to wait as much as three weeks longer for an appointment, and drive an average of four times as far to get to a clinic, according to a survey by the Texas Policy Evaluation Project, a University of Texas-based project to determine the impact of the state's reproductive policies. Sometimes, by the time they make it to a clinic, it's too late.
In the scene from Trapped above, the Whole Women's Health center in San Antonio has to turn away a 13-year-old rape victim near the end of her second trimester because a nurse anesthesiologist cannot be scheduled for an abortion in time. (Texas permits abortions after 20 weeks only if the woman's life is at risk.) "Because of this crazy law, it is impossible to find people to work for us," says Marva Sadler, the director of clinical services at the San Antonio Whole Women's Health. "People know that our work environment is unstable, so now I'm down to one certified nurse anesthesiologist and I'm basically held hostage by her schedule. If she can't be there, I can't see patients."
The girl had driven four hours from McAllen, Texas, to reach the clinic—only to be sent home. "There was nothing I could do to save her," says Sadler, her eyes welling with tears. "So now if she has a procedure and that if is huge, she'll have to go all the way to New Mexico and pay $5,000 and get there and spend three days. It will never happen—we know it won't."
Watch the clip above, and tune in to PBS at 10pm on Monday, June 20 to see the full documentary.
Celebrity news, beauty, fashion advice, and fascinating features, delivered straight to your inbox!
Kayla Webley Adler is the Deputy Editor of ELLE magazine. She edits cover stories, profiles, and narrative features on politics, culture, crime, and social trends. Previously, she worked as the Features Director at Marie Claire magazine and as a Staff Writer at TIME magazine.