Young, Female, and Working at the RNC: A Look at What It's Really Like
Republican National Convention Pages - What It's Like to Be a Page at the RNC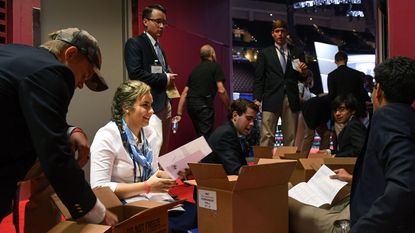 (Image credit: getty images )
Marie Claire Newsletter
Celebrity news, beauty, fashion advice, and fascinating features, delivered straight to your inbox!
Thank you for signing up to Marie Claire. You will receive a verification email shortly.
There was a problem. Please refresh the page and try again.
Logistically, the Republican National Convention in Cleveland this week went smoothly—not an easy feat considering organizers were expecting as many as 50,000 politicians, celebrities, delegates, and journalists from around the world. And that's partly thanks to the RNC's team of pages, young volunteers who help out the staffers and get, as a bonus, a front-row seat to one of the biggest political events of the last four years. We talked to six young women about why they gave up a week of their summer to help out at the RNC—and what the life of a page is really like.
Student at the University of Texas at Austin
Why did you want to be a RNC page?
I've been a dedicated Republican since I was 10 years old. I really feel like we, as the millennial generation, need to embrace conservative values to protect our freedoms and to protect our countries for generations to come. It was also an opportunity to see the process in action and a way for me to get involved in presidential-level politics, which is incredible at our age.
Do you want a career in politics?
I don't know that I want to be a politician. But I definitely want to make our country better, whether that be as a staffer or a legislative assistant or on campaigns. My goal is to help the conservative cause.
What does being a page entail?
We've been helping to set up and distributing the floor packets [editor's note: programs put on the delegates' seats] and passing out the floor signs to the delegates, assisting on the floor, and really doing everything we can to help it run smoothly.
How long are your days?
We've been leaving in the mornings at around 8 a.m. and we come back after the sessions at about 11 p.m., 12 a.m. It's long but it's great and I've enjoyed every minute of it.
What's been your favorite part?
I was able to get a selfie with Mike Pence! I was sitting near the friends and family section and I saw Gov. Pence so I walked up to him and said, "Governor, would you mind taking a selfie with me?" And he was like, 'Absolutely!' He was so nice. He asked me where I was from and said, 'It was so great to meet you!'
Student at Lafayette College
Why did you sign up to be a page at the RNC?
I thought I identified with the Republican Party, but I wasn't sure, so I wanted to get a more genuine experience.
What have you learned?
A lot of military stuff. I didn't know much about that.
What's your day-to-day like?
We set up all the pages programs on the floor—get that all ready. After that, we get to just listen to the speakers. We've had a lot of service projects, too.
What's been the best part?
I got to go down on the floor and sit with the Wisconsin delegates. It was so loud and everyone was cheering, I totally went all out. It was really fun—I felt like I was a part of something.
Do you want to pursue a career in politics?
It was never something I thought I would be interested in. I want to go into business. But now, I see myself working with politicians, maybe doing something with campaigns. I definitely have a more vested interest now.
Any challenges?
There were a lot of politicians I didn't know, so I've had to be like, "Who's that? Who's that?" And everyone else is like, "Don't you know?" But now I'll remember!
Attending Harvard University in the fall
How did you get involved in the RNC?
I come from a very politically active family. I'm very interested in the political process and the democratic process. I've always been very involved, and this is just the cherry on top.
What was the application process like?
You need to get people from your state party to nominate you. With Nevada, there was an application process and you needed to be nominated by your committee chairperson. Then you apply and hear back a couple of weeks later.
What's this week been like for you?
It's been amazing to be a part of history. We're seeing all of these people who are going to make a huge difference in other people's lives.
It's been really cool to see the diverse perspectives in support of Trump. I think they've done a great job getting speakers from all different backgrounds.
What's been your favorite moment so far?
Definitely passing out the delegation signs on the floor at the convention, because you're part of the process and part of the excitement.
What are your career aspirations?
I'm actually doing Air Force ROTC, so I'll be in the military once I graduate from Harvard and hopefully public service after that.
Attending Clemson University in the fall
Why did you decide to get involved?
I've been in politics since I was in the fifth grade, because my dad is really involved in politics in Kentucky. I was first a page at the state level for my state congressman, and I was a page again at the high school level for the speaker of the house. I wanted to see what it was like being a page from a different perspective.
What do you like so much about politics?
It honestly touches very aspect of life. People really neglect politics because they think it's maybe petty or think it doesn't interest them or doesn't have any relevance to their life—but they're the people shaping the laws we have to abide by. It's our civic duty to understand it and to be politically active.
What are your career aspirations?
For a long time, I thought I wanted to run for public office but I really think I want to go into media, maybe political journalism. I really want to pursue an internship with a news agency next summer. I definitely want to go to law school.
How does this convention compare to your other experiences being a page?
I think this convention is different because this is an event—it's not just a political entity that you're serving. It brings together so many different parts, like the media. There are so many news agencies here—it's even making international news.
What's been your favorite part?
Definitely the speeches. I loved Katie Couric. I absolutely loved her. We saw her yesterday–she spoke just to the pages. She's such a strong female role model for me and she's such a go-getter. She was advising everyone to take what you want and grab it.
Student at Ole Miss
How did you get involved in the RNC?
My parents are involved in politics so I grew up around it. When the opportunity presented itself, I jumped on it.
Have you ever done anything like this before?
I've work on campaigns but this is like nothing I've ever done.
What are you career aspirations?
I am a public policy major and my dad is a lobbyist. I'd like to follow in his footsteps or become a campaign manager.
What's a normal day as an RNC page?
I've gotten really close to the four people I'm rooming with. We all get up together, shower, and go to breakfast, and then all get on the buses. We've done two service projects since we've been here which was really fun. We'll come here and lay out sheets of paper for the delegates and alternates. But we have time to hang out, too. At the end of the day, we'll take buses back and then we'll all hang out even though we're supposed to be sleeping.
Do you think you'll stay in contact with the friends you've met here?
Oh, definitely. We were all just saying to each other, if, in four years, we haven't seen each other, we'll all come back to the next convention.
What's been your favorite part?
I've really liked meeting all these people. They're so awesome that you know they're going to go somewhere. It's neat.
What's been your favorite speech so far?
Mike Pence was my favorite. He is so polished, so professional. The way he talked about his family and his mom was really sweet. I'm really family-oriented.
Graduate of South Dakota State University. Training to become an agricultural appraiser
Why did you want to be a page at the RNC?
I have a friend who was a page here, and he talked about what a great opportunity it was and how competitive it is to get it. I thought it would be a great learning experience. Not many people get to go to a convention—let alone go on the floor with the delegates.
Are you very interested in politics?
I was never really a political junkie but I had some interest in it. My mom is a congresswoman from South Dakota— but there was no political background in our family whatsoever.
What's this week been like for you?
I've been to D.C. a lot. But to experience the convention and to see all these Republicans from across the country working together and all these delegates, it's really cool.
Favorite moment?
Being at the convention itself is so cool but we've gotten to do some other great things: We got to go to the Cuyahoga Valley National Park the other day to volunteer and we got to go to the Republican Leadership Institute—we sat through a training and got to meet professionals who were involved in campaigns. It was a great opportunity that we never would've gotten to do otherwise.
Follow Marie Claire on Facebook for the latest celeb news, beauty tips, fascinating reads, livestream video, and more.
Celebrity news, beauty, fashion advice, and fascinating features, delivered straight to your inbox!
Kate Storey is a contributing editor at Marie Claire and writer-at-large at Esquire magazine, where she covers culture and politics. Kate's writing has appeared in ELLE, Harper's BAZAAR, Town & Country, and Cosmopolitan, and her first book comes out in summer 2023.