Is Tiffany Trump the Breakout Star of the RNC?
Last night, Donald Trump's most under-the-radar daughter had the crowd on their feet.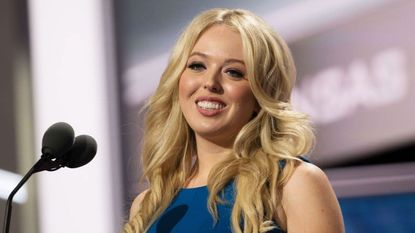 (Image credit: Getty Images)
Marie Claire Newsletter
Celebrity news, beauty, fashion advice, and fascinating features, delivered straight to your inbox!
Thank you for signing up to Marie Claire. You will receive a verification email shortly.
There was a problem. Please refresh the page and try again.
When Tiffany Trump, 22, took the stage at Tuesday night's Republican National Convention, there was only a smattering of polite applause. Donald Trump's youngest daughter has managed to stay almost completely out of the spotlight and, before stepping up to the mic, many in the arena didn't know who she was.
"I did see the lineup earlier, and I said, 'Who is Tiffany?' I didn't know she was one of the children," said Cara Pavalock, 39, the state representative from Connecticut. "She flies so far under the radar."
But by the end of her speech, the delegates on the floor at Quicken Loans Arena jumped enthusiastically to their feet for a standing ovation. And immediately after she stepped off stage, "Tiffany Trump" was trending on Twitter. Once this week is over, she could very well be the RNC's biggest breakout star.
'Please Excuse Me if I'm a Little Nervous'
Tiffany is Trump's only daughter with his second wife Marla Maples, who was backstage last night cheering her on. Maples posted a video of Tiffany getting ready, saying, "We're going to get everything just right for tonight! Proud of my girl, yay!"
Backstage moment w/ @TiffanyATrump so proud of my girl. Tonight in Cleveland 9:50pm ET meet Tiffany:)) https://t.co/z6lMR7w2cQJuly 20, 2016
See more
"Please excuse me if I'm a little nervous," Tiffany said after approaching the podium—a human moment that endeared her to the crowd. She went on to explain that she recently graduated from University of Pennsylvania (like her dad), and told the audience she still keeps all of her report cards with her dad's hand-written notes on them. There was a round of "awws" from the auditorium—which, until that point, had only grown animated at Hillary Clinton jabs and "lock her up!" chants. The theme of the night was "Make America Work Again," but it felt more like a raucous Clinton roast—with Tiffany being one of the only speakers not to mention her.
Many in the arena thought Tiffany gave a much-needed personal touch to the speaker set—especially after Melania Trump faced heavy criticism for delivering a speech on Monday night that lifted portions of Michelle Obama's 2008 Democratic National Convention address.
"There are definitely a lot of eyes watching Trumps right now and she's going to be under increased pressure because of that," said Katherine Maxwell, 37, an alternate delegate from Oklahoma.
Tiffany's Social Circle
Along with her mom, Tiffany's boyfriend, Ross Mechanic, was also backstage. (Interestingly, according to the Daily Mail, which cited public records, Mechanic is a registered Democrat.) The couple met at UPenn, and, according to his LinkedIn page, Mechanic is set to graduate next year. He's currently a data science engineering intern at Cadre, a real estate startup partially funded by Donald Trump's son-in-law Jared Kushner.
Tiffany moved to California when she was five years old after her parents split—her older siblings were raised closer to their dad in New York City. At age 16, she attempted to launch a pop music career.
Tiffany's social circle includes other famous progeny like Kyra Kennedy, granddaughter of Robert Kennedy, and Gaia Matisse, great-great-granddaughter of artist Henri Matisse. The group was featured last year in DuJour magazine, which called them "Insta-famous" for their thousands of social media followers.
"I don't know what it's like to have a typical father figure," Tiffany told the magazine. "He's not the dad who's going to take me to the beach and go swimming, but he's such a motivational person."
An unnamed source told the New York Post of the group: "Some of her friends are pretty obnoxious and entitled. They have Birkins and souped-up Range Rovers, but she's pretty down-to-earth."
Influential to Young Voters
Agnes Raese, 18, was in the arena with her dad, a West Virginia delegate, and thought the millionaire's daughter came off as relatable.
"I've never heard her speak before, but to see her enthusiasm and how she handled her nervousness was pretty awesome, because if I had to get up and speak in public like that, I'd be losing my mind!" said Raese, who added that she was most looking forward to seeing Trump and Caitlyn Jenner this week. (Jenner is speaking at an unaffiliated event encouraging the Republican Party to be more inclusive of the LGBT community.)
"I think if Tiffany got more involved with young Republicans, she could be someone to look up to because I see that she does care," Raese said. "I don't know that many young Republicans. These days, a lot of the young people are Democrats."
Donald Trump has been criticized for offensive comments about women, while his vice presidential pick, Mike Pence, passed some of the nation's strictest anti-abortion laws as governor of Indiana. This year's GOP platform specifically targets Planned Parenthood and bars women from military combat. Tiffany's older and more well-known sister Ivanka has, at many times during the campaign, encouraged voters to look at her prominent position in her dad's companies as an example of his belief in equal rights for women.
"I consider myself a feminist so it's good to see young Republican women getting involved," Pavalock, the state representative from Connecticut, said about Tiffany. "I think she's a rising star now. I hope she stays out to the public so we can get to know her. I'm definitely interested in learning more."
Follow Marie Claire on Facebook for the latest celeb news, beauty tips, fascinating reads, livestream video, and more.
Celebrity news, beauty, fashion advice, and fascinating features, delivered straight to your inbox!
Kate Storey is a contributing editor at Marie Claire and writer-at-large at Esquire magazine, where she covers culture and politics. Kate's writing has appeared in ELLE, Harper's BAZAAR, Town & Country, and Cosmopolitan, and her first book comes out in summer 2023.