Abortion in the First World
F.Y.I.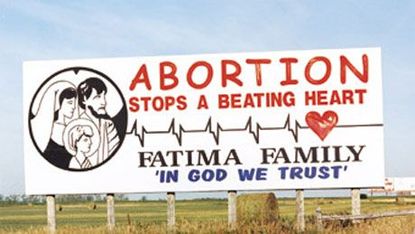 (Image credit: Andrew Hetherington)
Roe v. Wade remains at the forefront of America's culture wars, but the politics of pregnancy are no less controversial abroad. An estimated 42 million women have abortions each year worldwide. Where are they doing so legally?
JAPAN: Legislation recently passed to allow termination within 24 weeks to save a mother's life, in cases of rape, and when the mother can't financially support the baby.
CANADA: No laws regulating abortion — it can be performed for any reason at any stage during pregnancy, and if it's done in a hospital, insurance will foot the bill.
UNITED KINGDOM: Can be performed within 24 weeks if the fetus shows an abnormality, the pregnancy threatens the mother's health, or the mother can't financially support a child.
DENMARK: Permitted without reason and free of charge during the first trimester only. After that, an appeal can be made if the developing pregnancy threatens the mother's life or indicates fetal abnormalities.
IRELAND: Banned outright in all cases unless the mother's life is at risk. The strict regulations drive 7000 Irish women to the U.K. each year for the procedure.
AUSTRALIA: In October 2008, made legal for any reason within 24 weeks of conception (was previously banned, but doctors were inconsistently prosecuted).
SPAIN: Permitted at any stage if there's a risk to the mother's health, within 12 weeks in cases of rape, and within 22 weeks if fetal abnormalities are discovered.
GERMANY: Legal for any reason during the first 12 weeks of pregnancy, but women must submit to a three-day waiting period and two counseling sessions.
UNITED ARAB EMIRATES: Banned except to save the mother's life. Even then, consent by a woman's husband or guardian is required.
Celebrity news, beauty, fashion advice, and fascinating features, delivered straight to your inbox!