One Final Email: To You, from Hillary Clinton
Comedy writer Juliet Seniff imagines the presidential hopeful's last message to the American electorate before the deal is done.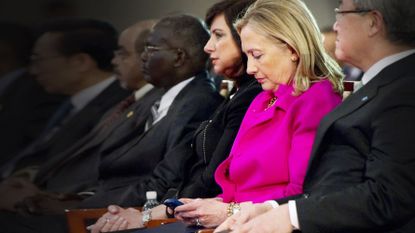 (Image credit: Getty Images)
Marie Claire Newsletter
Celebrity news, beauty, fashion advice, and fascinating features, delivered straight to your inbox!
Thank you for signing up to Marie Claire. You will receive a verification email shortly.
There was a problem. Please refresh the page and try again.
To: My Darling America
Subject: CLASSIFIED U.S. Department of State Case No. F-2014-4830439 Doc No. C05768582
Date: 11/08/2016
RELEASE IN FULL
From: Hillary Clinton
My Darling America,
I decided to write you this classified e-mail on the morning of our Election, which I presume I have won, because the whole "not seeing each other before the polls close" tradition was freakin' killing me.
I think that it's normal for most people to have "cold feet" before they become President, which is completely understandable, as leading the country will no doubt be a thankless commitment with terrible lifelong personal and professional ramifications, compounded by the fact that I have a vagina. But this is a feeling that I, President-Elect-To-Be Hillary Rodham Clinton, will never experience. As I am writing you this classified email from my secret Bberry, rather than being scared of what the future will hold or what could have been without you, I am sitting here completely content with how my career has played out, other than the Lewinsky scandal and the e-mail BS. If I could live my career one thousand times over, I can honestly say that I would not change a thing except the stuff I just mentioned. America, you truly are the single greatest constituency that has ever happened to me. From the moment we met in Mr. Hinkle's Government class in high school, I seemed to just have this feeling about you. The feeling that I am talking about is, of course, power. And America, I power you.
I've dreamt of winning my Election my whole life. Like all little girls, I pictured the day when I would wear a white pantsuit, walk across stage to a podium, and say "I do...accept the election results!" in front a nationally-televised crowd of millions. We'd make love that night, metaphorically-speaking, from a politician-constituency standpoint…and what sweet, metaphorical love it would be.
I'll admit that the months, days, and moments leading up to our Election Day have been nothing short of a f*cking nightmare. But winning the most important, powerful, internationally-recognized job in the world has reminded me why I fell in love with you in the first place, and made you my bitch. I probably don't tell you this enough, America, but you truly are a beautiful constituency, inside and out.
All my love,
Your President-Elect-To-Be,
Hillz
P.S. HI ASSANGE
---
Follow Juliet on Twitter here.
Celebrity news, beauty, fashion advice, and fascinating features, delivered straight to your inbox!