Alt-Right, Nationalist, Populist: A Glossary of the New Political Landscape
Trump's election has brought new movements to the fore—here's what it all means.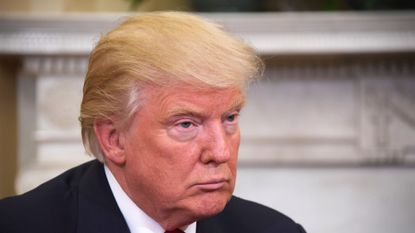 (Image credit: Getty Images)
Marie Claire Newsletter
Celebrity news, beauty, fashion advice, and fascinating features, delivered straight to your inbox!
Thank you for signing up to Marie Claire. You will receive a verification email shortly.
There was a problem. Please refresh the page and try again.
Donald Trump's transition from real estate developer and reality TV start to leader of the free world is underway, and it's created an explosion of new terms/terms we haven't heard in quite some time. Here, we break it down.
Alt-Right
The term alt-right—which was coined by Richard Spencer in 2008—is a "mix of racism, white nationalism, and old-fashioned populism," according to The Associated Press. While the alt-right consists of a variety of different groups, they broadly oppose the conservative establishment as well as traditional liberal values. Their "greatest points of unity," NPR explained, "lies in what they are against: multiculturalism, immigration, feminism and, above all, political correctness."
The alt-right is composed mainly of white male millennials with a college education, according to according to George Hawley, a political scientist at the University of Alabama, who is writing a book about the alt-right movement. There are some women involved with the alt-right, Hawley told The Washington Post, but "this movement in particular is more appealing to men, particularly given the degree to which it is also a very outspoken anti-feminist movement."
Members of the alt right have embraced Donald Trump, who see him as an ally in the White House, if not an outright supporter. His campaign CEO (and now chief advisor) Steve Bannon was chairman of the website Breitbart News, which he once called "the platform for the alt right."
In November, the National Policy Institute, a group founded by Richard Spencer that advocates "white identity," held a conference in Washington, D.C., where, at one point, Spencer said: "Hail Trump. Hail our people. Hail victory!" The room burst into applause as some people raised their hands in the Nazi salute, according to a video captured by The Atlantic.
[youtube ]https://www.youtube.com/watch?v=1o6-bi3jlxk[/youtube]
But Trump has tried to distance himself from the movement. In a meeting Tuesday with editors and reporters of The New York Times, Trump said of the alt-right: "I don't want to energize the group, and I disavow the group."
White Nationalism
White nationalists comprise the alt right, but they're also a group unto themselves. For many people, white nationalism is just another term of white supremacist or neo-Nazi, although CNN points out that white nationalists have tried to distance themselves from traditional hate groups like the Ku Klux Klan.
Eric Kaufmann, a professor of politics at Birkbeck University in London, told The New York Times that white nationalism is "the belief that national identity should be built around white ethnicity, and that white people should therefore maintain both a demographic majority and dominance of the nation's culture and public life."
Similar to white supremacy, Kaufman continued, "white nationalism places the interests of white people over those of other racial groups." They think racial discrimination should be law.
In other words, white nationalists want white people to dominate American society.
Populism
The term populism refers broadly to the rejection of the elite. In other words, it's the people versus the establishment. The 2016 Presidential Election was marked by populist fervor on both the left and the right. Bernie Sanders stoked a populist message among Democrats, while Trump rode his populist message of draining the swamp in D.C. all the way to the White House.
But populism isn't always a good thing because it has bred authoritarian regimes.
"Virtually every form of tyranny that I'm familiar with is wrapped in populist arguments," conservative radio host and former Reagan administration staffer Mark Levin writes in the Conservative Review. "Tyranny comes packaged as 'for the people,' or representing 'the will of the people.' That's how Mao Zedong represented his genocidal tyranny, that's how Vladimir Lenin represented his genocidal tyranny, that's how Hugo Chavez, the Fidel and Raul Castro brothers, Robert Mugabe, and the like represented their reigns."
Fake News
Some people have credited Trump's unexpected victory to the rise of fake news on Facebook and Google. Fake news is simply that—false or misleading news published on websites that usually lean hard to the right. According to BuzzFeed, in the final three months of the election, the top-performing fake election news stories on Facebook outperformed the top stories from major news outlets like The New York Times and NBC News.
Both Facebook and Google have said they're taking steps to curb fake news.
The Associated Press contributed to this report.
This glossary will be updated with more definitions.
Follow Marie Claire on Facebook for the latest celeb news, beauty tips, fascinating reads, livestream video, and more.
Celebrity news, beauty, fashion advice, and fascinating features, delivered straight to your inbox!